WMExperts Podcast 22 -- Treo 800w and More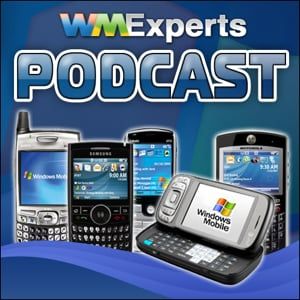 We talk about the Treo 800w from Mal's perspective, some of the news that's hit in our extended hiatus, and your emails. Also: we can't stop talking about movies at the beginning of the podcast, fair warning.
Download it directly with this link
Subscribe via iTunes

(opens in new tab)

Listen to it here with this flash player:
News
Tips and/or Software
Oldie but goodie: browse your network shares via PIE
Also, check out GPSToday, the Today Screen Plugin Mal mentioned during the show, it's sweet.
Community
Thanks to Sunshine, Eric, and Rob for writing in!
Credits
Thanks to the WMExperts Store for sponsoring the podcast. Thanks also to these great artists for the music and to CCMixter.org for offering a great database of Creative Commons music!
Windows Central Newsletter
Get the best of Windows Central in your inbox, every day!
Back in my day.....classic guys...funniest part of the podcast. This week was really random but funny.

Dieter sounds like you need a 2 airaves from Sprint LOL

Speaking of form factors that never returned. I do NOT understand why HTC never released and updated version of the XV6600/PC6600. Talk about easy on the eyes. That 3.5 inch screen is wonderful. The Verizon version was even 3G! I?ve said it before and I?ll say it again, it is an ideal competitor to the iPhone especially undated with new hardware and the touch flow interface.
You?d have to add chrome accents and change to a sleek shinny black casing to keep it from looking like a relic from 4 years ago; yeah I?m lookin? at you Treo 800w. The irony is that if the iPhone does get a keyboard, this is probably the form factor that they?ll use. You heard it here first?
The only reason I'm not using this device right now is because Verizon does not offer the $30 Email/Smartphone plan for this phone. I'd have to go back to the $45 plan (no, this doesn't make any sense; but carriers are evil afterall, so we shouldn't really be surprised).

I agree! Dieter- if you want to use the 800w as your everyday device, get an Airave for your home and office.

Fie! Tempt me not with your foul sprint service! I'll be stuck playing the banjo against Dan Hesse to get out of my contract.

Reports are that only 5 or 6 scenes of the new Dark Knight were shot in IMAX:
http://thura.newsvine.com/_news/2008/07/17/1672485-batman-the-dark-knigh...

@mvierling
Yeah, that makes sense. Imax is a 70mm variant and if anyone knows anything about film, 70mm is a b*tch to work with--cameras are large, expensive film, etc.
Still...70mm owns 35mm and digital.
http://en.wikipedia.org/wiki/Image:IMAX_camera_1.jpg

@dieter - Get SERO and roam on Vz at home... What no SERO?!?
@Malatesta - I used to be like you on touching my screen, then I upgraded my 700wx to a touch. Talk about a shock to the system! Now that ive gotten used to it, its not too bad! Of course my screen needs cleaning quite a bit. A good screen protector is crucial to not show prints as bad!