WMExperts Podcast Episode 56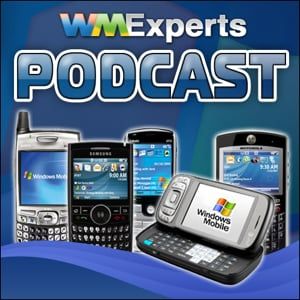 Malatesta and Dieter discuss the Samsung Jack, the latest Windows Mobile rumors, and the happenings at TechEd 2009. Listen in!
Download it directly with this link
Subscribe via iTunes

(opens in new tab)

Listen to it here with the flash player above.
News
Samsung Jack likely a U.S.-only phone
Yet Another Zune Phone Rumor (Updated)
Possible Required Specs for Windows Mobile 7?
Touching your phone is so 2008 ... Windows Mobile 7 may have 'non-touch' features
Marketplace prohibited list explained
Video: More WinMo 6.5 from Tech-Ed (Oh, and 6.5's ready to go)
Under Pressure: WinMo Team explains UI changes in 6.5
Official Firefox mobile Alpha release is out!
Thanks to Sunshine, Anthony, and Stephen!
Links:
Credits
Thanks to the WMExperts Store for sponsoring the podcast. Thanks also to these great artists for the music and to CCMixter.org for offering a great database of Creative Commons music!
Great Podcast! First time I've ever listened to it here... One thing I did notice is I can tell you are using a gate, which is not a good thing. There are some adjustments you can try to kill the instant roll off of the gate, so if you're having issues give me a shout-I'll be glad to help! Keep up the good work!

I particularly liked the "jesus f***ing christ!" in the background at time 24:30 in this podcast. It is classic. :-)

Whoops! That would be Mal's reaction the first time we got a skype disconnect. Uploading "clean" version now.

Actually I thought it was quite funny, but if you intended it to be clean, glad I could help! :-)

I appreciate you removing the negative reference to Jesus. I am a Christian and Jesus Christ is the most important thing in my life, so hearing someone use the f-word with Christ's name is always jarring. Thanks.

I apologize --thought I'd excised all the vulgarity.

I appreciate it, not trying to impose my standards on everyone else, but I enjoy listening to you guys.
Windows Central Newsletter
Get the best of Windows Central in in your inbox, every day!
Thank you for signing up to Windows Central. You will receive a verification email shortly.
There was a problem. Please refresh the page and try again.