'Work and Play Bundle' brings the best of Microsoft's cloud for $199 (US only)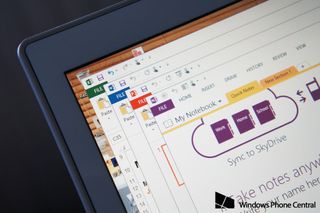 Microsoft is launching a Work and Play Bundle that brings together the best of its cloud services for $199 annually. The bundle includes Office 365 Home along with 1 TB of OneDrive storage, Xbox Live Gold, Xbox Music Pass for unlimited music streaming, and Skype Unlimited World & WiFi calling. Unfortunately, it looks like to get the bundle, you will need to head into a Microsoft retail store, but you have up until January 4th to take advantage of the pricing.
Will you be taking advantage of the bundle offer? Let us know in the comments.
Thanks to Dave for the tip.
Source: Microsoft Store (opens in new tab)
Get the Windows Central Newsletter
All the latest news, reviews, and guides for Windows and Xbox diehards.
Chuong's passion for gadgets began with the humble PDA. Since then, he has covered a range of consumer and enterprise devices, raning from smartphones to tablets, laptops to desktops and everything in between for publications like Pocketnow, Digital Trends, Wareable, Paste Magazine, and TechRadar in the past before joining the awesome team at Windows Central. Based in the San Francisco Bay Area, when not working, he likes exploring the diverse and eclectic food scene, taking short jaunts to wine country, soaking in the sun along California's coast, consuming news, and finding new hiking trails.
US only of course. Thanks MS :)

I talked to them and they said to tell you, You're Very Welcome.

I would sign up, but I just purchased a year of 365 and this bundle doesn't even have unlimited onedrive storage. They should just have a la carte options. So say i want xbox music and office 365 then they just add it up and bill me once.

I thought all Office 365 subscriptions automatically had unlimited OneDrive storage. Also, if you have all or any of those other services, your subscription will automatically be extended for an additional year on them--i.e. you don't "lose" what you paid for.

Possibly, but it does say 1tb. You'd think they would update the pitch which is unlimited. I won't trust it till I see it in print.

On the link it just says Office 365 Home, nothing about the storage being limited to 1TB.

It is in a rollout phase. They first give it to customers who signed up for it, once that test is complete, then they will start the compete rollout to everyone.

They have a la carte options. It's called buying them separately.

Yes, we all have that. But it would just make more sense to manage it all from a single interface and have it show up as one item on my bank account.

Nah I'm good. I've gave them enough of my hard earn cash...

For fantastic products? You don't say.

If it wasn't for Microsoft, i'd probably never even spend money.

Thanks. We will all get it when we go to iOS right after you send Cortona over there, you rejects.

I think the "Cortana on other platforms" will only include voice search responses and chit chat (kind of like Google offers voice search with its WP app). A system level integration isn't really possible. Maybe android version will have slightly more integration, like with Microsoft apps and stuff.
So Cortana's main functionality remains on WP, but MS gets to build their voice and info database from multiple platforms (with a lot many more users, I may say). This will help make Cortana more accurate and even help test it for more languages easily. That does benefit all the people on WP too, giving them Cortana in their local languages much faster than it would reach them if Cortana remains on WP only.

I'm so happy about this. I know quite a few of us have been asking for this! I'll be going in to get one this weekend!

That's not a bad deal (other than the fact that stupid Microsoft forgets about the other 7.9 Billion people in the world)

Other people in the world aren't iPhone fanatics like us here in the U.S.. So, MS doesn't care about you.

There are less than 7.205 billion people in the world.

Well, yes. So how do we convert our existing subscriptions to this?

Just buy it and redeem it. Credit will be added to your account and will go to work once any current credit expires.

Last time I purchased a year pass of Xbox Music from MS the code would not apply to my account. Kept saying "An error has occurred, try again later." After a quick chat with the MS store chat representative I found out I needed to cancel my recurring monthly Xbox Music pass sub and let it actually expire/run out before my account would take the code. Not sure if that's how this one will work but I thought it might be worth noting.

I had the same issue because I had the old Zune Pass and was gradfathered in with the 10 free tracks a month. I had to let it expire because the code I had wasn't for that plan, it was for the newer Xbox Music subscription which is cheaper, but no free tracks...

Same here... unless they open xbox music pass to share with family members I will allow my 4-year old music pass account to expire. Have hardly used it this year since they replaced Zune with XBox Music app on both WP8.1 and Windows 8.1 Cheers

Any word if the OneDrive storage will migrate to Unlimited with this?

Unlimited already included, seeing as it's bundling an Office 365 Home plan amongst other things.

I figured as much, just want to be positive since they took the time to outline 1TB of storage; hoping its not some "fine print" limitation.

I understand your concern, but I don't believe that's the case. And in fairness: 1TB is still way more than enough for most.

HOLY SHIT THAT'S A GREAT DEAL!!! Definitely taking up on that definitely! Seeing as I already pay for those services anyways, might as well get a discount.

Bought Nokia 1520 just out of my love for Nokia. Not sure if I will go with Windows phone in the future.

And this is relevant, how?

Let him/her have his/her moment

1TB? Pretty sure they are all coming with unlimited storage these days....

I want a play bundle. Just live and music combined.

Actually seems a good deal; just a shame its:
A) not in Ireland
B) not a PS+ subscription
C) I dont have 1TB worth of files
D) or an internet connection fast enough to make use of it
E) nor so I have $200 to hand. But aside from that, its good. (But really, that is a good deal)

I heard PSN is its like Live but worse.

Like its possible to even compare the two objectively...

Why is Microsoft gonna give you ps+ subscription.

i don't think the fact that you don't have 1 TB of files is a bad thing in this case. What it means is that you should be able to backup all of your data to OneDrive then with no problems. I see that as a plus! For me this is a really good deal. The xbox live + xbox music subscription is almost $200/yr by itself. So add in Office + Skype world calling for free and that is a pretty damn killer deal.

OK, I am a little confused. I thought Office 365 users were going to be getting unlimited OneDrive storage. If this is so, why would the bundle advertise 1 TB?

Possibly because not everyone knows that Office 365 comes with 1TB storage. It's merely marketing.

But as TheZuneLune said it now comes with unlimited storage... Isn't "Unlimited storage" better for marketing than "1TB"? Especially since most people don't even know what a terabyte is, but everyone knows what unlimited means.

as of right now "unlimited cloud storage" for one drive is rollng out. Once they finish rolling it out im sure this info will be updated. right now even the people who signed up for the initial rollout "like myself" we are only getting 10TB which is a hell of a lot but they havent upgraded everyone yet, it will probably be offical by the end of the year.

No, don't agree at all. £99/year would be ok. Not good. Yes, stingy.

It's not £99/year, because it's not available in the UK. For residents of the US, it's actually a really good deal compared to buying all of the services separately.

What does it work out to separately? Nice if it was in the article.

Dafuq you smoking rockstarzzz? Live is $60/year, the music pass is $80/year and Office 365 is $100/year. I don't know how much Skype costs, but this is saving you $40 alone! You're insane if you think they should include all of that for $100/year. To put into perspective what you just said, you're suggesting that they offer Office 365 for the same price as the entire bundle of things, essentially giving you unlimited music, unlimited Skype calls and Xbox live for free. Sorry, but you're nuts.

£99 does not equal to $100, it equals to around $157, which is still too cheap for that bundle. :P

Well would of probably went for it but US only GJ MS

yeah that friggin SUCKS. US physical Store only.. What GIVES Microsoft. I am so frustrated being a MS 'fan' but getting passed over by all the decent stuff and left with the Dregs only, just because I wasn't born in USA.

I pay about that now for office 365 home for five accounts, xbox music, live gold, and ea access :) only £140ish a year

I wonder if this is going to be per user or like Office 365, up to five users?

This deal is only great if you use all four. Take one out and you aren't gaining much if anything.

I use the first 3 & my wife uses the Skype unlimited world, can't wait 'til we get to our nearest MS Store, it's over an hour away but my wife wants to go to that city next week so it would out, music pass is about to expire.

Sweet deal, if you pay for them individually you end up paying $427. I'm already paying for office, live, music and music.

Is the music and Skype shared across 5 accounts? Or at least the music portion? Would be nice to share it with my wife!

I agree. Wondering the same thing myself.

I think this sums my views up nicely http://i.imgur.com/MJTD0Ue.jpg

They should simply give discounts when you subscribe to more than one service. And offer that worldwide.

*Mind Blown* Wonder why they haven't thought of that.

Not worth it for me.. Already have Office 365 (with unlimited storage that this apparently doesn't have) for $69 (military pricing), grandfathered into the old $15 Zune Pass (unlimited streaming + keep 10 songs each month), typically manage to buy a prepaid card for a year of XB Live for around $40, and have zero use for the Skype world minutes, since in the US I have unlimited calling, and all my friends and family abroad use Skype to begin with.. Comes up to $134 for me, so $199 is a ripoff. I do like the concept of paying one single subscription for all MS services, but the price definitely needs to come down.
EDIT: Just realized I ignores the fact that the bundle includes a year of Xbox Music, so yes, it would be a good deal, if it weren't for my grandfathered Zune Pass.

Since office is free on android/ios, is there any real reason why I should keep paying $9.99 every month?

It's free to use as far as opening and presenting, but you can't edit without the subscription.

It's not the full Office product like on Windows; it's a dumbed-down version. It's MS's way of competing with Google Docs. Once users are hooked on it, they might then pay for the full version for their home PC or laptop. It's all about getting users of other platforms hooked into the MS environment. So, is it worth it? Yes. Don't want to pay for it? Use the free Office Online version. Or, if you have a Windows Phone, guess what: It includes Office. A Windows RT device? It also includes Office. A Windows PC or laptop? Pay for it, same as anyone with a full operating system (OS X or Windows) wanting to run full Office. iOS and Android devices are equivalent to Windows Phone and RT, not OS X or Windows.

Grr! Very tempting but I don't know. I already get Office 365 Home, will be getting an Xbox for Christmas and the music subscription isn't something I really need or am sure I'd take advantage of but it's nice to have. The black sheep is Skype which I have absolutely NO need for. Throw in or even replace that with "Windows Pro 365" so I get the OS included instead of Skype, and it's a no brainer! It's the subscription I've been waiting for!

I don't use office right now. It would be nice if they created a deal that combined Xbox live and Xbox music for $100 annually

I called this last week on reddit. More like suggested it. Anyways. WHAT ABOUT CANADA? we are right there!

I have the music pass for 10.00 a month and then the live gold for 60.00 a year. That's 180.00 right there. Only thing is, I'm a MS certified Parter with my work so I get a copy of the latest office product, not the office365 version. Still a great deal especially when id possess my own copy office not tied to my company.

Dumb, dumb, dumb. Gotta get this from a PHYSICAL store? When you have like a dozen stores throughout the country, this is a not a very smart idea. Probably trying to limit fraud, but seriously, how many people could they sign-up for this, even if 100% of MS users in those areas signed up? Personally, I'd be interested ONLY if the benefits could be split amongst family. We have the Office 365 subscription, which is nice for me, the wife, and the kids (all of us have separate PCs), the wife and I have Xbox Live Gold subscriptions (but I'm cancelling mine), and while we appreciate the soon-to-be-defunct free music streaming on Xbox Music, paying $20/month (that's $9.95 x 2), just isn't worth it.

Would this appeal to most consumers?

$200/yr - yeah that seems right. I doubt it is $200/lifetime :)

That's what I figured. It immediately seems like a good deal until you break it down into a monthly payment. That's a lot when you can usually find XBL for around $30-40 a year, Spotify almost replaces XBox music...at least in my opinion, etc.

This deal.............. make it worldwide !

No thank you.
I'll stick with Xbox live.

LOL, xbox live is included in the offer!

I've been hoping MS would do a bundle like this for ages. Even if I was over in the US though I've got my student office subscription for a few more years. Hopefully once that runs out they'll have started bringing deals likes this to Oz

Everyone chill. It probably is limited to physical stores because they want to reduce how often the deal is illegally obtained. It makes sense.

Unless you live in the US but 444 miles from a MS store. I'd spend $120 in gas to get there and back.

Wow this is exactly what I've been waiting for! Technically about a $60 savings when you factor each services yearly rate. Not sure about the uninjured Skype though because I know 365 Home comes with only 60 minutes. This is what perfect timing for me because I just ordered 365 Home 3 days ago, and my Music pass will expire in 1mo. So I will just cancel/upgrade my previous 365 Home to this new bundle. Wish it would've been a bit cheaper, like maybe $150, but I guess that's asking too much. Thanks Microsoft! :)

Why should we get excited for this? As Cortana and Office is going to the other platforms... I'll bet Halo 5 will be released on PS4 first... Not trusting Microsoft anymore...

I agree, Microsoft need to get through there heads I'd they want WP to grow they need to have things that work only on WP and in all country using WP with all functions working

Why can't I buy this online? These are all digital services but I have to go to a brick and mortar store to buy it? WTF Microsoft?

To get you in the door so you can say "Oh, while I am here, these services would be perfect for this Surface over here".