World of Warcraft: Burning Crusade Classic will release on June 1, 2021
Choose which experience you want starting May 18.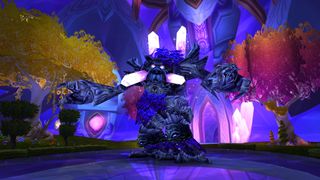 (Image credit: Blizzard Entertainment)
What you need to know
World of Warcraft: Burning Crusade Classic is the first expansion to World of Warcraft: Classic.
The game takes players through the Dark Portal to fight the forces of the Burning Legion.
Players can opt to stay in a Classic Era realm if they don't want to change their current experience.
After announcing that World of Warcraft: Burning Crusade Classic would be released in 2021 during its February BlizzConline event, Blizzard Entertainment has confirmed that the first expansion to 2019's World of Warcraft: Classic will release worldwide at 3 p.m. PDT on June 1.
The game will recreate the 2007 expansion, which allowed players to venture through the Dark Portal into the Outland, a realm devastated by the demonic Burning Legion. The pre-expansion patch will go live after scheduled maintenance on May 18. Each player will have the option of chooising to advance into Burning Crusade or having their character moved to a realm that will stay in the Classic Era. They can also pay a fee to clone their character so they can have a version on each type of realm.
If you're excited to adventure into Outland, you might want to read up on the lore involving the zone and the forces there by picking up some of the World of Warcraft novels. Let us know in the comments section if you'll be making the journey.
Fight death itself
World of Warcraft: Shadowlands
Defeat The Jailer.

World of Warcraft never ceases to amaze. Blizzard continues to get tons of mileage out of the legendary MMO, with a step up for live story-telling, stunning art direction, and one of the richest launch endgame experiences we've seen to date.
Get the Windows Central Newsletter
All the latest news, reviews, and guides for Windows and Xbox diehards.