Paul's 12 Worst Xbox One Games of 2016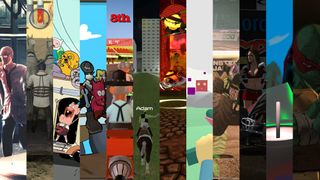 2016 was one of the best years for gaming in some time, with tons of fantastic AAA and indie releases. But at the same time, many terrible games slipped through the gates on Xbox One. And as with 2015, most of these stinkers were indies. Buyer beware!
Albedo: Eyes from Space
Albedo comes from developers Z4G0 and Ivan Venturi Productions (makers of such games as Albedo and… that's it) and publisher Merge Games. It's basically a first-person adventure game with a heavy emphasis on puzzles, designed by someone who has apparently never played videogames before.
Albedo has a fun 60s sci-fi theme, but its execution widely misses the mark. The game starts out with the stupidly-named and very poorly voiced John T. Longy, a night watchman at a research facility, drunkenly falling asleep on the job while an accident occurs. Long T. Johnny awakens, confused, in a storage room beset by a monster. These monsters are unlikable and must be avoided at all costs.
The whole game involves solving puzzles via manipulation of the environment and puzzles, but the user interface for interacting with objects and inventory couldn't be any worse. It takes way too many button presses to do anything, making the often convoluted puzzles even more painful. Luckily, the Achievements only take 3-4 hours with guides, so it might still be worth the $13.99 if you can tolerate the clunkiness.
See on the Xbox Store (opens in new tab)
Ben-Hur
Ben-Hur is a free game from our old friends at Krome Studios (makers of Full House Poker) and AOL, of all publishers, based on the 2016 movie remake that literally no one wanted. And being a rushed-to-market licensed title, the game had little hope of being good.
The game begins with a highly skippable video from the movie, and then you're thrust into a series of three chariot races. The object is to eliminate the other five racers by whipping or bashing them into walls. You have to mash the A button the entire time to accelerate. Crash or run out of health and you die.
That's the whole game. Three races in the same environment, clunky controls, and Xbox 360-era graphics. On the plus side, you can get the full 1,000 Gamerscore in 1-2 hours. But one Achievement requires a lot of dying and restarting races, which might not be worth the bother.
See on the Xbox Store (opens in new tab)
Cartoon Network Battle Crashers
Licensed games are a risky proposition from a quality standpoint. Every now and then you get a true gem (see Transformers: Devastation), but most of the time they tend towards the bottom of the barrel. Cartoon Network Battle Crashers from French developer Magic Pockets and GameMill Entertainment is the absolute bottom of the barrel.
The intro depicts Uncle Grandpa, an absurdist character who can hop between universes, accidentally tearing holes in the realities of several other Cartoon Network characters. Soon, he is joined by Jake and Finn from Adventure Time, Mordecai and Rigby from Regular Show, and Steven Universe, Clarence, Gumball, the latter three titular characters in their own shows.
Battle Crashers is a Castle Crashers clone, but without the fun or creativity. The combat and level design are completely boring, even with 4-player local co-op. Only the first player gets Achievements, and they're grindy. None of the characters have voices or theme music, and what few NPCs from their shows appear simply stand motionless and relay tutorial information when you speak to them. Nobody, not fans of beat 'em ups, Cartoon Network, or Achievements, will get much out of this one.
See on the Xbox Store (opens in new tab)
Cel Damage HD
Cel Damage is an original Xbox game from way back in 2001 that was bought and resurrected as Cel Damage HD by Finish Line Games. HD came to PlayStation platforms in 2014, finally arriving on Xbox One in 2016. Although it's one of the better games in this roundup, it's still not very good.
The basic premise is that six (lame and generic) cartoon characters battle it out via car combat – sort of like Mario Kart, but much worse. Players can compete solo or in split-screen across three modes: checkpoint races, capture the flag, and deathmatch.
Besides the unappealing characters, Cel Damage is an ugly game. It might be running in HD, but the graphics show no obvious signs of improvement from the old Xbox days. The level design is bad and many of the weapons stink. But Cel Damage HD's Achievements are very easy and take less than three hours, so it's still worth a buy at $8.99 for the Gamerscore.
See on the Xbox Store (opens in new tab)
Coffin Dodgers
Back in 2015, Wales Interactive gave us Infinity Runner, one of the worst games of the year. Their follow-up, Coffin Dodgers, was actually developed by the more capable Milky Tea Studios. But like Cel Damage, it's still a pretty lame Mario Kart-style racer.
The premise is both terrible and inspired. Death threatens to kill a group of senior citizens, but he'll let the winner of a series of races off the hook. The losers of each race literally die and participate in subsequent races as zombies.
Coffin Dodgers looks a lot nicer than Cel Damage, though it suffers from a poor frame rate. But every race is the same thing, so the campaign gets repetitive quickly. The combat and music are terrible, too. But you can get all the Achievements in 3.5 hours or so, making this $11.99 a good buy for the Achievement crowd.
See on the Xbox Store (opens in new tab)
Horse Racing 2016
From the aptly named Yash Future Tech Solutions comes Horse Racing 2016. Like 2015's terrible matador game Toro, horse racing is such a niche activity that you're never going to get a proper big budget game about it. But can a game that looks this cheap be any good?
Horse Racing challenges players to complete ten seasons of five races each, for a total of 50 races. These include solo time trials, short sprints, longer races, and unfair hurdles races that involve jumping. Success is overly reliant on an annoying starting minigame in which you have to press A at just the right time for a speed boost. Botch it, and you'll need to just restart the race.
Graphics aren't everything, but Horse Racing looks particularly cheap, like a PlayStation 2 launch title. Instead of using the Start/Menu button to pause, this one uses the B button for absolutely no reason. Horse Racing's Achievements are easy, which is good, because otherwise nobody but crazy horse lovers would dare pay $12.99 for a game this rough.
See on the Xbox Store (opens in new tab)
Kyurinaga's Revenge
In 2015, Spanish developer RecoTech subjected the world to a terrible 3D action-platformer called Yasai Ninja. The next year, Yasai Ninja received a sequel called Kyurinaga's Revenge. Perhaps they left the old name off to distance the two games, but Revenge isn't much better than its predecessor.
The story revolves around anthropomorphic vegetables who are also samurai and ninja, for some reason. Our protagonists are an onion and broccoli who met in the first game. This one is a 2.5D action platformer, with lots of hazards to dodge and collectibles to find. Annoying "battle stages" break up the platforming. These play like a painfully slow rhythm game and really kill the game's pace.
Like Yasai Ninja, Kyurinaga's Revenge supports 2-player local co-op. If playing solo, you'll switch between characters at will. Co-op is a bust, unfortunately. If either player dies, you both die, so it's actually better to play solo. Although this sequel is a bit better than the original, it's still ugly, unpolished, and overpriced at $19.99.
See on the Xbox Store (opens in new tab)
Lovely Planet
What happens when someone who doesn't know anything about game design tries to combine a first-person shooter with PSOne-style visuals? You get Lovely Planet from QuickTequilla and (the usually much more reliable) TinyBuild. At $9.99, it costs about 15 dollars too much.
Admittedly, Lovely Planet has a charming pastel-colored art style that evokes colorful Japanese games from the 90s like Jumping Flash and Katamari Damacy. Everything is incredibly simplistic, to the point that NPCs and enemies are just cubes with faces. The music is cheerful, but gets annoying fast. The goal is basically to reach the end of each short level as soon as possible.
Early on, an obnoxious mechanic comes in that ruins the whole game. Many levels have falling apples that must be shot before they hit the ground. Fail to shoot these apples and you'll die instantly. The concept is utterly stupid and unforgiving, seemingly designed around mouse-based reaction times rather than a controller's. Don't even buy this one for the Achievements; they're tough.
See on the Xbox Store (opens in new tab)
Monster Jam: Crush It!
Monster Jam is a real-world motorsports event involving monster trucks. Since 2002, it has also been a budget videogame series. I haven't played past games, but 2016's Monster Jam: Crush It from Team6 and GameMill is embarrassingly bad for a $19.99 game.
Crush It! offers three basic game modes. Stadium Races are a handful of short checkpoint races that are over before you know it. Stadium Freestyle asks players to complete stunts to earn points, but the mode is so completely broken that the only way to earn high scores is by driving into walls over and over (see video).
The Hill Climb mode itself offers three variations and lots of levels, making up the meat of the game. Hill Climbs use an awkward isometric perspective, but their simple gameplay works better than Races and Freestyle. Crush It! looks dated and amateurish, but wouldn't you know it? The Achievements only take about 3.5 hours. Grab it if your Gamerscore needs a boost.
See on the Xbox Store (opens in new tab)
MX vs ATV Supercross Encore
MX vs ATV Supercross Encore from Big Bang Entertainment and Nordic Games is a mildly enhanced version of a 2014 Xbox 360 racing game. Like Monster Jam, it's based on a real-life motorsport that nobody cares about. This one has a lot more content and UI polish, but that can't save the terrible gameplay.
Encore includes plenty of tracks, vehicles, and riders. The Career sports over eight campaigns, each with numerous races to win. There are five different race types, some pitting bikes against ATVs. Online and split-screen multiplayer. So what's the problem?
Put simply, MX vs ATV's handling is absolutely awful. This is a game that needs good, simple arcade controls and steering. Instead, the vehicles are terribly fidgety and swerve all over the tracks like crazy. Thus the racing just isn't fun like it should be. Factor in grindy Achievements and an annoying abundance of paid DLC, and Encore is less than compelling at $29.99.
See on the Xbox Store (opens in new tab)
Soda Drinker Pro
It almost feels wrong to include Soda Drinker Pro in this list. Unlike the other games which are bad by accident and circumstance, Soda Drinker is bad on purpose. Developer Will Brierly and Showrunner Productions developed it as an elaborate joke, one that includes porting the game to unique platforms and selling custom soda bottles at conventions.
Soda Drinker is really two games in one. The main game involves waking around poorly rendered environments at a horribly slow pace and drinking your soda to complete the level. This mode has tons of unique music and voice samples to keep you going as you slurp soda for Achievements.
As a special surprise, walking into the house in level 2 sends you into Vivian Clark, a super bizarre collection of non-soda minigames. It's not unlike how Glittermitten Grove on Steam includes Frog Fractions 2 as a secret bonus. The difference is those games are actually good, whereas Soda Drinker Pro's only value comes from its humor and Achievements. At least it only costs $4.99, making it a cheap joke.
See on the Xbox Store (opens in new tab)
Teenage Mutant Ninja Turtles: Mutants in Manhattan
Platinum Games has a spotty track record. Despite some great games like Bayonetta and Transformers: Devastation, they've also cranked out disappointments like The Legend of Korra – and usually for Activision. If Mutants in Manhattan had been as good as Transformers, there'd be reason to celebrate. Sadly, the game was rushed to launch in a barely-finished state in time for the second Michael Bay Turtles movie.
Mutants uses a weird art style for the Turtles, but otherwise the story scenes are very well done. The gameplay is obviously undercooked, though. Most levels involve running around sparse open environments, completing random objectives until you're allowed to move on and fight the boss. Bosses have way too much life, making them boring to fight. The inventory system is totally useless and the leveling and upgrade systems aren't much better. No local multiplayer, although it at least has online play.
Activision has severely mishandled the Ninja Turtles license since they got it, producing mostly terrible Xbox 360 games before Mutant in Manhattans. This one had the chance to be great, if only Platinum had another month or two to polish it up. Due to poor sales, Activision chose not to renew the license and Mutants was delisted from digital storefronts. If you're a very patient Turtles fan, you can still grab the physical version on Amazon for under fifty bucks.
See on Amazon (opens in new tab)
Dishonorable mentions
Only games I actually played were included on this list. I did my best to try every poorly received Xbox One game released in 2016, but I didn't get to try a few games of questionable reputation:
Alekhine's Gun
Blast 'em Bunnies
Carmageddon: Max Damage
Homefront: The Revolution
Lichdom: Battlemage
I played and consider the following games bad. But a surprising number of gamers inexplicably love them, so they get a pass:
Games are art, so no game can be objectively bad. Some of the games on this list have their fans, in fact. It's always sad when a team of people work hard on a game, only for the final product not to work out as hoped. That doesn't mean that every amateur developer needs to clog digital storefronts with games that nobody could possibly like, either.
Quality control is a challenge that Xbox One and other platforms with digital storefronts will continue to face in the years ahead. In the meantime, we can have a bit of fun at the expensive of truly bad games and try to learn lessons from them. Look on the bright side. These games aren't great, but on the whole they're probably a bit better than the Worst Xbox One Games of 2015!
Have you suffered through any of the games in our roundup? Did we miss any 2016 releases that deserve to be on the Worst list?
Windows Central Newsletter
Get the best of Windows Central in your inbox, every day!
Paul Acevedo is the Games Editor at Windows Central. A lifelong gamer, he has written about videogames for over 15 years and reviewed over 350 games for our site. Follow him on Twitter @PaulRAcevedo. Don't hate. Appreciate!
I played Homefront and really enjoyed it, it's a bit of a one trick pony but what FPS isn't these days (except Titanfall 2, the level design and style in that game is unparalleled).

Got to agree on a few of these, that I have seen. Actually considered a couple of these racers when they were on offer. What I would love to see is a Re-Volt remake, or a Rocket League Racer,with similar weapons as Re-Volt. Granted it was a Dreamcast title, which then be same the first game played over Xbox Live. Shame we have not seen a remake.

Yeah, it's a shame the kart/combat racing genres are so limited on Xbox One at this point. The best options are probably Gas Guzzlers Extreme (which sadly lacks multiplayer) and Beach Buggy Racing.

It amazes me, given the popularity of games like that, that we have such a poor showing. ReVolt defined my time on the Dreamcast. Whilst Rocket League is great for what it is, it always feels like a mini game. They have the handling though, so just add rockets and oil slicks!

Sega all star racing transformed is a pretty good kart racing game - even if it is a XBox 360 title

True, I quite like that one. The campaign difficulty gets frustrating after a while, but otherwise it's an excellent game. I wish Sega would do a current-gen sequel and get the difficulty right with it. :)

It's a real shame about Cel Damage as I really enjoyed that game on the Xbox. But I guess it's a case of there are much better options since then and they didn't bring enough new to the table.

You have trackmania... Haven't tried it yet... But seems alright and you have online and local co op

The only one i familiar with is the turtles game which i was hoping would be a at least an okay game, nee so long since a good TMNT game can someone please make a good one, or re-release TMNT 4.

I haven't heard of most of these games...and probably for a reason. Soda Drinker Pro almost had my attention....

Lovely Planet is actually a surprisingly difficult and pleasurable game on the PC, but I can imagine it being near impossible on consoles. It's not meant to be played with a controller.

Yeah, I think the tomato mechanic would be dumb anyway, but they should have at least toned down the difficulty for consoles.

They should've. It's a massive oversight not to accommodate the controller's inherit limits. However, on PC it's a great timewaster. The challenge of knocking off just a few microseconds from every level is actually...well really frustrating but also fulfilling when you succeed. It's a very strange game. I don't understand why it ever came to Xbox though. Some games are just PC games, you know?

I liked Soda Drinker Pro as a joke. The main game quickly gets boring. The side mode is interesting though, but confusing. Overall the list looks good.

I've seen some of those newer Cartoon Network shows (since I have younger siblings). Given how awful the "comedy" in that stuff is, I can't say I'm surprised they make for a terrible game. I haven't heard of anything but Soda Drinker from this list, but I'm also unsurprised a game about horse racing (a very bland event that offers little in the way of strategy or complexity) would translate poorly to a game.

A worthier bunch, I've not seen. I'm glad farming sim at least got an honorable mention, I can't imagine something more boring than fake farming, real farming is bad enough.

Luckily I have not spent any money on the games you listed. I didn't have a problem with Ben Hur (movie or game). The game was free and I don't think it was intended to be anything more than a small promotional item. So on that one I'd say don't hate - appreciate.

I played ben hur for like 10 min and had 500GS. The game is horrible tho.

Yay, Ben-Hur made the list :)

that was a great game i had fun. how many game sin the world have you ever played that you got to horse race for free?

my friend is an achievement hunter, and has bought almost all these games, because it's not that hard to get the achievement points and completions of them. yeah, most are terrible games, but he doesn't care, he just wants to inflate his gamerscore. later -1

All I got to say is "dont hate apreciate" from this title i feel hate so i didn't read it. :D

I still don't see the attraction the Farm Simulator games...

I'm still waiting for someone to greenlight Kabuki Warriors HD.

For a MX Fan MX vs. ATV Series always was good. I played MX vs. ATV Supercross on 360 and now on XBox One and had much Fun with it. MX is not suited well for Arcade Controls cause not much People will buy an MX Game if they don't care about MX! And the People who care mostly don't want Arcade Controls... Also its funny you Mention no one cares about MX as a Sport cause the FIM SX World Championship / AMA SX Championship goes 17 weeks around the US Football/Baseball Stadiums and has thousands of Fans (Up to 70.000) in the Stadium every Week and can be watched like in HD on TV on Fox Sports...

Yeah and you find US football and also baseball almost only USA.... Yeap nobody cares... You can add NASCAR and wrestling.... No but seriously I see what he means.... It's a niche market compared to let say soccer.... But I agree always heard good things about those games from fans of the sport...

Good thing I never played any of those games, still can't believe you finished horse racing lol

You expose our business model of pushing shoddy product into a high margin marketplace and milking undiscerning doofuses. You must die.

Only played TMNT from this list, but it's definitely a worthy addition!

Perhaps microsoft should just sell 1000 acheivement points for $19.99. No development effort and there are people who would buy it.

Since Ben-Hur is free it shouldn't even be on the list. There are no bad games, just bad price points.

totaly agree. free games shouldn't be listed. it was more of an advertisement then a game.

While price is of course an important factor in evaluating a game or other piece of art, it's not the only one. Time is a precious and irreplaceable currency, and the longest terrible game in the world would still be wasting it even if you paid nothing for the game. A low price simply doesn't excuse a product from criticism.

I'm lucky enough to have never played any of these games! :D I can agree with pretty much all of these. It's a shame about Teenage Mutant Ninja Turtles though... hopefully we get another TMNT game later on. Good to know which ones to avoid, even for the achievements :P Thanks!