WWE 2K17: The complete list of your favorite wrestlers coming to Xbox One
WWE 2K17 is the latest wrestling game from 2K Sports and Yuke's, and here's the full roster!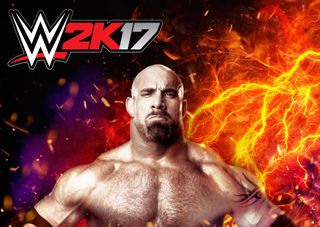 WWE 2K17 is now available on Xbox One and PlayStation 4. This year's game features over 130 current and classic wrestlers, including the debut of AJ Styles, Becky Lynch, and others. This roster with all DLC wrestlers will help you prepare for WWE 2K17.
See on the Xbox Store (opens in new tab)
WWE Superstars
Aiden English
AJ Styles
Alberto Del Rio
Baron Corbin
Big Cass
Big E
Big Show
Bo Dallas
Braun Strowman
Bray Wyat
Brock Lesnar
Bubba Ray Dudley
Cesaro
Chris Jericho
Curtis Axel
D-Von Dudley
Darren Young
Dean Ambrose
Diego
Dolph Ziggler
Enzo Amore
Erick Rowan
Fandango
Fernando
Goldust
Heath Slater
Jack Swagger
Jey Uso
Jimmy Uso
John Cena
Kalisto
Kane
Kevin Owens
Kofi Kingston
Konnor
Luke Harper
Mark Henry
Neville
R-Truth
Randy Orton
Roman Reigns
Rusev
Sami Zayn
Seth Rollins
Shane McMahon
Sheamus
Simon Gotch
Sin Cara
Stardust
Sting
The Miz
The Rock
Titus O'Neil
Triple H
Tyler Breeze
Tyson Kidd
Viktor
Vince McMahon
Undertaker
Xavier Woods
Zack Ryder
WWE Female Superstars
Alicia Fox
Becky Lynch
Brie Bella
Charlotte
Emma
Naomi
Natalya
Nikki Bella
Paige
Sasha Banks
Stephanie McMahon
Summer Rae
Tamina
NXT Superstars
Buddy Murphy
Chad Gable
Dash Wilder
Finn Balor
Hideo Itami
Jason Jordan
Samoa Joe
Scott Dawson
Wesley Blake
NXT Female Superstars
Alexa Bliss
Asuka
Bayley
Carmella
Dana Brooke
Eva Marie
WWE Legends
Andre the Giant
Arn Anderson
Bam Bam Bigelow
Big Boss Man
Billy Gunn
Booker T
Bret Hart
Brian Pillman
British Bulldog
Butch
Cactus Jack
Christian
Daniel Bryan
Diamond Dallas Page
Diesel
Dude Love
Dusty Rhodes
Earthquake
Edge
Jake Roberts
JBL
Jim Neidhart
Larry Zbyszko
Lex Luger
Luke
Mankind
Mr. Perfect
Randy Savage
Razor Ramon
Ric Flair
Rick Rude
Ricky Steamboat
Rikishi
Road Dogg Jesse James
Shawn Michaels
Stone Cold Steve Austin
Tatsumi Fujinami
The Ultimate Warrior
Typhoon
Vader
WWE Legends (Female)
Alundra Blayze
Lita
Trish Stratus
DLC WWE Superstars
Karl Anderson (Included in the Future Stars Pack)
Luke Gallows (Included in the Future Stars Pack)
DLC NXT Superstars
Apollo Crews (Included in NXT Enhancement Pack)
Austin Aries (Included in the Future Stars Pack)
Mojo Rawley (Included in the Future Stars Pack)
Shinsuke Nakamura (Included in NXT Enhancement Pack)
Tye Dillinger (Included in the Future Stars Pack)
DLC NXT Women
Nia Jax (Included in NXT Enhancement Pack)
DLC Legends
Albert (Included in Hall of Fame Showcase)
Brutus "The Barber" Beefcake (Included in Legends Pack)
Buddy Roberts (Included in Hall of Fame Showcase)
Eddie Guerrero (Included in Legends Pack)
The Godfather (Included in Hall of Fame Showcase)
Goldberg (WCW) (Pre-Order Bonus)
Goldberg (WWE) (Pre-Order Bonus)
Greg "The Hammer" Valentine (Included in Legends Pack)
Jimmy Garven (Included in Hall of Fame Showcase)
Kerry Von Erich (Included in Hall of Fame Showcase)
Kevin Von Erich (Included in Hall of Fame Showcase)
Michael Hayes (Included in Hall of Fame Showcase)
Papa Shango (Included in Hall of Fame Showcase)
Sycho Sid (Included in Legends Pack)
Tatanka (Included in Legends Pack)
DLC Female Legends
Ivory (Included in Hall of Fame Showcase)
Jacqueline (Included in Hall of Fame Showcase)
Coming soon to a console near you
WWE 2K17 is now available on Xbox One, Xbox 360, PlayStation 4, and PlayStation 3. The current-gen versions are available in standard and Deluxe editions. The physical and digital Deluxe Editions include the game, Season Pass, and MyPlayer Kick Start (extra unlocks for MyCareer mode, a $9.99 value) for $89.99.
The WWE 2K17 Season Pass costs $29.99 and contains:
Accelerator
Future Stars Pack
Hall of Fame Showcase
Legends Pack
New Moves Pack
Want more WWE 2K17 coverage?
See on the Xbox Store (opens in new tab)
Wrestling fans, are you excited about WWE 2K17's roster? Which absent wrestlers do you wish had made the cut?
Paul Acevedo is the Games Editor at Windows Central. A lifelong gamer, he has written about videogames for over 15 years and reviewed over 350 games for our site. Follow him on Twitter @PaulRAcevedo. Don't hate. Appreciate!
I'm boycotting this because there is no custom entrance music even though XBOX supports it.

That is kinda lame. What entrance music would you use? :O

Custom entrance music for my downloaded created wrestlers, like this series had for almost a decade on Xbox 360. But I guess that's lame...

I meant it's lame you cant do that, I was agreeing with you.

I'd be interested in this if it has a story mode similar to the Austin one, that was really good. HOWEVER the game was a bit of a frustrating PITA at times and I was literally just playing to complete that mode and see all the clips and relive the matches I watched over the years. They would need to have massively overhauled the gameplay for me to be interested in paying for this (Got WWE 2K16 on GwG luckily) The number of crap mini game style things was lame IMO - The best wrestling gameplay ever is still from the N64 games. No Mercy being the swan song for decent WWE games IMO. There are still many ways they haven't been able to improve on that. Even the branching story mode was amazing considering how long ago it was made.

The lack of Showcase mode in 2K17 is definitely a downer. I hope they fixed some of the minigames/mechanics as well. We'll see!

Yeah if they removed these mini-games I'd be interested when the price comes down to £25 or less even without the Showcase mode. They could have done another infamous wrestler like HBK and included the Iron Man match from WM12! That would be epic and that mode was the only thing I enjoyed in 2K16, without it the mini games would have just made it too annoying to play. The games AI can kick out of a pin whenever it wants to based on damage, but a player could get pinned quite early on by just having bad timing, even if they haven't taken too much damage.

That's a lot of people to render.

It doesn't support it because background music is different from ripping songs to the HDD and playing it from there. Still should be a great game improving on last year

If it has the same mechanics as 16 I'm not touching it Posted via the Windows Central App for Android

Wow I have lost touch with WWE, I have no idea who's who anymore maybe those b4 The Rock era...it's hell alot of character including dlc

Off topic: When will Xbox one S launch in India

If you know it's off-topic and preface it as such, why the hell would you post it here? I know about it, and I am not going to tell you.

Prefer the game play of No Mercy on the n64, in my opinion one of the best wrestling games of all time. My cousins and I played an insanely long ladder match - the only reason we stopped playing is because the console froze from getting tooooo hot. That's how long the match went on for lol. That game play, current gen graphics and a granular create a character is the winning combo. But THQ went bust....

YES! Best wrestling game ever IMO. If they could take what made it great and give it some modern graphics etc. it would kill.

Long time WWE fan, I got WWE 2K16 a few months ago... I cannot even figure out how to control it. I suck at WWE games I guess. If anyone wants to try this with me over Xbox Live, send me a PM here. Nothing more I would like to make a wrestler with a hybrid of HBK and Bray Wyatt moves and then hit someone with a table!

They don't introduce you to the mechanics very well. I would read up on it online, and/or start with MyCareer Mode, which does have some mild tutorial content.

@Sunstorming...try the my player. It's a form of tutorial that really helps getting to know the controls and layout instead of just jumping in with the wolves

I still play No Mercy, and it's still the best wrestling game of all time IMO. But unfortunately that style of arcade gameplay is dead. If someone would just make 1 title they would how many supporters they would have over today's gen titles. But, as it is, 2K is doing a great job

I really miss the wrestling games on the N64 made by the now closed THQ. They were simple and fun. Now the controls are just too much and complicated to learn. It makes me want to just button mash but I don't like doing that.

How the hell do you have every member of the dx besides X-Pac!!!!????? Posted via the Windows Central App for Android

The dream is to one day get THQ / Aki Corporation - No Mercy style gameplay with modern graphics. Another note on the current titles, I would happily trade out the 3D crowd for 2D "cardboard cutouts" if it meant that they could improve the render quality on the actual wrestlers, hair, and the squared circle. Maybe I'm seeing things wrong, but to me, 2k15 / 2k16, and now 2k17 looks like they could be running on Xbox360. I find the visuals underwhealming for current generation. Final note: Thanks goodness for the Legends Roster, because that's the only way I'll play these games (I have no clue about modern wrestling). It's always a thrill to take a step back in time with the old school WWF guys in a modern video game.

I think supporting the previous gen consoles can hold a game back sometimes. They don't want to create two completely separate games from the ground up after all, so I think they use exactly the same AI with a few extra graphical effects that don't really make a huge difference. Games that come out yearly in general still seem to do this, like Fifa as they know a lot of people who aren't massively into gaming just buy that 1 game every year and don't want to upgrade their console. Good to see what they did with Black Ops 3 where only the multiplayer portion of the game was on previous gen consoles. Think it gives them a clean run at embracing the current gen hardware. Weird to think we are at the point where incremential updates are coming to the current gen consoles and the previous gen still gets so many games made for it. Good for owners of those consoles of course!

So many wrestlers to choose from

Where are Rey Mysetrio and CM Punk?
Windows Central Newsletter
Thank you for signing up to Windows Central. You will receive a verification email shortly.
There was a problem. Please refresh the page and try again.