Microsoft teams up with Bonnaroo to stream the thirteenth annual music festival live to your Xbox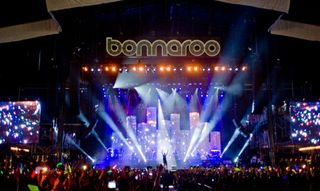 If you are a fan of the annual Bonnaroo Music Festival, then you are going to be excited to hear that Microsoft and the festival people themselves have joined up to stream the event live, exclusively on Xbox. You can avoid the massive crowd of what is said to be over 80,000 people trekking to the farm in Manchester, Tennessee and instead enjoy the music right from the comfort of your own couch with either your Xbox 360 or Xbox One entertainment console.
The Bonnaroo Music Festival is a weekend long event that will begin this year on February 19 and marks the thirteenth annual occurrence since it began in 2002. In 2008, the festival was named the "Best Festival" by Rolling Stone magazine who called it "the ultimate over-the-top summer festival". What traditionally began as an event focused on jam bands and folk rock, now highlights everything from Gospel music to Stoner Rock, and everything in-between.
Access of this type has never been granted before, and now Xbox users will be able to watch the entire event just as if they were standing in the audience (minus the sweat and screaming). According to Microsoft, you will be able to view multiple streams of various performers and artists, along with the ability to "join the conversation with fellow virtual-Bonnaroovians".
The Bonnaroo Lineup announcement megathon, also known as BLAM!, will be broadcast on February 19 starting with the pre-show event at 7 PM EST and leading onto the lineup announcement at 9 PM. You will be able to go ahead and download the Bonnaroo app from your Xbox Live Dashboard the day of the event to get ready.
Have you ever been to Bonnaroo in person? Are you excited to be able to watch it live exclusively on Xbox?
Source: Microsoft (opens in new tab)
Windows Central Newsletter
Get the best of Windows Central in in your inbox, every day!
Now if only I cared about Bonnaroo...

This is awesome news for people that cant make it. I took my 928 last year and recorded some amazing videos!

I'll make it to the Roo this year if the lineup is any good.

Can't catch a contact buzz from your Xbox though...

Yes, but can my Xbox recreate the smell of dirty hippies and the euphoria of living in a shady drug haven in my living room? It can't? Okay, good.

This is great news, even if you're not a fan of the music. But if you are and have a Windows Phone... Plenty of performances from previous years are available for free (and ad-free!) with the "Live Music Access" app. http://www.windowsphone.com/s?appid=411b8788-27a3-409a-a584-f381f4865e21 Just search for Bonnaroo.

Guess where I live? Well, not in Manchester, but (literally) a few miles north, so this is cool beans. That said, I don't think that the festival is starting in 12 days. I mean, a summer music festival in the middle of winter? It's 25° outside at 1:45pm! I also can't see this being free, considering the possibility of lost revenue and the costs to stream. Anyhow, this thing, while fun, is also a real bitch when you're there (traffic, weather, porto-potties, etc). First year I went, record high temps (over 100°) and drought. Second time, was rainy/muddy as hell.

Lol. I live in McMinnville. You can just come hang with me that week.

I was there both of those years. Still worth it.

havent they been streaming this over the web for a couple of years now. and they arent losing money. its a deal with MS so I'm sure they are getting something and MS will probably pick up a few new Gold members because I'm sure you will need a Gold membership to download and watch.

Lol. Xbox one costs as much as two tickets to feel like crap for a week.

Just the Xbox? Well that stinks.

Nothing about availability in countries and whether Xbox Live Gold is needed? I like this, in any case. It'll be morning here when the festival starts, so it could be in the background while I do my routine.

my older cousin has been going with her husband since it started. with 4 kids now its harder for them to go. this news will make them feel better about not being able to go.

Oh Bonnaroo, so much fun in the beginning years, it was a true Jam Band Festival, I was fortunate enough to go to the first and second year, those early years were the Bonnaroo experience that it was intended to be. The first year was a bit strange as no one knew how it was gonna be policed, turned out to be no police at all, it was private land, and of course, with 90,000 hippies on 700 acres, there was absolutely nothing to worry about, and everyone knew what was coming for Bonnaroo 2003, complete freedom to do whatever. In 03 we went 3 days before the festival started thinking we would be camping close to all the stages, instead they had everyone filling up the farthest end of the farm, roughly a mile to all the stages, but oh well, wasn't like we were planning to sleep at all. They started the music a night earlier than announced, and its non stop from then on. All I know is, it was the best 5 days id ever had, it was simply amazing. Now it seems to be more pop/rock bands and many other genres, they sold it out and and completely ruined it, but oh well, it still draws a crowd I guess. 2002 - 2003!

This is awesome. I'm sure there will be a few acts I wouldn't mind watching. Too bad something like this can't happen for Lollapalooza. I refuse to pay the insane ticket prices to see 3-4 bands I want to see.
Windows Central Newsletter
Thank you for signing up to Windows Central. You will receive a verification email shortly.
There was a problem. Please refresh the page and try again.