Xbox Design Lab's custom controllers may not launch in Europe or UK until 2017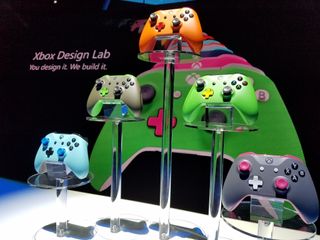 A new report claims Microsoft's Xbox Design Lab, which will offer custom controllers for the Xbox One, may not launch in Europe or the UK until sometime in 2017.
Microsoft announced the Xbox Design Lab during its E3 2016 press event, and pre-orders for the controllers started in the U.S. for shipment later in 2016. However, it may be a different case in Europe and the UK, according to Ars Technica UK:
Windows Central has reached out to Microsoft to confirm this report. We will update this post when or if we get a response.
They don't want a elite controller again where stocks are low for ages. So limiting sales by limiting roll out.

Is it possible for me to design one with my country's flag ok it?

Nope, just the constructional elements can be coloured differently.

Have they not heard of international shipping?? Why is this so hard this day and age? We can land a spaceship on an asteroid but MS can't do hardware/software launches properly in other countries... It's fkd.

Also shipping costs would sky rocket and would be a waste of time and money to ship from US when they can set up a stable and economically viable UK base for this product

£25 extra for different colours. Pass.

Different colors and it has textured grips and it's also Bluetooth enabled. No more wires if you're PC gaming

UK is in Europe. Weird they named them separately.

the UK is still in Europe, Europe is a continent and the UK is still in the EU for a another year or 2 anyway

Lol "Europe or UK"... Coz UK isn't in Europe obviously

The UK is in Europe, just not in EU, massive difference pal

We will be in the EU for two more years after we invoke Article 50, which we haven't done yet pal.

There goes our plans on getting two before the Scorpio. Looks like we'll be stuck with the original controllers until then. Wont buy two ordinary new controllers, and wont buy One S...

Because it's really hard, in this day and age, to ship things overseas, especially for a multinational, billion dollar company.

Isn't that it's jist a matter of taxes/duties involved compared to shipping from their eu subsidiaries
Windows Central Newsletter
Get the best of Windows Central in in your inbox, every day!
Thank you for signing up to Windows Central. You will receive a verification email shortly.
There was a problem. Please refresh the page and try again.