Reviewing the amazing Limited Edition Xbox Elite Gears of War controller
If you have $199 to spare then make sure you grab this limited edition controller!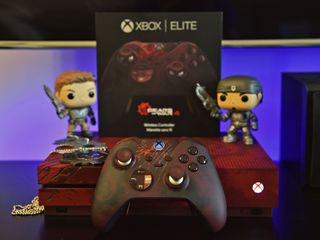 Microsoft has been on a roll this year with customized Xbox gear that takes things to the next level. Whether it is their Xbox Design Lab with custom controllers or the new Limited Edition Xbox One S themed for Gears of War 4 Redmond has been making some impressive creations.
One item that escaped our grasp – until now – is the increasingly hard to find Xbox Elite Wireless Controller - Gears of War 4 Limited Edition. Let's see it get unboxed, give it a quick tour, and some detailed photos, shall we?
Although Microsoft sold out of the preorders, you can still find it the $199 controller at the Microsoft Store and physical Game Stop locations (opens in new tab). That's right $199.
See Gears of War Elite Controller at Microsoft (opens in new tab)
That means this controller is $50 more than a regular Elite edition, which is already three times the price of a new One S controller. Yowza!
But if you want this controller you don't care about price, do you? Because if you are a Gears fan then getting this controller is likely on your short list.
And why not? I already love the Elite Controller (see my review), and when you add in this fantastic color scheme, laser claw marks, and little Easter Egg details e.g. 'grub killer' under the D-Pad, there is a lot to love here.
Whether it is the maroon colored custom case, or just the exquisite detailing (check out the fingerprints on the metal paddles) this is one awesome looking creation that is also highly functional.
Nonetheless, if you are on a budget, you do have a few cheaper options to showcase your Gears fanaticism. For instance, you could grab the limited edition Gears of War 4 Crimson Omen or JD Fenix controllers for $75.
See Gears of War Limited Edition controllers at Microsoft (opens in new tab)
Alternatively, you could spend $30 and upgrade your existing Xbox One Elite Wireless Controller with this neat Gears of War Component Kit, which I reviewed last week.
Image 1 of 6
I think Microsoft did a great job with this controller. It's a nice nod to the dedicated Gears of War community to create something so unique. You can tell this thing was made with dedication and reverence and for that, it goes into our hall of fame of Microsoft gear.
Curious about Gears of War 4? Make sure you read our full-review and my review of the Gears of War 4 Xbox One S console!.