Reviewing the amazing Limited Edition Xbox Elite Gears of War controller
By Daniel Rubino last updated
If you have $199 to spare then make sure you grab this limited edition controller!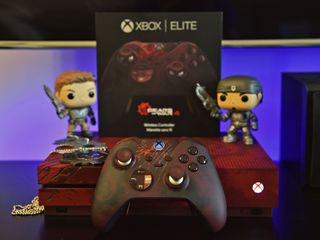 Microsoft has been on a roll this year with customized Xbox gear that takes things to the next level. Whether it is their Xbox Design Lab with custom controllers or the new Limited Edition Xbox One S themed for Gears of War 4 Redmond has been making some impressive creations.
One item that escaped our grasp – until now – is the increasingly hard to find Xbox Elite Wireless Controller - Gears of War 4 Limited Edition. Let's see it get unboxed, give it a quick tour, and some detailed photos, shall we?
Although Microsoft sold out of the preorders, you can still find it the $199 controller at the Microsoft Store and physical Game Stop locations (opens in new tab). That's right $199.
See Gears of War Elite Controller at Microsoft (opens in new tab)
That means this controller is $50 more than a regular Elite edition, which is already three times the price of a new One S controller. Yowza!
But if you want this controller you don't care about price, do you? Because if you are a Gears fan then getting this controller is likely on your short list.
And why not? I already love the Elite Controller (see my review), and when you add in this fantastic color scheme, laser claw marks, and little Easter Egg details e.g. 'grub killer' under the D-Pad, there is a lot to love here.
Whether it is the maroon colored custom case, or just the exquisite detailing (check out the fingerprints on the metal paddles) this is one awesome looking creation that is also highly functional.
Nonetheless, if you are on a budget, you do have a few cheaper options to showcase your Gears fanaticism. For instance, you could grab the limited edition Gears of War 4 Crimson Omen or JD Fenix controllers for $75.
See Gears of War Limited Edition controllers at Microsoft (opens in new tab)
Alternatively, you could spend $30 and upgrade your existing Xbox One Elite Wireless Controller with this neat Gears of War Component Kit, which I reviewed last week.
I think Microsoft did a great job with this controller. It's a nice nod to the dedicated Gears of War community to create something so unique. You can tell this thing was made with dedication and reverence and for that, it goes into our hall of fame of Microsoft gear.
Curious about Gears of War 4? Make sure you read our full-review and my review of the Gears of War 4 Xbox One S console!.
Daniel Rubino is the Executive Editor of Windows Central, head reviewer, podcast co-host, and analyst. He has been covering Microsoft here since 2007, back when this site was called WMExperts (and later Windows Phone Central). His interests include Windows, Microsoft Surface, laptops, next-gen computing, and arguing with people on the internet.
This thing just look amazing... If i was lucky enough to find one (currently sold out of online and physical coppies in San Antonio) i wouldn't even open it. Simply put a vacuum zeal wrapping and displaying it proudly... In the box that is :)

The controller is absolutely gorgeous just like the GoW4 XBoneS edition is. But to me the pricing is a no-no. The Elite controller is great and I have it but it's definitely not worth 150€. And if the normal Elite controller isn't worth 150€, this one definitely isn't worth 200€.
100€ for the Elite controler and 140€ for this one? Sure, fair prices for the hardware, the extra 40€ for the custom work. Anything above that is just overpriced, no matter how beatiful any of these things are.

Are Elite controllers really THAT much better? If Yes, is it just for the paddles or is it overall better feeling? I would like to try one one day but damn, I don't even want to pay full price for a regular controller!

Everything about it is better imo. That being said, my left stick drifts up something fierce that I can't use it. It's now out of warranty so its big $150 paper weight. Buyer beware, purchase at best buy with two year protection plan.

Oh, this happens even with Elite controllers? It's useless to get one then.

Well...yes and no. It feels sturdier, yes and it's smoother. But it's still plastic. If you're a casual gamer, it's not worth it unless you enjoy some very specific things. For example, I'm not a gamer (I wish I had the time...) but there are some things I definitely enjoy about the Elite more than the regular one. Namely the thumb sticks. I much prefer the rounded top ones (PS-style) than the concave ones. I also enjoy the direction disc instead of the traditional direction-cross. Having the trigger travel distance with two stops is also nice. But honestly, to me the biggest advantage of the Elite is really the rounded thumb sticks. So it's not that much of a difference. I also don't use the additional triggers but then again I haven't played FPS's since they stopped taking place during WWII. It's a really nice controller. But it's definitely not 150€-nice (I mean, it doesn't even bring a charge and play battery pack which, at this price, should be sort of mandatory)

Thanks for that, it's kind of what I have been thinking about them. I wish I still had time to maintain my gamer status as well.

ok, cool controller but, NFW $200 cool.... $100-125, maybe even $150, I would think about grabbing it but, $200 for any controller is crazy, unless it's a high end pro gaming controller...and this is not that..
Windows Central Newsletter
Get the best of Windows Central in in your inbox, every day!
Thank you for signing up to Windows Central. You will receive a verification email shortly.
There was a problem. Please refresh the page and try again.