Xbox Extras pulling an Adobe, reverting back to "LIVE" version for Windows Phone users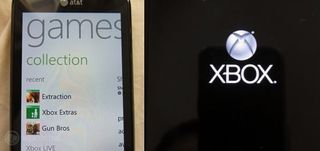 Released too early to the Store?
We're not sure what's going with the Windows Phone Store, but there sure are some oddities occurring. Last week we reported that the amazing Adobe Reader update to version 10.1 was being downgraded in a follow up update—that is still the case with version 9.0 being the only version in the Store for some regions, including the US.
Now, Xbox Extras, which we had reported as being refreshed to remove the "LIVE" branding is now also either being reverted in a second update or is gone altogether from the Store. When we try to search for the app we have found it's been de-listed/hidden from public view. Trying the direct link display the old version but it is unable to be downloaded just yet.
We're starting to suspect that these were actually Windows Phone 8 app refreshes to coincide with the big launch at the end of the month—after all, they were both major makeovers or re-brands—but maybe they were set loose a little too early in the Store and now Microsoft is trying to put the genie back in the bottle.
We've reached out to Microsoft for clarification for both apps and will post an update if we have something to add. Thanks to everyone who has sent this in…
Windows Central Newsletter
Get the best of Windows Central in in your inbox, every day!
Daniel Rubino is the Editor-in-chief of Windows Central, head reviewer, podcast co-host, and analyst. He has been covering Microsoft since 2007 when this site was called WMExperts (and later Windows Phone Central). His interests include Windows, laptops, next-gen computing, and for some reason, watches. Before all this tech stuff, he worked on a Ph.D. in linguistics, watched people sleep (for medical purposes!), and ran the projectors at movie theaters because it was fun.
Anyone knows if Face Swap is doing the same thing? It's telling me there is an update, but the update is 2.0.0.0, which I already got a while back...

I noticed the same thing. I wouldn't download it, let MS fix this store problem first then wait and see if the app is still there.

I never even got updated to the new Xbox Extras. :(

I did and poked around briefly. I rarely used that app and from what I remember, the layout changed around, but I didn't really delve into it much more to see if there was any changed functionality. Oops.

Did happen to notice that the icon changed to the new Xbox for Windows phone thing instead of Xbox live. Figured that was the main reason for the push. Monopoly and Farm Frenzy 2 also had an update recently that didn't seem to change the icon in a similar manner, but as far as I can tell, there were no other changes.

Alas, I did the second update before reading this article and got the old one back...

I don't think so... I think there is something wrong with the marketplace, I am have a similar issue with an app called "Beem" the developer sent out an update and every time I download it, I get the original v1.0 (it should be at 1.2). Can someone verify this for me? Btw Beem is a di.fm (electronic music) player, and is good stuff if I could get the new version.

I think it's the store too. I just wiped my phone and when I went to my installed apps list from my PC, many of them are missing from the list.

That might explain the Microsoft app updates, but the Adobe Reader 10.1 exposed no Windows Phone 8-relevant functionality. I think the app store is having issues...or Adobe withdrew the update for unexplained reasons and these other "rollbacks" are just coincidential.

An odd thing on this one. I just formatted one of my phones (work) and went to download Adobe again, I got version 10, but my personal phone still will not get past version 9 for Adobe...so I'm leaning towards store.


It's a marketplace issue... It was, and still is, 10.1 for most (?) people

Speaking of adobe, when will they fix it???

+1000, been wondering the same thing. Stuck on the crummy version :'(

Nothing to fix? 10.1 is currently in the marketplace for most regions. It's probably isolated to the US if you're still seeing issues

*nothing for Adobe to fix. It's likely an MS marketplace issue

Also, I was never able to get the new version of extras.

Have that situation today!
Same situation happened with HTC Connection Setup, downgrade from version 2.0 to 1.15

do you know if 2.0 had Straight Talk support?

I hope I get a downgrade for the HTC Hub because that was so much better to me

I'm still stuck with the crap 9.0 app

Everytime I hear something about the Marketplace it is always negitive. How hard is it to manage a store? Probably hard because I have no idea what goes into it. What I am trying to say is apps go missing, just misplaced or they are being downgraded. I like my Lumia but everytime I hear something like this it continues to take the jam out of my donut.

They did the same damn thing last year... I think they just want to see how it works on real device... Lol

"pulling an Adobe" - love it.

Seriously, after 2 years we finally had a usable PDF viewer ... for a few days, then it was gone again. Only for some users though. And for no stated reason. WTF. iOS and Android have had way better PDF viewing than even the updated version for... how many years? This is really shameful for the Windows Phone platform.

Probably just rebranding the store to windows phone store, just like android market to google play.

Also, did u know the app reinstaller stopped working? I'm getting a replacement phone, and I really don't want to do it the long way.

Also MetroRadio stopped working, now it has been pulled from the marketplace

Try Radio Controlled? It is working for me at the moment.

THe adobe update issue is fixed in CDA, by the way.

Noticed that on the new re-branded version that I couldn't access the marketplace for avatar item and rolling back to this one just released I can view and purchase items for my avatar again. Anyone else had this?

I hope that on wp8 you get the option to downgrade on apps in case they get corrupted or the update is just worst.

When did Xbox live extras only have avatar editing and lose all of the gimmicky extras like ruler and flashlight?

You are probably referring to Xbox gadgets.

You're right I always confused those. Hope they make a lot of the extras functionality native in WP8

I'm getting a prompt to "update" the BBC mobile app to 3.6 from 3.7. Microsoft definitely screwing up again.

My pictures back in the news :)

Thanks to WPCentral I never DL'd the adobe update and I dragged my feet on the Xbox live extras. The extras is now gone from my updates but Adobe still looms. Hope this gets straightened out soon.

My Adobe went back to version 9 last update but today's update brought it back to 10.1. I'm in Canada.

FYI - I'm in Canada and noticed this last weekend that Adobe Acrobat rebounded from the backdated version 9 to 10 again in Marketplace, but also got bumped up from 10.1 to 10.1.1.
Not sure what the difference is, but it came up as a update that could be downloaded. I updated and it looks like the new version. I just double-checked the version that I was going to be updated to before I committed to before downloading it...
Windows Central Newsletter
Thank you for signing up to Windows Central. You will receive a verification email shortly.
There was a problem. Please refresh the page and try again.