Xbox joining in the #TeamMicrosoft party with Lotus F1 in Singapore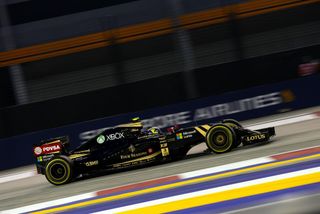 We love a good underdog, right? The Lotus F1 Team is struggling on and off circuit of late, sadly, more so at the bank than the track. Whatever the circumstances, Lotus has gradually been transforming into #TeamMicrosoft this season, with the initial Microsoft Dynamics sponsorship deal widening to include more consumer friendly brands.
This weekend for the Singapore Grand Prix, Xbox has joined the party making it a Microsoft triple-threat: Dynamics, Lumia, Xbox.
The car looks fantastic and with the teams future uncertain, administration or a takeover by Renault looming, who knows how long there'll be so much Microsoft in the F1 paddock.
And just check out these race suits!
Good luck to them!
Picture courtesy of @Lotus_F1Team
Windows Central Newsletter
Get the best of Windows Central in in your inbox, every day!
Managing Editor - Tech, Reviews
Richard Devine is a Managing Editor at Windows Central with over a decade of experience. A former Project Manager and long-term tech addict, he joined Mobile Nations in 2011 and has been found on Android Central and iMore as well as Windows Central. Currently, you'll find him steering the site's coverage of all manner of PC hardware and reviews. Find him on Mastodon at mstdn.social/@richdevine
Oh dear.... Really like some of the cars they make

It's only the F1 team...not the car company. AFAIK the car company is doing fine

That underdog line, hehe I sense many meanings...

Renault is planning to buy out Lotus...
So yes, they are doing just fine.
& VW/Audi are planning to buy out Red Bull!
4 major manufacturer's (Ferrari, Mercedes, Renault, VW) in F1 will make for some pretty exciting racing I reckon. Hopefully Honda can get their shit together too...it doesn't seem right having McLaren at the back of the grid!

Where did you read about VW buying Red Bull? Last I heard they decided VW weren't interested, and Ferrari was going to potentially be the next engine supplier....

Renault deal coming in the next week I think. Hope they keep all the branding on there. No reason why they would want to get rid of sponsors when most teams are struggling to get them. Good thing too that they use Microsoft systems so this will all stay in place even if Renault do take over. Let's hope that VW get Red Bull next year too ;)

Especially hoping Microsoft stays involved as I suspect it has played a big part in getting several Lotus F1 cars, including their most recent model, into Forza Motorsport.

Underdogs sponsoring underdogs.. Makes sense!

Microsoft sponsoring Finland Basketball team also. With Microsoft logo in front and Lumia on the back.

Looks great. Great visibility. It should only be on Max Verstappen's car. 2 favorites together.

I'd rather they team up with Mercedes, they are champions after all, with Luis Hamilton as brand ambassador. Or Ferrari with Sebastian Vettel might also be a good idea. Although yes, since there are rumors of Renault buying Lotus for Constructors', teaming up with Renault might also be a good idea, assuming they will give a hard time to leaders Mercedes, Ferrari and supposedly Redbull-Ferrari next campaign in this era of hybrid turbo engines.

Actually, their sponsorship of Lotus has been a v.v.good deal for them.
Lotus have been getting a LOT of exposure - more so than any other team aside from Mercedes. They have also got a podium...one of the only back teams to do so. The Lotus brand also carries a lot of prestige - so to get cheap sponsorship on their cars has been one of Microsoft's few strategically sound marketing efforts.

Future uncertain for sure for L..

Not much visibility when you're sponsoring a car that never makes it past halfway before retiring.

It was on the podium a couple of weeks back.
Grosjean is a fantastic driver...."Crash"tor Maldonado is ALWAYS being talked about...and Lotus have a strong brand name. They are also the constant focus of the F1 media - and probably have more coverage than any other team in F1 right now.
Cheap sponsorship of a highly visible team. Clever move.

And if you ask someone, who is sposored Lotus F1, what is the answer? Must don't know. If you ask someone "Who is sponsored the pro cycling team Microsoft", what is the answer? I think most will say Microsoft. I don't understand why Microsoft do not create their own pro cycling team. They would have a lot of media time when the 3 greate tours are, and through the rest of the year, every time there is a race. Instead thei use (waste) money on places where the supporters just know their team but don't know who is sponsored their team. Comeone Microsoft, let os se you in Giro Italia, Tour the France and Vuelta Espania next year!

Nonsense. No one gives a hoot about pro cycling.
In fact the only brand I remember from the TDF is the US Postal Service and Sky...

US Postal Service? Why do they spend money they don't have for things like these? Thanks Obama.

They stopped years ago...
They were the principle sponsor of the team that Lance Armstrong rode for...

It was during Bush era when Lance was riding for USPS team.

There you see. Even you, not interested in cycling know teams name. If you now Arsenal or Liverpool, you don't know/care who their sponsor are.

Renault F1 is buying Lotus F1 team and they will need all the sponsors they can get as Renault is French government owned company, so don't worry Richard, We will have Xbox and Microsoft Lumia on the 2016 Renault F1 car.

Richard can you add the picture of Lotus drivers race suit? Xbox branding and green colour was added to both driver's race suits, here is the Lotus twitter link for that photo: https://twitter.com/Lotus_F1Team/status/645219093340139520

Wow! I want one of those! Consider it done, thanks!

On yes just saw their suits tonight, green Xbox ones, looked weird could have gone with blue for windows.
Windows Central Newsletter
Thank you for signing up to Windows Central. You will receive a verification email shortly.
There was a problem. Please refresh the page and try again.