Xbox Live - Contract Killer now accepting jobs on the Marketplace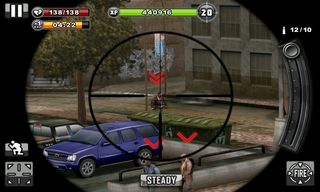 Ready to shoot some thugs, Windows Phone gamers? As we promised yesterday, Contract Killer from Glu Mobile is now on the Marketplace.
Contract Killer allows players to take on the ruthless world of corporate business, making deals with unsuspecting investors only to leave them high and dry at the last minute. Wait, wrong kind of contract! Actually, you play as a hitman in this game. Missions involve sniping one or more targets from a first-person perspective. But watch out – they shoot back.
Assassin's Guild
Like Glu's recently-released Gun Bros, Contract Killer boasts some compelling social features. The folks on your Xbox Live friends list who play Contract Killer are automatically added to your Assassin's Guild. The more members of your guild complete optional objectives (like getting 10 headshots in a row without missing), the more rewards everyone gets. Rounding out the co-op options, players can send gifts of Medkits, Sodas, and Reactix to each other.
On the competitive side, the Target Friend mode allows you and your friends to shoot each other (asynchronously). I wasn't able to eliminate any of my friends as they haven't downloaded the game yet, but it sounds like a cool feature. What will the rewards for Target Friends missions be?
Freemium elements
Contract Killer's freemium features are both similar and different from Gun Bros. The in-game store accepts two forms of currency: cash and credits. Missions pay out cash rewards, so it's easy enough to come by. Credits however must be either earned by completing Assassin's Guild objectives with friends or by spending Microsoft Points. 30 Credits cost 80 Points ($1), while 1000 credits cost 3200 Points ($40). Spendy! Actually, Contract Killer also allows players to convert cash into credits, allowing players to build up credits just by playing.
Credits aren't just used to buy superior weapons and armor though. They're also tied into the game's time-based mechanic. Each mission you accept costs a certain amount of energy. Once that energy runs out, you can't take another mission until it refills. Energy does refill over time at a rate of about one unit per three minutes – not a huge hindrance, really. Leveling up restores energy as well as increasing your maximum energy. But if your energy runs out and you want to keep playing, food items will refill it instantly. Food costs credits, of course.
Loading...
If you haven't installed Contract Killer yet, you're probably wondering how it fares technically. Last week's Gun Bros was marred by excessive load times and bugs, which Glu has committed to alleviating in a future update (details here). Unfortunately, Contract Killer suffers from a similarly lengthy start-up load, though like Gun Bros you can dramatically reduce the loading by disconnecting from the internet prior to playing. Of course, you'd be missing out on the great Assassin's Guild features by doing so.
Also, pressing the Back button from the map screen exits straight out of the game – an odd design choice. Back functions as you'd from within the game's menus though. Other than those two annoyances, my experience with Contract Killer has been very smoouth so far.
Pick up the contract
Contract Killer is free to play. Grab it here from the Marketplace.
Thanks to Zebrasqual for the tip!
Paul Acevedo is the Games Editor at Windows Central. A lifelong gamer, he has written about videogames for over 15 years and reviewed over 350 games for our site. Follow him on Twitter @PaulRAcevedo. Don't hate. Appreciate!
On a completely unrelated note, any word on Sonic 4 Episode 2 yet? I am also presuming that I should, by now, give up hope of that February 2012 release for Sonic CD. Any sign of that game floating around the WPCentral rumour mill?

i miss them too :( hopefully sonic 4 comes next week ...

Re the Gun Bros update, did they offer a timeframe for it? I've done quite a bit and always hold my breath starting the game in case I lose data like others have. Thanks.

I hope soon. I can't get past daily rewards screen now. I don't wanna start again =(

oops! You've reached the storage limit on your phone,
dam thes 170MB games... i just deleted 6 games and it wasnt enought lol

None of your friends, huh? Now guess who just killed you, Paul. ;P

Yup, I finally capped him too. He was easy, his goons were giving me trouble though. :(

Thanks for the tip guys! Downloading now... jejeje

Extremely glitchy =( freezes alot. Won't let me aim. Grr

Doesn't matter if it's online or offline. Can't aim, freezes, I have to hit back to get rid of help messages.

Weird. No such issues on my Lumia 900. Loading times are way too long though.

Still can't play. I'm running tango but my carrier hasn't released firmware yet. My sons 710 plays it fine. Its just my 900.

I had the same trouble on my hd7. I turned phone off and on again and everything worked great.

Wow, just like Gun Bros I can't start this game. It hangs at the loading screen. Gen 1 device.
Thank god these games are free. If they weren't I'd be kind of pissed that they don't work on Gen 1 and do not specify that anywhere in the Marketplace listing.
I guess I'll have to wait until later this year for my WP8 device before trying these out. It's infuriating.

I have a Lumia 900 and I can't play either. Not just Gen 1

How does this stuff get certified? Also how does Paul get it to work? I want Paul's phone.

My sons 710 plays it glitch free. This is stupid

My 1st gen HTC plays it just fine that's why I gets certified cause most can play it, also it was just released there are bound to be bugs its a game come on

lol it's the second game in a row that's unplayable to me. Look, I usually don't complain about free games. I'm happy to get them, even if they suck (like Bug Village). But they should at least be playable. I just want to get past the start screen, it's not like I'm asking for the world here.

I figured it out anyway, I just had to turn on Airplane Mode (what!)

Did you try restarting your phone? My game was locked at the main screen, despite playing for a few days before. Phone restart fixed it (i.e. Turn phone off/on again)

Yes, the game is just broken, half the time you cannot get past the load screen on my device. The only way to play it for sure is in airplane mode, so it stops trying to go online at load screen, which seems to be where the issues lie.

I'm sure the devs don't want that though since I can't purchase content online and that is the source of their freemium funding.

Works on my HTC arrive Gun bros that is :)

Wow 176mb to download. I have no problem with that on my phone but how about low storage for those lumia 710 users with low 8gig lol...

Haha I feel you on that one. I tend to just have a few games at a time loaded to my Focus Flash, and when I've completed them I delete them to make room.

Stop ragging on the 710 and get over the fact that it's selling. Thenet/timwp12/daniel12

Both Gun Bros and contract killer work on my Focus Gen 1 with memory card.

Very glitchy, but restarted the phone and it worked. There is meny/exit though so I exited with windows button (HTC Titan with SRS off)

....no meny/exit I meant.

Working on my Lumia 900 w/ Tango. A little laggy, but it still works.

Both work on my HTC Arrive with LEADPOIZON's ROM on it. Contract Killer is very laggy though. Rebooting phone in hopes of making it speed up... jejeje

has no issues what so ever. Played for about an hour unti I ran out of energy :( Initial load time was more excessive by maybe a factor of 2 that Gun Bros on my Lumia 900. Fun game though...will definitely get repetitive however...

Can't install after download, what's wrong?

I'm having weird problems installing as well. I can't verify 100% that it's the game because I haven't sat and paid attention to the download all the way through yet, but I saw it was at 44% and I'm pretty sure it got to 50% no problem, then something flubbed on the install.

The reason why a lot of you can't start the game is because you let it go to "sleep" when it is downloading. Be sure you don't leave the download screen or get a call while it is downloading. I had the same problem with Gun Bros after uninstaslling and re-installing it 3 times then decided to try it again, this time without letting it go to sleep mode (i.e.: phone locks itself) and now, both Gun Bros and this one runs FLAWLESSLY. Granted I'm using the Titan which has 100hz extra over the Lumia devices. It's a great game. Both of them are and being free, bonus.
Try my steps and let me know if it then worked for you.

Menus are a bit laggy on my Lumia 800. Actual gameplay works fine, not the best game I've played but certainly ok considering it's freemium.

Running fine on my Omnia7, enjoying it so far!!;-)

Both games work pretty fine on my lumia 800 =D

Works fine on my Samsung Focus. Seems like. A fun FREE game.

This game sucks... I don't know who allowed this piece of crap...so dumb #Xbox live @windowsphone

I have no image. The game is playing but it's a blank screen. All of the controls are there though

It works perfectly on my Lumia 800 ... just need to add friends so they send me gifts ... and do missions together
Add me as a friend on Xbox Live - hobaz91

Froze up on me. Uninstalling.

Load time takes about 10 seconds....all is fine on my HD7...Now after I got to a level 12 and accept the contract it sends me to the phone home screen....GRRRRRRRRRRRR...

Please add me as a friend. All my RL friends are still either complaining about there buggy Android or a member of the Iphone sect. They are slowly coming around though. :)

Not sure if I just missed the option, but it appears to me you can only convert credits to cash...and not cash to credits like this article states, which makes sense they wouldnt want you easily earning those precious (and pricey!) credits so easily!

im new add me ass friend, i play contract killer. My name Vilnius23

HI, I have MS points and over 5 million in game Money but I cannot convert either into glu credits, what AM I supposed to do?

Wish I could try the guild part. No one on my FL has this game in their WP.
Windows Central Newsletter
Thank you for signing up to Windows Central. You will receive a verification email shortly.
There was a problem. Please refresh the page and try again.