Xbox Live Gold members can save some money on two new ID@Xbox games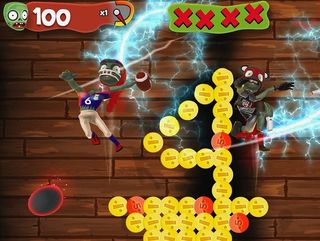 If you are a paid subscriber to Xbox Live Gold, you know that you get at least one free Xbox One game every month, along with discounts for older games. Now those kinds of savings are extended to two newly launched ID@Xbox games, Slice Ninja for Kinect and Ultratron, with both discounts available until May 22.
Slice Ninja for Kinect does require that the Xbox One be hooked up to the now optional Kinect motion sensor. Developed by MADE GmbH, it's basically "Fruit Ninja with Zombies". It's normal price is $9.99 but Xbox Live Gold members can buy it for just $7.99 until May 22. Here's a quick summary:
Get Slice Ninja for Kinect from the Xbox One Store (opens in new tab)
Developed by Carbon, Ultratron is a sci-fi arena shooter with an old school gameplay look and feel. It's regular price is $9.99 but Xbox Live Gold members save some money until May 22 and can get it for just $8.49. Here's its description:
Get Ultratron from the Xbox One Store (opens in new tab)
Which of these games will you be buying to play this weekend?
Source: Major Nelson
Windows Central Newsletter
Get the best of Windows Central in in your inbox, every day!
Discounts are good but I now have to many games. Need to play what I have.

According to steamleft.com I have 4097 hours of gameplay to get through -_- My pile of shame on xbox and WP is also huge :/

Kinect zombie slicing! Zombies will be bifurcated; they just will. I think it's a good move to debut ID@Xbox games with a Deals with Gold discount like that. Fun fact about Slice Zombies for Kinect: it was made by just two developers from Germany, who literally made everything in the game themselves (the artwork, character designs, music, etc.). Took them a year.

Bought both. Was gonna buy them anyway, so the deal is a bonus.

Wow, talk about break the bank deals :|

Will be getting the zombie game soon. Looks fun and it has some good achievements.
Windows Central Newsletter
Thank you for signing up to Windows Central. You will receive a verification email shortly.
There was a problem. Please refresh the page and try again.