Xbox glossary: The terminology of Xbox Scarlett and Project xCloud
It's a busy time for Microsoft, and our Xbox glossary wraps up the essential terminology you need to know to stay up to date.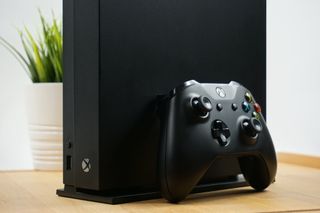 (Image credit: Matt Brown | Windows Central)
Microsoft is gearing up to kickstart the next generation of Xbox consoles, with work seemingly underway on a new wave of cutting-edge hardware. It's a vibrant time in Redmond, with plans for a duo of future-facing boxes, scaling an adaptive streaming service, and laying foundations for the next decade of gaming. Our next-generation Xbox glossary rounds up the essentials to know, including codenames, leaks, and more.
Save today
(opens in new tab)
Xbox One X 1TB Fallout 76 Bundle
The cheapest Xbox One X you'll find

While the next generation of Xbox looks on track for 2020, Xbox One X currently leads the pack. Boasting 4K and HDR gaming, it's the best of the Xbox One lineup.
Understanding Xbox in 2019
Microsoft has established an extensive Xbox ecosystem, spearheaded by Xbox One S and Xbox One X, also steadily expanding to Windows 10 PCs and mobiles. The next generation of Xbox seemingly aims to bolster the platform with two all-new Xbox consoles, further diversified by a new Xbox game-streaming service dubbed "Project xCloud."
While formal details on what's next for Xbox are scarce, credible reports outline plans for a 2020 release. Below you'll find more than a dozen terms and codenames you need to know ahead of E3 2019, where we expect to learn more about the console.
With Project xCloud and future Xbox consoles still in early stages, expect more specifics in the months ahead. As we receive fresh details on the future of Xbox, more additions will hit this list.
Anaconda
Microsoft's upcoming next-generation flagship bears the reptilian "Anaconda" codename, slated as its high-end console akin to Xbox One X. Packing top-tier hardware, Xbox Anaconda is expected to rival the upcoming Sony PlayStation 5, boasting cutting-edge performance at launch. Its leading power will pair with a high price tag, kicking off next-generation gaming as a console for enthusiasts. Official word on this beastly box is limited, though we currently expect a holiday 2020 release date.
Anthem
With work underway on its Project xCloud game streaming service, Microsoft is reportedly scaling a platform codenamed "Anthem," using custom datacenters built on Xbox One hardware. Comprised of current Xbox One S consoles stripped down to custom server blades, it allows streamed titles to run in a native environment. Early deployment of Anthem xCloud hardware is underway at Microsoft's Quincy, Wash., data center, recently shipping a "Take Home" build for testing.
Cloud Aware
Microsoft further expanded on its Project xCloud plans at the Games Developer Conference (GDC) 2019, detailing development tools to adapt titles for cloud streaming. Upcoming "Cloud Aware" APIs allow developers to deploy tailored cloud-specific, device-aware alterations for a smoother transition outside the living room. Examples provided vary from minor interface tweaks to fully overhauling save systems for mobile players.
Danta
Xbox Anaconda will be Microsoft's 2020 front-runner, kicking off its next-generation ambitions with considerable power under the hood. Microsoft is getting the upcoming console in studios as soon as possible via the Anaconda development kit, reportedly codenamed "Danta," according to Thurrott.com. This device should pack similar hardware to the final retail release, like with additional capabilities for development purposes.
GameCore
With a vast hardware lineup planned for the next generation of Xbox, GameCore completes the puzzle with new software. Extending upon Microsoft's ongoing work with Windows Core OS, GameCore is a rumored fresh host for titles on Xbox consoles and Windows 10 PCs. The platform is designed to streamline development further and remains an understated but principal component of the future of Xbox.
Lockhart
While Xbox Anaconda is Microsoft's next-generation powerhouse, work is underway on an entry-level console codenamed "Lockhart." As we exclusively reported in December, Lockhart is an Xbox One S-style device, focused on balancing next-generation performance and affordability. We're hearing Xbox Lockhart performance falls close to Xbox One X, although reworked with new hardware and refinements.
Maverick
Leaks of Xbox Anaconda and Lockhart surfaced alongside "Maverick," a codenamed digital-only console based on the existing Xbox One S, ditching its internal disc drive. The console has since launched as the Xbox One S All-Digital Edition (opens in new tab), lowering the console retail price to $249. This streamlined design is otherwise identical to its predecessor, with shared internals and performance. The focus now shifts to next-generation consoles, potentially marking the final revision of the Xbox One.
Project xCloud
Streaming is the next hot topic in gaming, with Microsoft, Google, and others doubling-down on cloud-based services. Project xCloud is Microsoft's codenamed game-streaming platform, migrating full-fledged Xbox One gaming to the cloud. Leveraging custom-built servers based on Xbox architecture, Microsoft plans to deliver low-latency, low-bandwidth streaming across the globe. Project xCloud's initial rollout will first target Android mobile devices, with early public testing on track for sometime in 2019.
Ray tracing
Interest and investment in ray tracing are rising, with NVIDIA's GeForce RTX GPU lineup and PlayStation 5 both tailored for the technology. This advanced rendering technique elevates video game lighting and better simulates how light interacts with virtual objects. It's the next advancement in lighting and reflections, with a profound impact on the portrayal of scenes. Although unconfirmed for Microsoft's console, a focus from competitors indicates a likely role in the future of Xbox ambitions.
Scarlett
As we first reported in 2017, Xbox Scarlett is the codename for the upcoming class of next-generation of Xbox hardware. Scarlett encompasses Anaconda and Lockhart consoles, advancements in Project xCloud, and future endeavors all under a single family.
Solid-state drive
Solid-state drives (SSDs) are expected to be featured in upcoming Xbox consoles, shifting away from mechanical hard disk drives (HDDs) of the Xbox One S and Xbox One X. SSDs boast improved performance and reliability over HDDs, sporting flash memory over a spinning platter. High-speed SSDs in future Xbox consoles can hugely improve load and render times, shaving off those seconds for more gaming.
Touch Adaption Kit
During the early stages of Project xCloud, Microsoft has focused on developer tools for the platform. The Touch Adaption Kit is one of several components, allowing studios to produce custom touchscreen layouts. Mobile phones and tablets are xCloud's initial focus, and engineering specific arrangements for titles will ease the transition to glass input.
Zen 2
Like existing Xbox One consoles, Microsoft and AMD will partner to deliver the "secret sauce" for coming Xbox hardware. Both Xbox Anaconda and Xbox Scarlett are expected to feature custom CPU based on AMD's seven-nanometer Zen 2 CPU microarchitecture, serving the brains to achieve 4K resolution at 60 frames-per-second (FPS) gaming. As reported by Brad Sams, this custom system-on-chip (SoC) could be codenamed "Arden."
What's next for Xbox?
As with all in-progress projects, keep in mind that Microsoft's future Xbox plans can change. Bridging a broad assortment of concepts beyond consoles, products and their specifics will likely evolve throughout development. However, with Xbox Scarlett and Project xCloud proposing the widest reach yet, the coming console generation could venture into promising new territory.
Let us know your thoughts on the road ahead in the comments.
Save today
(opens in new tab)
Xbox One X 1TB Fallout 76 Bundle
The cheapest Xbox One X you'll find

While the next generation of Xbox looks on track for 2020, Xbox One X currently leads the pack. Boasting 4K and HDR gaming, it's the best of the Xbox One lineup.
Xbox accessories you'll love
Every one of these quality accessories is guaranteed to enhance your Xbox experience.
PowerA Enhanced Wired Controller for Xbox One (opens in new tab) ($20 at Amazon)
PowerA's take on the Xbox One controller is an attractive pickup for budget-conscious gamers that nails all the basics.
Talon PDP Xbox media remote (opens in new tab) ($20 at Amazon)
The Talon PDP Xbox media remote is great for watching shows on your console.
Xbox One S vertical stand (opens in new tab) ($10 at Amazon)
Stand your console upright with this accessory.
Get the Windows Central Newsletter
All the latest news, reviews, and guides for Windows and Xbox diehards.
Matt Brown was formerly a Windows Central's Senior Editor, Xbox & PC, at Future. Following over seven years of professional consumer technology and gaming coverage, he's focused on the world of Microsoft's gaming efforts. You can follow him on Twitter @mattjbrown.
I don't think that is the case when you think about long term storage, especially at really large amounts. HDD is a safer option because they usually dont just fail completely. With SSDs, when they die, it's gone. Also, unless we reach some uper limit on the amount of TBs we can get on platters, HDDs will always end up being a cheaper option because they will continue to get larger and larger.

I guarantee the next generation of consoles don't hit native 4k and 60 frames in every game. Mainly because everything else is going to be ramped up, especially with the addition of ray tracing.

The future of Xbox Imo is limitless. With Satya Nadella 100% behind xbox and knowing that xbox is a huge part of the love out there for Microsoft. The Scorpio blows my mind everyday, best console of all time until Xbo, releases their next mega monster Anaconda. Plus the backwards compatibility with X1X enhancements, talk about customer satisfaction on a whole new level. To the point I buy everything digital because Xbox has shown pure love for us and my belief that this console isn't going nowhere. I love Xbox since it's release and in my life at the moment is one of the major things I look forward to. Plus everyday is almost Christmas with BC..... Im babbling. Just know xbox is synonymous with video games. Simple.
,