Xbox One 1440p support coming 'very soon' to Xbox One X and Xbox One S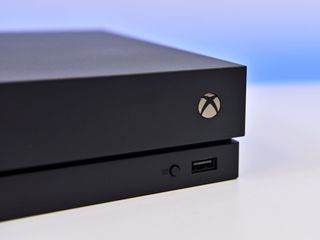 (Image credit: Windows Central)
When Microsoft launched the Xbox One X last fall, marketing around the flagship console drove its support for 4K resolutions. While the benefits of 4K are mostly limited to those with compatible displays, the use of supersampling technology also provided benefits for those at 1080p. Although far from the ideal way of experiencing the console's horsepower, this essentially makes for a clearer image, with frequently smoother edges and shadows.
Supersampling might deliver some impressive visual upgrades on 1080p displays, yet the benefits for those on 1440p monitors are limited. Currently, the Xbox One X downsamples exclusively to 1080p, resulting in a lower than native resolution on 1440p displays. Microsoft promised support for 1440p would be coming "soon" after launch, though failed to provide a set time frame.
Kevin Gammill, program manager for Microsoft's Xbox Platform Partner Group has now taken to Twitter, indicating 1440p support will soon make its debut. Teasing that those in the Xbox Insider Program will be "pleasantly surprised," it's fair to assume the feature will be arriving in an imminent update.
Many questions recently around the timing of our 1440p support. Those of you in our early preview ring should be pleasantly surprised very soon if you have an Xbox One S or Xbox One X.Many questions recently around the timing of our 1440p support. Those of you in our early preview ring should be pleasantly surprised very soon if you have an Xbox One S or Xbox One X.— Kevin Gammill (@CmdrDesslock) February 16, 2018February 16, 2018
This also confirms 1440p support is on its way not only to Xbox One X but Xbox One S too. However, with 4K gaming currently limited to its flagship, Xbox One S 1440p capabilities will likely be confined to video playback.
Today's news follows a recent tweet from Xbox Insider Program head, Brad Rossetti, teasing that new pre-release builds could be as soon as this week. For now, we'll have to wait for an official announcement, likely with an upcoming build for Xbox Insiders in the Alpha preview ring.
Matt Brown is Windows Central's Senior Editor, Xbox & PC, at Future. Following over seven years of professional consumer technology and gaming coverage, he's focused on the world of Microsoft's gaming efforts. You can follow him on Twitter @mattjbrown.
I still have an original Xbox one and I am in the alpha ring. None of the recent new features have actually been exciting or worth the time they put into adding it. I doubt many people care much about theme scheduling. Or about the achievements you are closest to unlocking. We already had an achievement tracker, don't see the need for that one as well. I don't really think they needed to add the install progress bar in the guide, either. The system will tell you when the game is ready to start and/or done installing. So that, in my opinion, is another semi-useless feature. After getting all these recent updates, I have rated these things 1 or 2 stars in the insider app and explained why when possible. If I really want to watch the install bar move, I'll just sit in my games and apps and watch the queue. If I want to change my theme from dark to light or vice versa, I'll change it myself (although I prefer the dark since I play late at night in a dim room). This new update doesn't do anything for me, but will still be required to stay online when it pops up. How about bringing us things that were already promised like avatars 2.0, or bringing back snap for certain things, or put motion controls back in. I use my kinect and was disappointed that they took out the ability to swipe, shrink and expand things on screen without the controller. I don't even think the motion controls work for dead rising 3 anymore....could be wrong, but might not be.

Agreed. They add easy to develop items and create buzz that something is being worked on. Really important features are never getting into production. Similar situation in Windows 10 development...

No-one was using snap or kinect in any meaningful numbers and they cost resources that the system could use elsewhere, the removal of snap was why the OS got a lot faster, 99% of console user base will take the speed over features.

I'm sure they could have found a way to add speed with killing the kinect so soon after launch. The stuff that they promised isn't making it into the system. Things get pushed back for an undetermined amount of time and we just get strung along until they finally decide to put something out and then it might be broken and need another undetermined amount of time to fix. They have been working on fixing avatars on the home screen for months now. Still no fix.

I'm just happy to see the re-designed side bar / panel thing. It allows you to jump to other feature directly.
The speed of the desktop(?) is also much improved. You use you Kinect, I don't. Even though I bought a case-stand thing to hook it on top of my TV. FRU is the only time I actively use it. And I bet MS has the statistics... like Sony to Vita, drop the support.

No-one used Snap or Kinect. That is why they are both now in the trash pile. You will never please everyone. But Microsoft knows what people use on their Xbox and development is tailored accordingly. I only ever used Snap, for example, with the Domino's Pizza app to see where my food was. Hardly ruined my experience not having it ;)

So after adding 1440p support, next step would be Xbox One X - mixed reality?

It's possible but Xbox group have said VR will only be consumer friendly when it is fully wireless. Also the MR controllers are bluetooth based and do not support Xbox wireless controller interface though the XB1X does I think have a Bluetooth reciever built in. The Windows Store is a mess with no dedicated MR games section, all MR games need to be Xbox Play Anywhere titles if this it work and stand any chance of building PC/Xbox eycosystem.

my guess wireless probably wont happen unless you add a backpack. otherwise your VR gaming sessions wont last very long. battery technology has a long way to go.

The problem is this is limited to HDMI 1440p monitors, most 1440p monitors are Displayport based a far better interface than HDMI. Some HDMI 1440p monitors do not have the 1440p resolution programmed into the HDMI port so it is 1080p only. Xbox really needs a proper HDMI 2.0 to Displayport adapter cable which outputs a native Displayport signal to monitors for this to work. Would also solve a lot of compatability isues with PC monitors in general.

The current insider preview has 1440p I saw it last week trying to refresh hdr due to the blink issue in sdr Hulu and sdr Netflix. Go to video settings shut off auto and set to 1440p. This works in beta on one x. Additionally my tvs the vizio r & p series (one of each) allows an srgb hdr 12bit setting with 1440p output. That puts the console at almost 50fps and super sampling. (I would venture to guess) also gives the games 4096 grey values and makes shadows look amazing since it super samples the 12bit colors to 10bit as well for games that support full rgb. I'll try it tonight. Also, Netflix supports that res as well. Last note on srgb/HDR if your tv supports that then there is no black bar issue in hdr playback. Again Vizio p series (r,m,d do not support 12bit supersampled hdr and for P it works on hdmi1. If u use true 10bit then hdmi5 supports 120fps at 1080p with a 19ms response.. You can grab a p for 1299.00 at best buy on sale. 128zones and uses the reference series comming logarithms which were created by vizio with Dolby. Go vote for Dolby vision in user voice too please.

What about Xbox One X to support 720p?

You can scale the display output to match whatever screen its plugged into already. Except for 1440p.

I would like to see improved resolution when streaming through the Xbox app on my 1440p PC gaming monitor. Occasionally, I prefer playing at the PC rather than the 4k big screen to which the Xbox is attached. The responsiveness is fine but the resolution is not great.

1440? thats cute. ps4 has 2160. never mind the fact that, remember when 1080 was all the rage when the ps3 and xbox 360 came out? the majority of the games only ran in 720. i am gonna just go ahead and say that most games wont run in 1440 anyways.
Windows Central Newsletter
Get the best of Windows Central in in your inbox, every day!
Thank you for signing up to Windows Central. You will receive a verification email shortly.
There was a problem. Please refresh the page and try again.