30 things you need to know about Xbox Series X
The game-changing things you can't miss about Microsoft's next-generation console, Xbox Series X.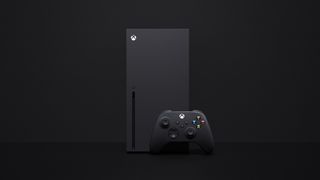 (Image credit: Microsoft)
Microsoft continues to ready Xbox Series X, its next-generation gaming console, on track for release later this year. It marks the latest milestone for the Xbox lineup, pushing unparalleled hardware specifications and performance, leading its ambitions for the upcoming decade. And although Microsoft still stows Xbox Series X information for its full unveiling, we've already learned a ton about the console's offering.
We've rounded up 30 must-know Xbox Series X facts, from flagship features, down to the details.
1. Microsoft leaps to 8K resolution with Xbox Series X, providing gameplay sharper than ever, but still compatible with 4K and 1080p TVs
Topping the various upgrades promised by Xbox Series X, next-generation consoles will target as high as 8K resolution, outputting up to 33 million pixels per frame. That might seem overkill, with 8K displays scarce and mighty expensive, but provides futureproofing the best part of a decade on shelves. But for the most part, 4K resolution will be the norm.
2. Xbox Series X includes a 12 teraflop GPU, double the graphics performance of Xbox One X, and rivaling top PC cards like the GeForce RTX 2080
That 12TF measurement documents its floating-point performance, essentially providing a glimpse into planned graphical power. That clocks in at double the 6TF GPU used by Xbox One X and even comfortably rivaling high-end PC cards like the GeForce RTX 2080 and Radeon RX Vega 56.
3. The CPU used by Xbox Series X promises "four times" the power of Xbox One X, custom-designed alongside AMD
Based on AMD's latest Zen 2 architecture, Xbox Series X features a custom CPU touting improved performance and efficiency. Microsoft promises "four times" the processing capability of Xbox One X, packing eight cores at 3.8 GHz.
4. Xbox Series X includes next-generation solid-state drive (SSD) technology, vastly improving storage speeds, which Microsoft claims can "virtually eliminate" loading screens
Xbox Series X adopts an ultra-fast NVMe SSD setup for Xbox Series X storage, abandoning the spinning hunk of metal found in the current Xbox One consoles. And by fast, we mean never-wait-for-your-console-ever-again, fast. Microsoft claims a "more than 40 times performance increase" over Xbox One with 2.4 GB per second, slicing through any loading screen.
5. The Xbox Series X includes a refreshed Xbox controller, featuring a dedicated share button, improved d-pad, and textured triggers
The Xbox gamepad undergoes some welcome changes with Xbox Series X, including a centralized share button for clips and screenshots, coupled with learnings from the Xbox Elite Controller range. Microsoft's latest design also comes in "ever-so-slightly smaller" than the existing Xbox One model, too, improving ergonomics for all.
6. Xbox Series X provides games with an opportunity to support 120Hz output up to 4K resolution, enabling smoother, more responsive gameplay with capable displays
The Xbox Series X marks Microsoft's first console to support 4K resolution at 120Hz, equalling a higher number of screen refreshes per second, for more fluid and responsive gameplay. While games must choose to leverage the feature, and used in conjunction with an HDMI 2.1 compatible setup, breaking away from 60 frames per second (FPS) hugely impacts action-packed experiences.
7. Xbox Series X expands the console's multitasking capabilities, now able to pause and resume multiple games simultaneously
Xbox Series X makes hot-swapping games easy, attributed its new GDDR6 RAM and SSD duo. Expanding upon the "Instant On" features of Xbox One, the next console can accompany multiple game sessions simultaneously and even retains them through a full system restart.
8. Both horizontal and vertical positioning is supported by Xbox Series X, overcoming a former limitation of Xbox One at launch
Microsoft's monolithic Xbox Series X design may require a reshuffle of your entertainment setup, but it provides the choice of vertical and horizontal orientation. It skirts a shortcoming that impacted the original Xbox One, with a sturdy rubberized base that won't necessitate a clip-on vertical stand.
9. The Xbox Series X is cooled using a single fan, described as "no louder than Xbox One X," seemingly inspired by the Mac Pro 2013
Microsoft balances its flagship hardware with a design focused on keeping quiet. Speaking with GameSpot, it details a single, large fan with high air output, described as on-par with Xbox One X acoustics. It's familiar to the Mac Pro 2013 and its infamous cylindrical "trashcan" form factor, ideally sans thermal throttling concerns.
10. Microsoft goes big with Xbox Series X, sizing up around 150% the volume of Xbox One X
Applying Microsoft's formal Xbox Series X specifications provides a better understanding of the boxy, monolithic design. The device clocks in at 30.1cm tall, with 15.1cm width and depth, resulting in 6864 cubic centimeters in volume. That's one beastly footprint, over one and a half of the 4320 cubic centimeters for Xbox One X.
11. Photos of an Xbox Series X prototype leaked online in January, providing our first look at physical hardware
Our first look at the Xbox Series X design came with The Game Awards 2019, and it wasn't long until images of the real deal surfaced online as well. The alleged leaked prototype provided our first glimpse at rear-facing ports, most notably featuring just one HDMI 2.1 port and proprietary storage expansion. Microsoft later confirmed that same configuration, while also axing SPDIF optical audio on the retail unit.
12. Say goodbye to TV — Xbox Series X removes the HDMI input, previously designed to hook up your existing cable box
The Xbox Series X embraces a significantly refined message over the early Xbox One, focusing almost exclusively on games, over movies, TV, and other entertainment forms. While mostly retaining the same capabilities of Xbox One, it removes the previous input port and HDMI passthrough for external TV boxes.
13. The Xbox Series X ships with an angelic new startup sound and you can listen to it today
While Microsoft has remained quiet on specifics around the Xbox Series X operating system, it has treated us to a soothing new startup sound and animation. The angelic 10-second soundscape provides a stark departure from the sharp tones of past consoles — one we're bound to hear on the regular this generation.
14. Xbox "Game Core OS" might be the secret sauce behind Xbox Series X's most impressive features
We're hearing various Xbox Series X features will be enabled by Game Core OS, the new developer environment readied for the next generation. Based on the upcoming Windows Core OS efforts, the platform would streamline development on the latest consoles, enabling access to APIs for flagship offerings.
15. Physical game discs aren't going anywhere — Xbox Series X features a disc drive for games and movies with 4K Blu-ray support
Yes, the industry increasingly favors digital distribution, bringing added convenience amid the rise of subscriptions and streaming. But the Xbox Series X retains the disc drive, ideal for those who prefer physical games or enjoy the benefits of 4K Blu-ray playback.
16. Xbox Series X commits to full backward compatibility, including support for all Xbox One games, alongside select Xbox 360 and original Xbox releases
Don't worry about your favorite games. Microsoft has pledged full backward compatibility with all Xbox One titles, covering your physical and digital purchases. The same applies to Xbox 360 and original Xbox games, although only those on the official backward compatibility list.
17. All existing Xbox One controllers, headsets, and storage devices will work on Xbox Series X — but the future of Kinect is uncertain
The Xbox Series X couples with a sleek new controller, but the colorful list of Xbox One controllers extends to Microsoft's next console, alongside other accessories. Microsoft states all Xbox One peripherals will function, even if the state of the now-discontinued Kinect and its adapter remains uncertain. While no SPDIF optical audio eliminates some headsets, Microsoft promises a workaround to retain compatibility with those models.
18. Xbox Series X revives the memory card with a compact, high-speed SSD developed in collaboration with Seagate
The Xbox Series X and its most ambitious titles mandate its internal NVMe SSD, raising issues when looking to expand. Microsoft has enlisted aid from Seagate to cook up a proprietary solution, compacting 1TB NVMe solid-state storage into a fun-sized expansion card. It slots into the rear-facing expansion port, hooked up directly to the processor over the PCIe 4.0 interface, doubling the console's capacity without performance hits.
19. Microsoft has developed audio ray-tracing technology, enabling realistic audio through sound physics
The Xbox Series X internals accommodate ray tracing, tracking how light travels within an environment for more accurate lighting, shadows, and reflections. Microsoft tinkers with similar audio technology through "Project Acoustics," with advanced sound physics to represent echoing, obstruction, and more. The initial demo highlights Gears of War, with impressive side-by-side results.
20. Xbox Series X aims to tackle latency, bundling features to reduce the delay between you and your games
The impressive horsepower of Xbox Series X will be accompanied by various features attempting to cut down latency. That includes dynamic latency input (DLI) synchronizing a game's rendering path with controller inputs, cutting milliseconds through the hardware. Xbox Series X also features auto low latency mode (ALLM) designed to better harmonize your TV and console, ensuring the best balance of visuals and speed.
21. Xbox Series X won't support virtual reality (VR) headsets at launch, with Xbox head Phil Spencer stating "nobody's asking for VR" — however, Microsoft remains open to VR in the future
Microsoft has no plans to include VR support with Xbox Series X, with executive vice-president of Gaming at Microsoft, Phil Spencer, stating he doesn't envision a return scaling its VR presence. While remaining open to the prospect in the future, it doesn't appear we're getting an Xbox VR headset, at least in the near-term.
22. Xbox All Access grants you an upgrade to Xbox Series X at launch, from Xbox One X or Xbox One S
Xbox All Access packages the full Xbox experience into a monthly subscription, providing an Xbox One S or Xbox One X console, accompanied by Xbox Game Pass Ultimate's all-inclusive membership. Microsoft's latest iteration of the service includes an upgrade to Xbox Series X, provided you've clocked 18 months with the service.
23. Over one 50 upcoming games have already committed to Xbox Series X upgrades, including those from Microsoft, Ubisoft, Electronic Arts, CD Projekt RED, and Bethesda
With Xbox Series X on track for late 2020 availability, the final lineup remains far from complete. However, we already know a handful of confirmed upcoming titles, including Halo Infinite, Senua's Saga: Hellblade II, Cyberpunk 2077, and Resident Evil: Village. We also know of several existing games pledging updates, such as Grand Theft Auto V, Fortnite, Destiny 2, and Rainbow Six Siege. Check out our ongoing list of confirmed Xbox Series X titles for the latest, including their expected resolutions and framerates.
24. You can get free Xbox Series X upgrades for some games via "Smart Delivery," already confirmed for Halo Infinite, Cyberpunk 2077, Assassin's Creed Valhalla, and Destiny 2
Smart Delivery is Microsoft's solution easing the transition into next-generation hardware, enabling free graphical upgrades, without the need to buy a second upgraded copy of the game. It's only optional for developers but provides peace of mind when purchasing the new console. The standardized process is free, automatic, and works across physical disc-based games or digital licenses. Many third-party publishers have already demonstrated support, with a full list of Smart Delivery-compatible titles steadily growing.
25. Microsoft doesn't plan for Xbox Series X first-party exclusives "over the next year, two years," pledging Xbox One compatibility for upcoming in-house titles
Even when Xbox Series X hits the market, your Xbox One isn't worthless straight away. Microsoft plans to release upcoming exclusives like Halo Infinite as cross-generation titles, available on Xbox One, but experienced best on Xbox Series X. "All of our games … will play up and down that family of devices," Xbox Game Studios head, Matt Booty told MCV.
26. Halo Infinite launches alongside Xbox Series X, backing the console with the best-selling sci-fi shooter
Microsoft first teased the Xbox Series X alongside Halo Infinite, coupling the shooter that defined the console's success with the start of its next-generation. While details on the latest mainline entry remain scarce, it's built on an all-new custom "Slipspace Engine," designed to draw the best of the latest hardware.
27. Xbox Series X is expected to receive a more affordable, lower-tier alternative codenamed "Lockhart"
While Microsoft's next-generation focus sits with Xbox Series X, talk of a budget-friendly, less powerful console also circulates. The project sports the "Lockhart" codename, reportedly intended to undercut the market for the budget-conscious buyer. Our sources previously suggested Microsoft plans to scale down horsepower and remove the disc drive, while still bringing some next-generation features exclusive to Xbox Series X.
28. Xbox Series X won't be the "last" Microsoft console, despite a push for Project xCloud streaming
As Microsoft scales its Project xCloud game-streaming technology, Xbox head Phil Spencer still sees console hardware as intrinsic to the Xbox experience. "I think that getting to a world where you don't have to own one device to play specific games helps the industry," said Spencer, speaking on the AIAS Game Maker's Notebook podcast. "[…] I think I'm going to have a game console plugged into my television for the next decade-plus."
29. Xbox Series X is on track for "holiday 2020," with no delay due to the pandemic
The next-generation Xbox is closer than you might think, with Microsoft promising a scheduled holiday 2020 release. Although a firm release date isn't locked down, the original Xbox, Xbox 360, and Xbox One all launched in November, making the month a likely candidate for Series X. While Spencer has acknowledged "some impact to schedules" due to current world events, it's still on track for later this year.
30. Microsoft promises new Xbox Series X news every month through launch its "Xbox 20/20" series
With Xbox Series X on track to debut later this year, Microsoft promises a steady stream of new details through its monthly "20/20" series. The initiative promises several months of Xbox Series X scoops, including new gameplay and features headed to the next generation.
Xbox Series X/S
Main
What is the Xbox Series X release date?
How much does Xbox Series X cost?
Why you can't preorder Xbox Series X yet
Get the Windows Central Newsletter
All the latest news, reviews, and guides for Windows and Xbox diehards.
Matt Brown was formerly a Windows Central's Senior Editor, Xbox & PC, at Future. Following over seven years of professional consumer technology and gaming coverage, he's focused on the world of Microsoft's gaming efforts. You can follow him on Twitter @mattjbrown.