What happened to the rumored Xbox 'streaming stick'? [Exclusive]
Prior to E3 2016, rumors circulated about a Chromecast-like "Xbox streaming stick," but sadly, the device never materialized.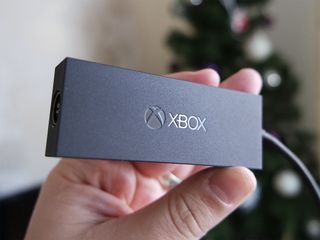 Initially leaked by Microsoft blogger Brad Sams, Microsoft was expected to debut a streaming dongle, similar to Chromecast, at this year's E3. Instead, we got Project Scorpio, with no streaming device in sight. So, what happened?
In a recent chat about Project Scorpio with a credible source familiar with Microsoft's plans, we discovered a little a bit about what happened with "Project Hobart."
"Hobart" was the codename for Microsoft's Xbox streaming stick, and the device was pretty much ready to go. Microsoft was due to order 300,000 units for manufacture, set to launch a few weeks after E3 2016. A change in plans led to the device being canned, however, and while we don't know the exact reason why the leak of the PlayStation 4 Pro might have had something to do with it.
Our source told us that Project Scorpio was never intended for an E3 2016 announcement, but the leak and subsequent announcement of the PlayStation 4 Pro, codenamed "Neo," tipped Microsoft's hand.
Project Hobart would have been a $99 dongle, with low computational power — albeit powerful enough to run UWP apps and even light UWP games. The stick would also be capable of streaming your Xbox One or Project Scorpio over your home WiFi, presumably via the Windows 10 Xbox app.
If I had to speculate, I would suggest that Hobart was developed to run Windows 10 IoT. Microsoft recently canceled the development of a Microsoft Band 3 wearable after they failed to get it to run Windows IoT. It's hard not to wonder whether the cancellations are somehow related. Perhaps Microsoft wanted to keep the attention firmly on the Xbox One S and Project Scorpio. It's hard to say.
Perhaps we'll see the Project Hobart Xbox streaming stick make an appearance sometime in the future, but for now, we'll just have to wait and see.
Is the Xbox streaming stick something you would have been interested in? Let us know in the comments!
Jez Corden is the Managing Editor for Windows Central, focusing primarily on all things Xbox and gaming. Jez is known for breaking exclusive news and analysis as relates to the Microsoft ecosystem while being powered by caffeine. Follow on Twitter @JezCorden and listen to his Xbox Two podcast, all about, you guessed it, Xbox!
I'd get it. If they release it

One big problem is also the lack of apps, UWP Xbox apps are thin on the ground other than the big name media apps. Right now Apple/Amazon/Android TV devices all have a bigger and wider selection of apps than Xbox does even though Xbox user base dwarfs all of those platforms, MS just doesn't factor in to many developers any more these days. The stick could help promote UWP development, in that sense it would be good to release it.

I would purchase it. It would provide a low cost option to purchase a streaming device for additional TV's in my house WITH a common interface with my XBOX. Believe it or not for most consumers this is a valuable feature. The big kids can place games the XBOX ONE and the little kids can play simpler games, watch ther TV shows on another TV and feel like they are playing on the XBOX. A more cost effecrive solution to accessing store media without buying additional XBOX's or PC like devices at a higher cost.

UWP apps also have horrible controls unless you use a mouse and keyboard. I never use UWP apps on the Xbox One because they are painful to use with a remote or controller. Even a Windows PC makes a terrible TV device because of the dependence on keyboard and mouse.

Well that entirely depends on the developer of the app, if they've provided a terrible UI that wasn't designed for controller/remote and just left "mouse mode" on then yeah, you're right. In fact in my opinion MS should never have let mouse mode be an option but there you go. Still, well developed UWP apps feel great with the controller, don't think that all of them are the same.

Windows IoT doesn't have a shell, so they could use that with the Xbox app, but they would have to include an alternate shell to launch local UWP games and apps.
​If the goal is to have local UWP games and apps, I don't really see the point when you can get an HDMI compute-stick with Windows 10 for about the same price.
​My guess is this was just a compute stick with built-in Xbox wireless radio and maybe a customized shell.

Fire Stick at 5 times the price?

5x? Man, my math skills must be really rusty. /s

Probably more in line with the Fire TV box than the stick. Those are price points you can compare.

Ah, ok. I actually don't use either so I don't know what the differences are (smart TVs are awesome). I guess that box has actual power included, hence the price. I guess the Chromecast title threw me off and had me comparing to the 20 dollar sticks.

I wonder if they realized that the Chromecast ultra would come out with 4k capabilities and decided to cancel this.

I'm not sure why that would matter as the Roku 4 has been out for a while now and has 4k capabilities.

Lmao Brad Sams.... This guy is a a bad reporter. He has so called "inside source" and has been wrong on many occasions.

Except the source was correct .. it did exist ,then it got cancelled

Maybe, but like i said he has reported a lot of bogus stuff before. Like early June RTM "back to school" release of windwos 10. He also calmed the final RTM build and wrong release date for the rtm build a second time.

Please Microsoft!! I would totally buy one or two to place around the house and such! Hopefully they debut it at this year's E3...

I was planning the sick to complement my second tv in the kitchen. Too bad

So, this is basically a PSTV. That didn't go well for SONY, maybe that also played into its cancellation.

Ah yeah, didn't think about that.

No, a PSTV allowed you to play games through Sony's paid streaming service. The Xbox Stick would have simply streamed your Xbox One locally in your house on another TV/screen than the one it is plugged into.

If they lowered the price, and gave me something I could stream my Xbox onto my other TVs with, I would buy that in a heartbeat! $100 seems a bit steep, but not absolutely horrible. But considering how cheap Chromecast is, it probably wouldn't have sold well, with the Xbox streaming being the only notable differentiator.

This would basically make any TV become an UWP-TV with additional Xbox support... So it's not just a Chromecast.

Okay, sooo basically we'll compare it to a Roku stick? $40 starting out

Sorry, I'm being negative... $100 really isn't "that bad", but I'm just trying to point out the market. Only people with Xbox Ones would buy this, because of the streaming feature. But even then, if they already have a W10 PC, they would have to weigh buying one of these vs streaming on a PC they already have. Honestly, I would probably buy one. I just don't think it would have done well overall. Well, maybe better than other W10M devices...

It's not just Xbox streaming stick we are interested in. We are interested in a personal home cloud streaming device the kind of which powers HP's workspace app to drive all our windows devices and Xboxes and games complete with cortana integration and home hub type capabilities. Say what?

This would have to be compared to android tv/apple tv 4:th gen. The chromecast alone doesn't run any apps. Then the price makes more sense.

I would STILL SOOOOO buy a stick/dongle that could play and stream 360 games and stream-play XBOne games!

I have a decent collection of films and content from ms. I travel alot and need a way to watch it in hotel rooms. Atm I have no way to do this. :(

Buy a windows phone and use contiumm or get a surface pro and use a mini display to HDMI lead

Yes. Any W10 device with an HDMI cable will work. Plus, you can download your movies to your device ahead of time so that you don't have to rely on sorry hotel WiFi.

I've noticed that some hotels may not allow you to connect anything to the TV. The last hotel I was in the TV had some sort of case around it and a box connected directly to the TV. This box provided hotel content, very basic TV and no option for connecting external devices.

So what exactly did the announcement of the PS4P have to do with the Xbox stick? I could see having to announce Scorpio at E3 as a result, but unless I completely missed it this article kind of blamed the stick's cancellation on both PS4P but then goes on to speculate it had to do with the inability to run W10 IoT.

Focus... he just said it in the article =p

I don't get what the ps4p had to do with it either.

The only thing the article says is that "Perhaps Microsoft wanted to keep the attention firmly on the Xbox One S and Project Scorpio​". Still not sure what the PS4P has to do with the cancellation of this.

I would definitely buy a few for the house. Still keeping my fingers crossed for this device to see the day of light

Would love to have a few small HDMI stick with Xbox one user interface to run Groove, OneDrive and other Xbox UWP app

I don't see the need for this and think that's why it wasn't released. I use the Xbox app on my surface pro 3 and can stream anywhere in my house. Works really well I do have a 60mb broadband line too which may help. Also use a mini display to HDMI lead to have it on my TV which also works great. But now I have an Xbox one and Xbox one s I don't seem to stream as much.

Wouldn't one of those $100 HDMI pc sticks do the same job? They run full Windows 10, can do light gaming, can stream heavy games from my Xbox one, AND can stream my games from Steam using Steam's in-home streaming service. Since it's windows 10, it comes with all the apps you could want. I use two of these in my house and could not be happier. What am I missing about this product?

a more TV optimised shell; the XBox shell ;). That'd probably be all.

Which one do you use? I'm interested in getting one

This is the one I use. There is also one with an Ethernet port if your wifi isn't so good. https://azulletech.com/product/quantum-access?gclid=CjwKEAiAjIbBBRCitNvJ...

I'd like that to make a streaming dongle that works with the Microsoft Movies & TV, Groove Music, Xbox Streaming, Live TV Streaming and other Media related apps. That dongle shouldn't be marketed as Xbox so that people don't get confussed and think they need an Xbox to use it. Or it would be nice if Microsoft Movies & TV was avalible for the other media players.

The focus should definitely be to bring those services to existing platforms first. It makes sense, and fits in with what direction they are going in elsewhere. Why make a whole new stick when they could just make their apps available on Roku, Amazon Fire etc....The only advantage would be the UWP apps and Xbox Streaming but take Roku for example; in the UK it has ALL the key apps and catch up TV but Xbox One doesn't, and even the store on PC is missing some of them. These companies may never release their apps as UWP, but Microsoft could fairly easily put Groove and their Films service onto other platforms. Xbox streaming would be nice, but they haven't even got the Xbox app running in Continuum on phones yet, and no streaming there. Obviously phones aren't THAT powerful but the higher end flagships are more powerful than many of the existing streaming platforms, I'm not sure how well you could even stream to a device with less than Apple TV power (latest gen)

This combined with Project Rome would be awesome as a proper chromecast competitor. It'd just be a chromecast running native apps, not just the web-apps that run on the chromecast. But the first thing this would require is the Windows Store on win10-IoT and a proper UI as well (less necessary if it's only available via casting)

The only issue I've noticed with Project Rome is how reliable it is - I'm sure it's being improved a lot but sometimes it won't seem to be working, then it will and will work reliably multiple times in a row. I've confirmed my experience with other developers who've seen the same thing, I'm sure it's just early days and things will improve (Like I say, it's very quick when it does work properly and tends to work consistently multiple times in a row once it's warmed up) I've published two experimental apps to the store that use Project Rome, one that lets you use the Share function to hand off in a basic way to another device and another that lets you choose a contact on from your PC and start a call to that person on your phone remotely. I'm working on adding functionality and improving performance where I can so they aren't very polished right now.

As a PS4 user I would have loved this. I have a Windows phone and a Computer with Windows 10, but I don't want an Xbox one. This would have been an affordable option to stream all the media tied to my ms account on my TV. I really hope this gets released

You could try a Miracast dongle if your TV doesn't already have it built in. Ideally Microsoft will bring their services to other platforms instead/as well. It would make more sense to produce apps for platforms that are already popular if they are interested in selling the services themselves.

Not a fan of casting. I might build an NUC with Windows 10 and use that to access MS services on my tv.

It should offer the best Miracast connection built in, along with ability to handover the WiFi streaming (like the Chromecast can do) Of course I would get it!

i would have liked it for my family instead of the apple tv or roku
Windows Central Newsletter
Thank you for signing up to Windows Central. You will receive a verification email shortly.
There was a problem. Please refresh the page and try again.