Xbox Project xCloud game streaming gets new games, more features promised
Microsoft is going all-in on Project xCloud.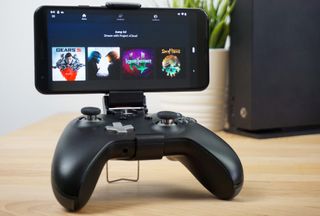 (Image credit: Windows Central)
What you need to know
Project xCloud is Microsoft's game streaming service.
It launched in early access in October.
Today, Microsoft announced more games and features coming to the service.
Xbox Game Pass will also get the ability to stream games.
With Google Stadia around the corner, Microsoft had to make a splash with Project xCloud game streaming. The company did exactly that at X019. Just now, it was announced that more than 50 new games from 25 partners are being added to the service. For example, you can now play Devil May Cry 5, Madden NFL 20, and even Tekken 7 on the go. These three are great additions because they run at 60 frames per second on the console. The high frame rate should result in a better streaming experience because it further reduces input lag.
The games that are a part of or will be part of Project xCloud are as follows.
Absolver
Ace Combat 7: Skies Unknown
Ark: Survival Evolved
The Bard's Tale IV: Director's Cut
Battle Chasers: Nightwar
Black Desert Online
Bloodstained: Ritual of the Night
Borderlands: The Handsome Collection
Brothers: A Tale of Two Sons
Conan Exiles
Crackdown 3
Darksiders III
Dead Island: Definitive Edition
Devil May Cry 5
F1 2019
For the King
Forza Horizon 4
Gears 5
Gears of War: Ultimate Edition
Halo 5: Guardians
Halo Wars 2
Hellblade: Senua's Sacrifice
Hello Neighbor
Hitman
theHunter: Call of the Wild
Just Cause 4
Killer Instinct
Madden NFL 20
Mark of the Ninja: Remastered
Ori and the Blind Forest: Definitive Edition
Overcooked!
Puyo Puyo Champions
Rad
ReCore: Definitive Edition
Sea of Thieves
Shadow of the Tomb Raider: Definitive Edition
Sniper Elite 4
Soulcalibur VI
State of Decay 2
Subnautica
Tales of Vesperia: Definitive Edition
Tekken 7
Tera
Vampyr
Warhammer: Vermintide 2
World of Final Fantasy Maxima
World of Tanks: Mercenaries
World of Warships: Legends
World War Z
WRC 7
WWE 2K20
Yoku's Island Express
Since Project xCloud launched in October, Microsoft's focus has been on Android phones. However, that's going to change in 2020. In a press release Windows Central received, the company said, "Next year, we'll bring Project xCloud to Windows 10... and are collaborating with a broad set of partners to make game streaming available on other devices as well." It's unclear what these other devices are, but the fact that you'll be able to stream games on Windows 10 is an incredible step.
There are hundreds of millions of Windows 10 users out there, and not everyone wants to own a console. This is a great way to get them gaming. Hopefully, the quality will hold up on larger displays. In order to make the title work with existing hardware, Microsoft plans to support more Bluetooth controllers like Sony's DualShock 4 and accessories from Razer.
In 2020, Project xCloud will be available in markets such as Canada, India, Japan, and Western Europe. The company also stressed its powerful catalog of games. While Stadia is launching with 12 titles, Microsoft says that "over 3,500 games on Xbox One today and 1,900 games currently in development are already working" on Project xCloud.
After that, the language gets even more interesting. Microsoft ended the press release by saying that in 2020, the company will enable gamers to stream from the cloud games that they "already own or will purchase." It will also add game streaming from the cloud to Xbox Game Pass. Does this mean that you'll be able to stream any game you own on Project xCloud for free? Probably not. However, if game streaming is coming to Xbox Game Pass, does it mean it's part of your subscription? These are questions Microsoft still needs to answer.
Best of the best
(opens in new tab)
Xbox Game Pass and Xbox Live Gold in one

Xbox Game Pass gives you access to over a hundred games for one monthly fee. Xbox Game Pass Ultimate also adds Xbox Live Gold to the package so you can play online with your friends. Right now, you can purchase a three-month subscription for $45 through Amazon.
Xbox
(opens in new tab)
Main
Asher Madan handles gaming news for Windows Central. Before joining Windows Central in 2017, Asher worked for a number of different gaming outlets. He has a background in medical science and is passionate about all forms of entertainment, cooking, and antiquing.
Got my early access invite last week, and played Gears 5. Way too much lag to even be playable. Left feedback, and will give it another shot to see if lag gets reduced. Was no more than 5 feet from my router, so doubt it's due to poor WI-FI signal. Should be fine where lag doesn't matter. But don't see how this will ever work well enough for a shooter or racing games. Maybe im just too far from closest server. Im in Baltimore County Maryland, along the Chesapeake Bay.

We're you playing on your 5Ghz band? 2.4Ghz does not have enough bandwidth in my experience.

Yes, on AC and 5Ghz. My phone doesn't have my 2.4 Ghz password saved, so couldn't have accidentally connected to it. Could just have been something minor at the times I tried that was causing an issue. Going to give it another shot, probably later tonight.

Love how people are quick to assume that you may be on a 2.4Ghz band.... I'm on AC as well, and on a still screen it looks great, and then I move and it's sooooo bad. Considering I can stream 4K with HDR on wifi, I lean towards the ISP and MS. plan trying to plug in my phone into my switch to test as soon as I remember where I placed my USB nic... Trying on my razer phone with Lumia dock on my TV with my wifi ap less that 7 feet away.

Even so, it can still be router related. My AC router has been ******* me off as of late since its starting to sho its age.

Also which wifi do you have wifi 5 at least?

Check your setup for bottle necks. It runs flawlessly for me and my friends. A couple of friends had to sort their network out. It was causing to many bottlenecks. And now their network is better in general than before. Been winning tons of online games on Halo 5 using Xcloud. With maybe the occasional breif stutter and then perfection.

I hope this isn't a case of developers needing to say "yes" to xCloud streaming, like with Xbox 360 Backwards Compatibility and instead they are just choosing to drip feed titles because... reasons.

Windows 10 streaming is the most exciting. I can't wait to play Xbox titles on my PC, especially because some PC titles don't even have achievements imported or most don't allow cross saves (Outer Worlds, damn you).

Not sure if you have a console but you can currently stream from an Xbox to PC via the Xbox Companion app as long as you are on the same network.

Yeah, I know. I am talking remotely.

This list is already over double the Stadia Launch. And Xcloud is in beta. Obviously MS are drop feeding games onto the service as they are in beta. But it does shock me how poorly Stadia is doing in comparison. Not to mention the terrible Stadia info we got the other day. How is a beta product more ready than an actual product? At this point Googles in serious trouble with Stadia. https://www.eurogamer.net/articles/2019-11-14-reading-google-stadias-ama...
Windows Central Newsletter
Get the best of Windows Central in in your inbox, every day!
Thank you for signing up to Windows Central. You will receive a verification email shortly.
There was a problem. Please refresh the page and try again.