You can now make Skype calls in Outlook.com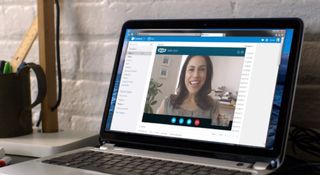 Outlook.com recently celebrated its one year anniversary. They did so by giving away free SkyDrive storage and Skype credit to early adopters of the platform. The team at Outlook.com hasn't slowed down since launching over a year ago. Continual updates to the platform have made it a favorite among many users. The latest feature is also news worthy and worth highlighting – Skype is now inside Outlook.com for a select number of markets.
If you find yourself in the United States, United Kingdom, Germany, Brazil, France, or Canada you can use Skype inside Outlook.com. This latest addition to the Outlook experience was announced a few months back, but only as a preview (beta). Now it's rolling out to users in the markets listed above.
To help celebrate the launch of Skype inside Outlook, the Skype team is having a little contest for users inside the United States. Outlook is teaming up with cooking/recipe website Chow.com to benefit charity. You submit a recipe that uses at least these four ingredients: carrots, basil, ground turkey, and brown rice. Common Threads is the charity that benefits from this contest. For every entry into the contest, Outlook will donate $10 to the charity that teaches children in underserved communities how to cook healthy meals. What do you get for winning if your recipe is selected as the winner? A Skype call with food personality and Top Chef Masters host Gail Simmons. She'll cook the winning recipe on the Skype call and answer questions. While you're not winning a brand new Xbox One by entering this contest, you are helping children, which is priceless.
Want to try out Skype in the browser? You'll want to install the plugin and follow the instructions to get started. Don't forget to be in one those countries listed above to try it out. We're sure it'll roll out to other regions in the near future.
We look forward to using Skype in the browser with Outlook.com when we're not on our regular PCs.
Source: Outlook.com Blog (opens in new tab), Skype, Chow Recipe Contest
Windows Central Newsletter
Get the best of Windows Central in in your inbox, every day!
Petty cool. Moving away from using the official app more and more.

2 years later in Sweden...

I wish they'd update those awful Skype sounds.


Germany and France and not Italy ? Boh... I m jealous :)

A wonder.. No kosovo and no switzerland supported atm. But this is still a nice feature.

Although I installed the plugin and I live in Canada I couldn't get Skype showing anywhere. Should my address end with @outlook.com instead of @hotmail.com?



No it doesn't matter, but it wouldn't hurt if you create outlook.com alias, eww hotmail ;)
It's slowly rolling out so it will take time.

Thanks for your reply. I managed to get it working. I created the outlook.com alias and also linked my Skype and Microsoft accounts to enable skype in the list of chatting services.

They really have to come up with a new way of connecting to friends! Love the way WhatsApp and Viber do it! It's one of the reasons I only skype with my family!

Everyone has their opinion. Mine, I hate how those two apps scan through your contacts and put everyone in the list. People, who I barely know or are my professional contacts, suddenly appear next to my family and can see me just the same.

+920
Skype schould add (improve) the chat and picture sending part to their app. And get the Windows Phonw app overall up to par!

I think maybe more people uses Skype here in Brazil (?) D:

Sweet. Real sweet. Go big blue!

Great way to try to draw more people into Microsoft's ecosystem. I'm sure there are plenty of Skype users who are partial to Google and Apple services. This might help draw a percentage of those into some of Microsoft's services.

So, what happens when I have desktop Skype open, Windows Store Skype open, Windows Phone Skype open and Outlook Skype open? :)

They all interlink? Used to I would use Skype PC to type and view cams while at the same time I would be logged into Skype on Windows Phone to use as my camera.

Wait till someone calls you. Your whole house will start ringing. In my case, WP, Surface, Desktop and TV, all ring when someone calls. And when I connect through one, all others continue to ring rill I manually "ignore" them.

Of course Netherlands is left out in the cold. Again. Dutchland sucks, few things get released here in the first wave... Immigrate...

Where is Croatia on that list?

I can't believe I'm the first one to report that this integration is a giant mess: my WP, the desktop application and the browser all ring at the same time (well not on my Lumia, since it constantly misses the Skype notifications for a few minutes) and picking up a call on one device/client will not shut the other ones up. I'm sick of it already.
Windows Central Newsletter
Thank you for signing up to Windows Central. You will receive a verification email shortly.
There was a problem. Please refresh the page and try again.