You can pre-order Titanfall 2's $250 Series 2 Collector's Edition right now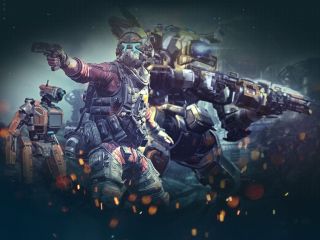 Electronic Arts has started pre-orders for the Titanfall 2 Series 2 Collector's Edition. The $249.99 (opens in new tab) version of Respawn's first-person shooter sequel for the Xbox One and PlayStation 4 will include, among other things, a full sized Vanguard pilot helmet replica.
Here is what players can expect. In addition to the Deluxe Edition of Titanfall 2, the Collector's Edition will include:
Dog Tag Flash Drive: A Pilot's secrets must be carefully guarded, and what better way to keep them close than to store them inside your dog tag. This 8GB USB custom flash drive cleverly retracts into the dog tag on an 18" metallic ball chain.
Pilot SRS Field Journal: An essential accessory for every Pilot, the field journal is 3" x 4.5" and features an aluminum case, pen and Vanguard Squad logo.
Titanfall 2 Vanguard Pilot Helmet Replica: The iconic Titanfall Pilot helmet has been brought to life in this 1:1 full scale replica. Featuring mixed material elements, the helmet includes a battery operated blue light-up translucent faceplate, blue status/task light, functional tactical ARC rail system/an adjustable interior head strap and display stand. Tactical Helmet Accessories: A tactical spotlight and targeting laser sight. These two battery operated helmet accessories are designed to be mounted on the ARC rail system of the helmet. Independently operated, the functional mounted spotlight will light up the night and the simulated laser sight features a super-bright non-projected red LED.
Squad Morale Patches and Vanguard Shemagh Scarf: Proudly display your squad affiliation with two morale patches, Macallan's Marauders and Ion, with male Velcro-style hook backing to secure onto loop patches of helmets, uniforms, tactical vests, and backpacks. The Vanguard Shemagh Scarf is designed to protect a Pilot's head and neck from the sun and blowing sand of harsh alien environments. The Vanguard Scarf measures 42" x 42" and features an original custom designed Titanfall pattern, making it an essential multi-use travel tool for every Pilot in your squad.
The Titanfall 2 Series 2 Collector's Edition will be released on October 28.
See at Amazon (opens in new tab)
Windows Central Newsletter
Get the best of Windows Central in your inbox, every day!
I don't see the game itself listed, is that sold separately? ( : Posted via the Windows Central App for Android

For $250 the game better come with it. Lol

Sad pat about this is the season pass is almost always left out Message delivered by Cortana's Lumia 950 XL Dual SiM

Nope, I got the collectors of titanfall 1 and it came with

"In addition to the Deluxe Edition of Titanfall 2, the Collector's Edition will include:" Posted via the Windows Central App for Android

Too pricey, IMO. TF couldn't sell out if the first CE, and it got out down to $100 or less before it finally left shelves, like how the Halo 5 LCE was $250, but is down to $75 at BB.

Yeah, that helmet is quite cool, but I'm not sure they've got the rabid fans who would kill for it like, say, a PIP-boy or an Aperture Laboratories Handheld Portal Device. Posted via the Windows Central App for Android

The game is listed on the full Amazon description. I was hoping they would offer an option to pick a digital or physical copy of the game with this bundle similar to what 343 did with halo 5 bundles.

Glad there's no Season Pass, hoping for free map packs

"Electronic Arts" Yeah, good luck with that. Lol Posted via the Windows Central App for Android

Do I get my own real life Titan? No?... Ok.

The dog tags are cool the rest...meh.

Looks like a retooled Master Chief helmet from the Halo 3 CE.