Why you should stop using Disk Cleanup on Windows 10 and embrace Storage sense
It's time to embrace Storage sense on Windows 10 and let Disk Cleanup go.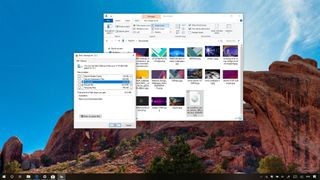 On Windows 10, Disk Cleanup has been a handy tool for freeing up space after upgrading to a new version and for getting rid of junk files on your hard drive. However, beginning with the October 2018 Update (version 1809), Windows 10 is deprecating the tool in favor of Storage sense, which offers a modern experience with more features.
You can continue to use Disk Cleanup, but it's probably time to stop. The reason isn't just because the tool will no longer be maintained and future updates may break it, but also because concerns of potentially accidental deletion of personal files, and with version 1809, Windows 10 is also introducing a new option that allows you to delete everything within the Downloads folder.
The option isn't new, it was first introduced with Storage sense, but since most people have been using Disk Cleanup for years, and they're used to checking every item in the list without giving it a second look, it's easier to get confused and end up deleting important content alongside temporary files.
If you want to reduce the chance of accidental file deletion within the Downloads folder and other potential problems, it's a good time to start using Storage sense. In addition, it's also important to start being more alert and remember to save those downloads that you want to keep in a different location. Here's how to do all that.
How to use Storage sense to delete temporary files
If you're running out of space, or you want to remove unnecessary files to reclaim disk space on Windows 10, use these steps:
Open Settings.
Click on System.
Click on Storage.
Under "Storage sense," click the Free up space now option.
Select the temporary files you want to delete.Warning: Do not check the Downloads option, because you can accidentally delete important files.
Click the Remove files button.
Once you complete these steps, the temporary files you selected will be deleted from your device making additional space to store more important files.
How to disable automatic cleanup in the Downloads folder
If you usually keep a lot of important files in the Downloads folder, you also want to make sure to disable the option that deletes unused files using these steps:
Open Settings.
Click on System.
Click on Storage.
Under "Storage sense," click the Change how we free up space automatically option.
Under "Temporary files," use the Delete files in my Downloads folder if they have been there for drop-down menu, and select the Never option.
After completing the steps, your downloads will remain in the folder until you delete them manually.
How to change the default location to store downloads
Another way to prevent accidental file deletion when using Disk Cleanup or Storage sense is to change the default location that your browser uses to store downloads.
For instance, on Microsoft Edge, you can use these steps:
Open Microsoft Edge.
Click on the Settings and more (three-dotted) menu button.
Click on Settings.
Click on General.
Under "Downloads," click the Change button.
Select another location to store files you download from the internet.
Click the Select folder button.
If you don't want to make those changes, you can turn on the Ask me what to do with each download toggle switch and every time that you download a new file you'll be able to decide the location to store the content.
More Windows 10 resources
For more helpful articles, coverage, and answers to common questions about Windows 10, visit the following resources:
Windows 10 help, tips, and tricks
Windows Central Newsletter
Get the best of Windows Central in in your inbox, every day!
Mauro Huculak is technical writer for WindowsCentral.com. His primary focus is to write comprehensive how-tos to help users get the most out of Windows 10 and its many related technologies. He has an IT background with professional certifications from Microsoft, Cisco, and CompTIA, and he's a recognized member of the Microsoft MVP community.
On my Windows 10 Pro V.1809 Storage sense is under System in Settings. Does it change from Devices to System between different Windows versions?

It's always been under Settings/System

No it under system in Home to.

"Do not check the Downloads option". That option should NEVER have been added. So many people leave important files in Downloads. Sometimes things they purchased years ago...

Interesting. Good to see that Storage Spaces is being pushed forward against Disk Cleanup. Here's a theory: Old, Win7/8 UI will be removed soon in favor for Windows 10-related UI. I'm hoping.

I prefer the old. I will use third party if that happens. Everything in the settings app is half baked.

So why not just make the button that currently launches disk cleanup under Drive Letter/Properties/General open up Storage Sense???

Lol. No. Stop storing personal files in Downloads. Desktop
Documents
Pictures
Music
Videos
etc. Those folders/libraries are there by default in the OS for a reason. Amazing how awful so many people's organization is on their devices. This is a complete nonfactor. I move things out of Downloads within minutes (or delete, if it's an installation file) I also don't keep the download folder on my system SSD (waste of NAND writes on system drive).

No. I like Storage Sense but I'd like it to fully develop and to officially replace Disk Cleanup one day so that I'd stop using Disk Cleanup.

How long until this is implemented in Storage Sense?:
https://www.howtogeek.com/256594/how-to-enable-hidden-options-in-windows...

Where is the option to time schedule a clean up? I mean, I malware check my system every Sunday at 8am so I want to do a system clean at 7:50am. I can't find an option to do a scheduled system clean with Storage sense, the options are very limited, you can do it with cleanmgr though, well you use to be able to, doesn't work anymore :(

Your article needs correction on at least one detail: There is no option in Disk Cleanup for the Downloads folder. There is, however, an option for Downloaded Program Files, which is a completely different folder.

I have been using the CC Cleaner for cleaning the Windows 10 useless files and so far have not encountered any problems. Also, it is strange that Windows don't automatically clean some of the old installation files by itself. Most people are not even aware of what is taking tons of space on their notebooks. Regards
Kanuj
Author at Candytech.in
Windows Central Newsletter
Thank you for signing up to Windows Central. You will receive a verification email shortly.
There was a problem. Please refresh the page and try again.