You still have time to win a new Windows Phone in our Hidden Gems contest!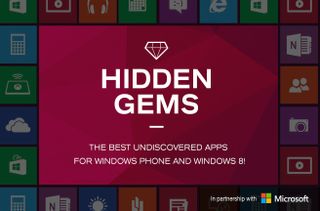 A few weeks ago we started our Hidden Gems series in conjunction with Microsoft. The goal of the series is to highlight apps and games of high quality but that slip under the radar. Sure it is easy to write about big official apps, but it is these burgeoning services and games that are the heart of mobile today.
Currently, we are on a brief hiatus as we catchup on device release news, reviews and our usual content. However, two things: one, you can still enter our contests to win a new phone or tablet, and two, the series returns in the coming weeks!
Device giveaways!
We're partnering up with Microsoft to give away some great prizes, as each Hidden Gems article is its own contest. To enter, you merely have to leave a comment about the app or game being discussed. More importantly, we like to see substantive comments posted and not just "first!" or "gud", which aren't very helpful. The comments need not be full reviews, or even positive, you are free to criticize and offer ways in which it could be better too! (We do not grade the comment per se, just making sure it is more than a few words.)
Anyone in the world can enter, and if we randomly choose your comment, you can pick either a new Windows Phone (Lumia 930, anyone?) or tablet (Dell Venue Pro 8 sound good?), and we will send it out to you.
We are putting a deadline on the contest for next Wednesday, July 16 for this current series. So if you did not leave a comment yet, head back into our Hidden Gems and get to it!
Hidden Gems you may have missed
Our Hidden Gems can always be found on our dedicated page for it at www.wpcentral.com/hidden-gems. There you can find an overview of the of the program and previous apps mentioned.
Some of the great titles that we have covered, which have since received high praise in reviews from users include:
Moreover, there is even more Hidden Gems (and contests) so make sure you read up and enter!
There is more to come!
We have a handful of other apps coming in the next few weeks, ones that require a little more preparation from us (Hint: things with hardware). Once we kick that mini-segment off, that too has its own contests with the same criteria to enter, so there are even more chances to win!
We are also planning on making this a regular series (sans prizes) on a monthly basis, where we find apps and games that meet our standards, and we want to bring to your attention. So Hidden Gems lives on, just not on a daily basis.
Remember, each Hidden Gems article is its own giveaway, so make sure to read each one and comment to increase your chances! (Note: This article does not count towards the contest!)
Stay tuned for more!
Windows Central Newsletter
Get the best of Windows Central in your inbox, every day!
Daniel Rubino is the Editor-in-chief of Windows Central, head reviewer, podcast co-host, and analyst. He has been covering Microsoft since 2007 when this site was called WMExperts (and later Windows Phone Central). His interests include Windows, laptops, next-gen computing, and for some reason, watches. Before all this tech stuff, he worked on a Ph.D. in linguistics, watched people sleep (for medical purposes!), and ran the projectors at movie theaters because it was fun.
I have done my job.
Now it's time you do yours...!

Wait do I need to comment on this article or the past article?

Each individual Hidden Gems article. :)

it would be great if u attach the article link on which to comment:) xD

They are linked and everything is explained. Please read again.

Is the winner chosen with that algorithm thing you guys used for some other competition?

Yup, lets see if you are lucky.

Hey, the deadline was yesterday. Why the comments are not closed yet. I wanna here the winners list along with my name in it. Lol

If i comment multiple times, but with different content each time, does that count? Or will it trigger the spam filter?

I think they'll accept and count only one comment per user (even if the contents are different) while you're free to comment as many times you want...

Yeah, but it's gonna be randomly picked by an app/algorithm (I think). So unless my comments are marked as spam, more comments means more chances to win. Idk, i guess i'll leave it to just one comment per article.

One comment per article. :)

Its 17th july please tell me when the winners of hidden gems contest announced.(Excited)

I too have done my job, now its their turn

Where to comment ? Pls help?

For previous contest, comment in any (or all) of the articles from the following page (except the introductory article) http://wpcentral.com/hidden-gems

I hope my comment is the "Hidden Gem" that's found among the rest. I of course will then download some of these previously "hidden", now found, gems onto my newly "minted" (see what I did there) device once this "hidden" comment is FOUND! ummm...I think that makes sense. If not, does it really have to? :-D

Can u pls tell me where to comment? :)

So does a comment on this article count ?? Anyway, used to long for the Hidden Gems app of the day before, bring it back ASAP...so many new apps to discover. Gotta catch em all !!

Always miss the fineprint....even if its in bold

I wish you would do a hidden gems in the imobile app.

I wish they would run the companion series, "Hidden Germs"

Cooooool.... Amazing hidden gems have really helped ppl unearth some unique and amazing WP and W8.1 apps ...
I have myself found hidden gems contest very unique thing and the apps it unearths are really admirable:) and now anxiously waiting for the first phase results :) fingers crossed :D

Also it would be nice if you could take WPC readers suggestions for the apps that can be considered as hidden gems in the coming series... Otherwise WPC team is already doing fantastic job :) Good job MS and WPC team

Good!! The probability of getting such a price is 1 in 100000000... and wait let me calculate it!!

This sounds great. Please MS, be nice with me XD

I am really enjoying this series; I think most of us on here download a ton of apps and I am always looking for something new to try. This series is making me look outside of my normal interests. Keep up the good work! (and pick me!)

I used the app and initiated the step.. It's upto you,
lets get it on... .

Windows phone is a hidden gem too !

I coudl really use a 930 to replace my 820 that I broke. I got a 625 as a replacement but is it way to slow after using the 820. I already have a Dell Venue Pro. It is a good little device. I use it with a mouse to play Baldur's gate and other old RPGs when I travel.

I used almost all the previous hidden gems apps. Some of them like PicsArt, How to cook everything, Trainr... are my favourites. Would love to see more hidden gems articles, be it contest or not :P

Aah, a Lumia 930. Then I can stop using this ultra small 620 ... Should be nice to win one.

I'm already in it... i really enjoyed being a pert of it as i felt myselfa s a reviwer :) Waiting for results

I like the Dell Venue Pro 8

Was wonderimg what happened

I think its great you guys are doing this. We don't always need the next big thing on IOS. We have an awesome app ecosystem that's growing and yes, those IOS and android ports are great, we shouldn't diminish those that make exclusive windows phone apps, which in a lot of cases can be even better. Go team WP central!

I love windows phone and their apps, but I can hate it as well. Because it has just about everything outside of the apps, but needs a little bit more, just a little that's all. Microsoft and the developers need to get on the ball. I think that we can definitely use more background colors and for the background to carry over to the next screen where the apps list resides. Also just like on IOS the background should carry over to the multitasking area as well, I don't understand Microsoft sometimes. It's like they all have brains but don't use them well. Get it together Microsoft!

This series is really good! I'm waiting for more hidden gems to find... I'd like to upgrade my Lumia 920 to Lumia 930.

The only hidden gems are the smal Developers self, hidden in there bedrooms behind there PC or laptop. Putting their ideas in to code not only for themselves but for al users of this platform....so I say shine a light on them and not only there work.

If you win, can surface pro 3 be considered as a tablet? ;) :P (JK)

I love windows phone and windows phone central.........i even bought your app! Common plz!

When will the wpcentral app allow quoting from article text or comments? That note brought about a slight chuckle.

Tablets like the V8P? So, can we choose? If so, count me in for a SP3! Lol

And...looks like my comments for remove. Awesome, what is the point? I have tried to provide store links for good games, something wpcentral didn't cover before. Pathetic.

That's not what comments are for as we are not asking for recommendations. Use our TIP line for apps, not comments, otherwise you look like a spammer to the system. Think about it. You post multiple times in a row with outside links to apps/games, what does the look like you're doing?

...and he's neither Italian

Well, I found some great apps. Thanks to Hidden Gems Contest and WPCentral. :)
And MS too ;)

Levitagram looks cool! I'll check it

What about it looks cool? To me, the only thing "cool" about it would be it's implementation in another photoshop-esque application. The way the app selects an item is a function very much similar to the "magnetic lasso" Paint.NET has been unable to produce such a tool. GIMP's implementation is half-assed. Photoshop is too expensive for amatures. For some, pirating of software is not an option. So again, what's so cool about it?

TIP has been used in the past. I though you are actually looking for hidden gems, not comments about comments about comments on the prices. This is what is sounds like.

No, no it does not. Nowhere do we ask or imply that we are asking you for Hidden Gems. Literally no where does it say that. Look at the rest of the comments here, is anyone else pushing Store links? Nope, just you.

Well, this is double edge sword. Nowhere you are saying that you are not looking for it either. Anyway, at least we are agree on the rest. No more links from me, nor comments.

How to cook everything is literally deep with information on cooking or prepping food all the way down to "how to use a chef's knife". Amazing. Levitagram is so easy to use even a caveman with no arms can do it and the results are surprisingly good. The other two apps are not of my intersts.

Yep! I also purchased that app (How to cook...) two days after it was highlighted in WPC. I read a lot of recipes, tried some as well. I learned that most recipes were "western" or that it didn't meet indian style well but they were still all amazing. My mom prepares one from this app in weekends :P

Levitagram is cool...its so much fun...guys try it..

Now constructive. Out of all posted "Hidden Gems" only Toca is used by my daughter, cause she used them before on our kindle. The rest no big use to me.

There are a few good ones that are hidden in the woodwork

I never win these things (well, I won one of Microsoft's Surface contests last October and Microsoft still hasn't shipped the prizes...) so I just commented on apps I actually cared about and could actually give useful input about...that is...if the developers actually manage to find the comments among the hundreds of other comments.

Hotel Tonight - Quick, efficient room booking for the spontanious traveller.

A contest... A contest... I hope I wiiinnn!

I need one for my son but can't afford it. His birthday was last week an I gave him a used old phone of mine. He has been Wanting a phone for a long time but my wife an I are having $ problems an had to do a cheap route but he did not Complain he smiled and said thank you. It does hurt my heart he is a good boy an we are having to move in with my dad till we can get back on track he is losing his room and is worried about me an mom he offered his birthday $ to help out try an remember that some people are not as Fortunate as others good day and God Bless

In that case, I wish you win one!!!
Best wishes.

Don't help the people that are saying things like "help me" lol they clearly need help and not just with finding out where to comment! If they can't be bothered to read the article or even guess that there are links in the links section....they don't deserve a chance at my Lumia 930 in orange color :)

I'm in love with how to cook everything. Made so many meals from it and they have all been phenomenal.

A 930 for me will be nice.

Hidden gems are really doing great jobs...

Done I need it badly NY Kenya 620 sucks the storage fillsautomaticaly is very irritating I don't have much much much of memory left I would love a 32 GB 32 GB device Posted via Windows Phone Central App

I downloaded and tried the Levitagram. It's a great piece of app and even free now. I strongly recommend it to everyone who like to play with pictures. A tripod is good to have for better results.

Its a good app. Slightly complex initially, but its easy getting used to. Its a good way to save storage by linking the demo video online instead of a heavy demo with the app.its useful for low memory devices.

And..... What app are you talking about ???

Ah, I see! The statements fit well...

Is anyone won any windowsphone ?

Just a chance for a nice device is really appreciated and all I had to do was check into some apps I might have overlooked if not for the great work by all those at WPC, thanks.

I found this app that allows you to take a picture of any map and set a scale, your location and you can use it completely offline with no real need for data connection. I have used it a zoo, took a picture of the brochure and it works quite well. Its called Mapsnap GPS. http://www.windowsphone.com/s?appid=7b1fb126-cfd5-df11-a844-00237de2db9e

I very like Microsoft and also you guys at WpCentral. I've plenty of microsoft devices and OSs! But I want more: there is always room for new gadgets! :-)

This comment is my comment.

Windows Phone Central is probably the only place I come for my Windows Phone News, having a Nokia Lumia 1020 myself, and I think the site is more than useful always ahead of the game in the articles it produces, which counts if apps are free for a certain amount of time or for times like these, when they bring us hidden gems, I have to say I am not a big fan of the apps they have showcased so far, only a few of them, like Baby Connect, quite impressed with that one, but I love the fact that they made it into a contest, because they didn't have to do that, and Microsoft, what can I say about them, Microsoft (Nokia) have been so good to to me since I started buying Lumia. Its unfortunate that I haven't received the 8.1 update as yet from my carrier, but that's O2's fault not Microsoft. Anyways cant Thank Windows Phone Central enough for all the amazing articles, and amazing apps they showcase. Keep up the good work, its a pleasure using your site, apps and just carrying on increasing my windows phone knowledge with your resources! :p

Hello from Croatia. Wp Nokia Lumia 1320.

Is the Icon one of the carrots you're dangling?

Looking forward to win something:D

Its a gud one with simplicity and also attractive

This really is a great series. Glad you guys are doing it!

do one of you guys want as bad as i do, instead of transparent tiles, just regular icons, like the whatsapp original icon for example? just wondering!!

Still don't get it until now :/

Appreciate this kind of free gifts :) Looking forward for more ;-)

I only entered the contest a couple of times, so this is great! WPC gives second chances, more contests and good articles. I guess that's why it's one of my top 5 most used apps.

I managed a comment and review on them all. Really great to see this.

Every single dev should be appreciated for the work the are doing. Each app that gets published on the windows store is either good or needs improvement. Glad to have this contest

Awesome WPC, you are the only site doing this! And worldwide! ;) You're the best!

I did my part, have you? ;)

Russian-speaking is difficult to participate in such contests on foreign sites, but mean, I do my part of work))) I hope, i get lucky on my birthday... sorry for my english

I love WP central and Microsoft of course :D

So is it possible to win a Surface Pro 3 through hidden gems?

I'm wondering: Is a Dell Venue 11 Pro considered as a tablet in the contest?

I'm on it *rushes away to read the hidden gem posts*

How to cook everything truly mocks the student inside me with cravings that fluctuate between a sirloin and ramen! Still a pretty good app.

Lets see who seems to be lucky there should be a hidden gem app I guess
I have done my work now its up to u whom to give prize

I actually never ever won anything in my life :( But I'll give it a shot.

I would like to try new windows phone

The winning probability is <1

Funny. I see where the ad income goes to ;)

What I would really like is for my game to be featured as a Hidden Gem!! 7 Pips a puzzle for anyone who is looking for something smarter than 2048 (NOTE: 7 Pips is NOT a 2048 clone!) For more information, join the discussion at the wpcentral forum! http://forums.wpcentral.com/developer-spotlight/294205-5D-original-exclusive-game-wp-7-pips-out-now.html

Praying to the god to win this contest...

Yay another chance to get technology updates since my wife thinks savings is too important for a terribly underpaid system administrator like myself

Nice ! more hidden gems to come.

Hidden Gems.....Truly Valuable...It makes me just feel like I find the lost treasure.....Hats Off

I think this thing is truly amazing!!!! Hidden gems forever

This is a great idea. I'm always looking for lesser known apps because the top rated and most downloaded are usually just the best looking, not the most functional or even the most usable sometimes. I'm looking forward to seeing what else you guys come up with! Some apps you may want to look at covering: Architech Sketchpad - CAD app for WP8 RPN9 - RPN calculator, comparable to an old HP, but looks nicer and works well Blek - Fun and innovative game Some of these may be less "hidden" than you're looking for, but I either recently found it or have never seen it featured anywhere.

No buddy,. There's a seperate hidden gem section page. There you can see articles about apps and games. Comment on each of them

I m a newbie in developing windows phones apps.I dont even know what this contest is ? I need a live phone to deploy my apps and to test them.Emulator is not working in my computer.And I love to develop apps for Windows store as I m huge fan of both Microsoft and Nokia.I just came to see a tilte saying Chance to win a Lumia Phone so, I started commenting here.I dont have a windows phone and I couldn't afford buying a good Windows Phone.If I have any bit of luck I wish I could get this Lumia Phone and it would help me alot in developing more apps to Windows Phone Store.

Would I be allowed to get a Microsoft Surface Pro 3 if I win

first thing first Free WPCENTRAL app on store

They did, bro. :-D . You didn't know?

The deadline was yesterday! They are probably posting the results today :)

Although seeing that they haven't posted the results yet, you might have a point...

No, it hasn't. Were waiting patiently for the results ;)

'Pin.it' is a good alternate for 'Pininterst Beta' App....u can upload and create board.