Is your PC getting the Windows 10 Fall Creators Update on October 17, 2017?
Microsoft plans to start rolling out the Windows 10 Fall Creators Update on October 17, 2017, but not everyone will get it the same day. Here's how the deployment will go.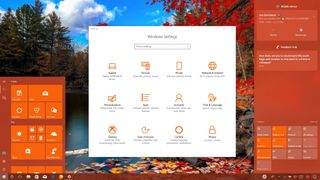 Staying on track with the semi-annual release schedule, Microsoft is expected to make the final version of the Windows 10 Fall Creators Update (version 1709) available on October 17, 2017. This is the fourth major refresh for the OS (and the second update in 2017), and while it's smaller than its predecessor, there are many new exciting features and improvements.
The Fall Creators Update will introduce visual changes with new elements part of the Fluent Design System. You'll be able to stay more connected with people close to your circle using the My People feature. OneDrive Files On-Demand will help to save storage space on your device. Windows Defender Security Center will introduce a new feature to make sure your files are more secure. You'll be able to configure even more options in the Settings app, and a lot more.
However, just because Microsoft is making the new version available on October 17 to millions of devices across the world, it doesn't necessarily mean that your device will be in the queue to get it on day one. Here's what you need to know.
Who is initially getting the Fall Creators Update?
Microsoft will be deploying Windows 10 version 1709 in waves, just like the previous version. Starting on October 17, the company will gradually start updating newer desktops, laptops, and tablets that are known to work with the new feature update first. (Usually, devices expected to get the new release first include Surface and devices that came pre-installed with Windows 10.)
During the initial rollout, Microsoft will collect telemetry feedback, and based on those results the rollout will continue to other devices.
Other factors that may prevent your computer from receiving the new version, include incompatible software, device drivers, or hardware. In fact, as part of the update experience, Microsoft is known to block the availability of new updates on devices identified to experience issues until the problem is resolved.
Your region and how Windows 10 was obtained will also define when you'll be getting the update.
How to get the Windows 10 Fall Creators Update
In the case, your computer doesn't seem to be getting the update, and you don't want to wait, there are different ways to upgrade.
On a device that meets the minimum requirements of Windows 10, it's possible to use the Update Assistant to quickly skip the queue and install version 1709.
The Update Assistant is just a tool that Microsoft introduced during the rollout of the version 1703, and it allows you to force the new feature update when the automatic update mechanism isn't working correctly, but you can use it whether Windows Update is working or not.
Another tool you can use is the Media Creation Tool, which allows you to upgrade your device to the latest version of Windows 10 without having to wait for Windows Update. Using this tool, you can install the Windows 10 Fall Creators Update keeping your settings, apps, and personal files.
If you're already noticing that your computer isn't running smoothly, you can even use the Media Creation Tool to perform a clean install of Windows 10 with the Fall Creators Update. However, after the process, you'll need to re-apply your settings, reinstall apps, and restore your files from backup.
Wrapping things up
On October 17, 2017, Microsoft is once again expected to release the Windows 10 Fall Creators Update, but it'll be a slow rollout, and it will take months before every supported device gets the new version. While there are many ways to force the update on your device, it's always advised to wait until it's automatically offered to you through Windows Update to avoid potential problems.
If you decide to move forward manually, you can use the Windows Central forums to resolve any issues you may come across during or after the upgrade.
When will you be installing the new version of Windows 10 on your PC? Tell us in the comments.
More Windows 10 resources
For more helpful articles, coverage, and answers to common questions about Windows 10, visit the following resources:
Windows 10 help, tips, and tricks
Mauro Huculak is technical writer for WindowsCentral.com. His primary focus is to write comprehensive how-tos to help users get the most out of Windows 10 and its many related technologies. He has an IT background with professional certifications from Microsoft, Cisco, and CompTIA, and he's a recognized member of the Microsoft MVP community.
Bring it on luv to see how long it takes my Pc to crash

Did you build a PC with parts prone to failure?

Upgrade to newer hardwares and install newer drivers.
My Alienware desktop / NB and Surface Pro running win10 don't crash btw.

Hello, Does anybody know if the app has been removed forever? I installed it on a friend's computer a couple of weeks ago, and today I can't find it any more.

Sorry, I wrote my message on the wrong page: I guess I opened two pages at the same time and didn't put a lot of attention. I meant Instapic, by the way, in case somebody knows.

Try downloader for Instagram

Thank you, but I use Instapic because it lets me upload pictures. Hopefully it'll be available again soon.

Yay...
Hopefully this won't trash edge and cause slowdowns and glitches in Firefox.
...oh and I hope it doesn't yank the cord on my outlook like it did before.

Since that surprise update Edge barely works on W10M. I have to repeatedly refresh the page when I visit a new site. I guess that's one way to push me off the platform.

Use Monument browser on Phone. Some things don't work compared to Edge, such as Disqus, but otherwise it's much faster, it doesn't reload pages, didn't close all your tabs when you close the browser and you can open more than 2 tabs.

Mmm, I never have to refresh a page on my W10M Lumia.

You probably have a 2+ GB device then

Do a hard reset. I did experience an awful edge browsing with some websites on insider builds, glad didn't notice it after a hard reset.

I'll try upgrading from CU with Media Creation tool on my Surface Book, hoping everything will go fine.
I didn't find any info about differential sync with OneDrive.
That feature is really needed for my work: I use Dropbox to sync large files (LR catalogs) and it's very fast. The opposite on Onedrive, takes forever.
I'd like to keep only OneDrive in my PCs, because I've an Office 365 Subscription and 1TB of space.
Plus there's the annoying problem of overlay icons which get broken when you install Dropbox and Onedrive on the same system.
That feature has been postponed?
The power management slider in the battery icon pop upmenu has been confirmed?

On-demand files are not very reliable.
At first, on my Surface Pro 1 and 4, no worries. On PC, OneDrive absolutely wanted to download everything, I had to select the folders I wanted on the hard disk, and to uncheck the others, which was an aberration.
Now I don't have this problem anymore on PC, but it appeared on Surface Pro 4, and on Surface Pro 1 no problem. All devices are on FCU. "there's the annoying problem of overlay..."
No, it's a system limitation issue, and it's not solved, and they don't give a damn about correcting that. (See Dropbox help that explains this issue)

Hi, I wasn't talking about about selective sync or On-demand files, these are different features.
I was talking about differential sync, where the client check the files locally with the one on the server and download or upload only a portion of it. It saves a lot of resources and bandwidth and, most important, time. This is how Dropbox works actually.
Yes, I already know it's a system limitation, infact I was blaming Microsoft about it.
Sad to know it isn't still fixed in 2017 in FCU.

I am waiting for ISOs to come out from website or media creation tool. I am planning to do clean install with it since October 9th.

As always media creation tool as soon as possible:P

SO, anyone can update their computer tomorrow using the Update Assistant?

Yes, assuming your computer meets the basic requirements of Windows 10. And assuming we don't flood the update servers too much with enough people trying to force it on day one, which I think has happened before if only for a bit.

Im on creators update now, so I assume my computers are fine. I will be forcing as well!

I'll be forcing it right away. On demand OneDrive sync would be really helpful.

I had massive issues after doing this with Creators Update. Had to reinstall whole system after a month of fight :/ Never again, will wait.

I had massive issues on 3-computers w/Creators Update, happened after it was supposedly deamed they were now eligible - updates came several months after Creators became mainstream. So won't be in any rush for the fall update, shoot, might not be even using a Windows PC especially if my last experience is any indication of what to expect.

I will use update assistant i want update on day 1. M$ should learn from apple because they release new version of OS for all when it is officaly available

Except Apple has 8 different computers total, compared to quantilion on Windows.

Cryio, I thought it was a squintillion and one....

ha ha....have to watch Cloudy with a Chance of Meatballs the TV series! ha ha

The HD520 is behaving erratically on FCU on my SP4. UWP apps crash, the whole OS hangs when the iGPU jumps randomly to 100% usage in an interval of 3 seconds. I'll try to do a reset on 16299.19 to see if things are improved.

Intel drivers of Skylake GPUs has been always problematic in many ways :-\

I had the update as an insider last week but want to clean install with the ISO as soon as I can. After 2 years of upgrades it's time to start fresh

You can just hit Refresh from settings and it will be the same thing as a clean install, only faster than with an ISO.

Yeah but I want to repartition the ssd as well

WAHHHHH fanboy whiner downvoting every comment I make....grow up PANZY

Come on...grow a pair and say who it is...you ******* panzy

I'm waiting for download/install it via MCT tmrw (17 oct).

No, mine will not. I just installed 1703 last week. I had not booted into Win 10 since March 18, at least that was the date of the Defender Definitions. It was still on 1607, I think that's what it was. I might get around to installing 1709 around the holidays. Meanwhile, 8.1 runs just fine.

I'm staying with my 2 week security period. There is however an issue with the rolling deploy this time : WMR ! People buying a headset will have to force the update to make it work ?

Yaay, I'm glad the Media Creation tool is available to force the upgrade.

Follow these instructions if u want to update right now: https://techjourney.net/create-bootable-windows-10-fall-creators-update-... I can't say I already installed cuz I am still downloading the ISO, but it's from MS servers, so it's safe :)

I never even received the Creators Update...

2 weeks ago I go notification that the Creators Update will "soon" be available for my HP desktop....so I guess 'no' my pc will not be getting the Fall Creators Update ... this year.

Hope they will Provide Fluent Design In All The Apps in future

i downloaded media creation tool from one hour and downloading it now

i've already istalled windows 10 creator update from media creation tool so , now can i get the fall creator update via media creation tool ?

i tried but no i couldn't it took from me 2 hours after that updated me to the same update xD

Is the update available yet? I've been checking with the media creation tool but its still sitting on the Creators Update looks like the ISO for the Fall Creators Update is not available yet.

When I upgraded onedrive did not. Still said 2016 version. To fix it I had to uninstall it Download it from the website and reinstall. then I had the right version with files on demand

where does one find update assistant. I did a couple of searches. I could not find it. I am going to wait a couple of days and see how it goes, then force with the update assistant.

I'm downloading the Media Creation Tool and going to check if MS updated it.
I hope so.

No way, still 15063 build :(

Why doesn't the Media Creation Tool be updated? It's 17 October :(

Someone let me know when the update is available through the Media Creation Tool or the Upgrade Assistant, contact me on kik http://kik.me/sanctuary Thank You..

Me too. Usually like 10am PST.

Just to be clear, the Update Assistant does NOT help force the update. I just tried it.

None of the mentioned methods above work as of Oct 17, 2:30pm EST.

Woo hoo just checked Windows Update through settings and it was there! This is the first time I ever received an update on the first day and not have to use the media tool its 12:05pm PST I'm on an older custom built PC, not a new manufactured one, and have not been active in the Windows Insider program for several months. So I was pleasantly surprised

Downloading now...praying it doesn't brick my laptop...

Trashed my HP laptop, a circa late 2014 model that wasn't among those tested. Level 1 and 2 at MS couldn't do a thing. They suggested I take it into an MS store. And so, I've shelled out $1k for a new computer and still need to drive an hour to the nearest store since the HP ran just fine. Ironic that the protection from getting mugged is as bad as any mugging.
Windows Central Newsletter
Get the best of Windows Central in in your inbox, every day!
Thank you for signing up to Windows Central. You will receive a verification email shortly.
There was a problem. Please refresh the page and try again.