10 best features available with Microsoft Edge Chromium
Windows 10 has a new web browser, also called "Microsoft Edge," and these are the best features that you have check out.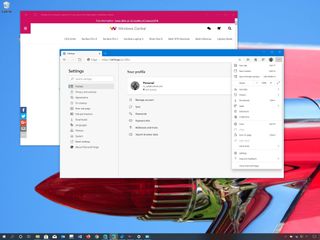 (Image credit: Windows Central)
Microsoft has built a new web browser from the ground up using the Chromium engine developed by Google, and it's expected to start rolling out on January 15, 2020, for Windows 10 and macOS users.
The new browser continues to carry the same Microsoft Edge name. Still, it's an entirely new software that offers better compatibility for websites and extensions, faster loading times, improved security and support, and better tooling for developers.
Alongside all the functionalities you come to expect from a modern web browser, the new Chromium version of Microsoft Edge offers some exciting tweaks and features that make the experience better and different.
In this Windows 10 guide, we'll highlight the top 10 best features available in the Chromium version of Microsoft Edge. (This list isn't organized in any particular order.)
1. User interface
The user interface for Microsoft Edge has been completely redesigned, but preserving the familiar look and feel of the legacy version to minimize the learning curve.
The new interface is clean, modern, and stylish with rounded edges making the browser a little more friendly, and because it's based on the Chromium open-source platform, you'll find the visual elements similar to the Chrome browser. However, it's not a bad thing, as most modern browsers always look quite identical anyway.
When you first open the browser, you'll notice a similar layout as before with tabs in the top-left corner, navigation controls on the left, the address bar in the middle, and action buttons on the right.
The "Settings and more" menu also looks similar to the legacy version, but now, many of the options have changed.
Perhaps one of the best interface improvements is the new settings experience that has transitioned from a flyout menu to a full-page layout, making settings easier to find and configure.
2. Profiles
One of the best features you'll find in the Chromium version of Microsoft Edge is "Profiles," which, as the name implies, is a feature that allows you to create profiles (accounts) to share the browser with other people without the need to create additional accounts on Windows 10.
Also, because profiles keep information separate (favorites, passwords, payment information, addresses, history, extensions, and other settings), you can use it to create multiple profiles for yourself to keep things like personal and work content separate.
By default, the browser will create a profile automatically, but you can always use the browser settings to manage, add, or remove profiles.
Microsoft Edge supports two types of profiles. You can create a local profile, which isn't connected online, which means that settings will only be available on the device. Or you can create a cloud profile by connecting your Microsoft account, which will allow you to backup your settings and sync data across devices.
3. Tracking prevention
Starting with this new version, in addition to adopting a new rendering engine, Microsoft Edge is also introducing a new privacy feature known as "Tracking prevention" to protect you from online tracking.
When you visit a website, online trackers can collect information about your internet routine (for example, visited sites, clicks, interests, and more) using cookies and several other mechanisms (even when you're not actively on the page). And this information is then utilized by companies to target you with advertisements and deliver a more personalized experience.
Tracking prevention comes enabled by default, and it includes a set of options that allows you to decide how the browser can detect and block harmful online trackers from collecting your activities to improve your privacy.
The feature is available from within the "Privacy and services" settings. While the "Balanced" option is the recommended level, you can also choose the "Basic" option, which still blocks harmful trackers, but allows some tracking. Or you can use the "Strict" option that blocks nearly all trackers, but it's likely to break most sites and visual elements on the page.
4. Google Chrome extensions
As a result of switching to an open-source platform, it also means that Microsoft Edge is now compatible with many features available for Google Chrome users, including extensions.
If you're unfamiliar, extensions (or addons) are little applications that you can install on a web browser to extend its functionality, improve security, or change its behavior. Usually, an extension does only one thing.
Although the new Microsoft Edge has its own store to download extensions, you can also install extensions designed for Chrome available through the Chrome Web Store. The only thing you need to do is to enable the option to install extensions from other stores from the "Extensions" settings.
5. Progressive Web Apps (PWAs)
Another best feature available with the new Microsoft Edge is support for Progressive Web Apps.
Progressive Web Apps is a technology that allows the ability to install and use websites as native applications on Windows 10.
Some of the unique aspects of web apps are the ability to work offline, push notifications, quick installs, instant loading, and automatic server-side updates. Also, to provide a more app-like experience, websites you install using the Chromium version of Edge will appear in the "All apps" list of the Start menu, and you can easily remove them from the "Apps & features settings" page.
Although you can install virtually any website as a Progressive Web App, it's up to developers to implement the available functionalities.
6. Immersive Reader
When you're trying to read an interesting article online, sometimes it's impossible to concentrate with all the visual elements, ads, and links around the content. The Immersive Reader (previously known as "Reading view") is a feature on Microsoft Edge that removes the clutter with just one-click, letting you focus on the main content.
Once you click the "Immersive Reader" button on the right side of the address bar, the feature will strip out all the clutter and re-format the content using more readable text and background that uses a warm color to make it easier on the eyes.
You can even click the "Read aloud" button to have the voice engine read the text aloud with different speeds and voice.
7. PDF viewer
Although the ability to work with PDF files can be found on most modern web browsers, the approach of Microsoft Edge is a little different. Also, to open PDF documents from the web or locally stored on your computer, you can select some text and right-click the selection to find the option to highlight the content, and then you can save or print the document with the highlights.
Also, the PDF viewer includes support for inking. This means that you can now click the Draw button from the toolbar to write notes and sketch. Also, this feature is ideal for signing PDF documents without the need to install third-party software. Similar to the highlighting option, you can also save or print PDFs with inking.
If you ever want to open a PDF document locally stored on your device, right-click the file, and then select the Open with menu, and use the Microsoft Edge option.
8. Dark theme
If dark is your color mode of preference, Microsoft Edge Chromium has you covered. Similar to the legacy version of the browser, the new version includes a dark theme option within the "Appearance" settings.
While in the settings page, you can switch between the light or dark mode, or you can even select the "System default" option, which allows Edge to switch theme colors when you change the color scheme of Windows 10 using the Settings app.
9. Collections
In the Microsoft Edge Chromium, you also get Collections, a new feature that allows you to make it easy to collect images, text, videos, and anything else that you can drag and drop from the web into the collection group.
The feature is still under development, but if it's available in your installation, then you'll find the option in the main menu. Once you launch the feature, you only need to click the Start new collection option to get started. After assigning a name for the group, you can start adding links, images, videos, and more.
You can even click the button on the top-right to add notes, and you can use the collection context menu (three-dotted button) to export the content to an Excel or Word document.
You can use Collections for anything, but usually, it'll be more useful when you shop online, and you need to collect information and compare product information before making a decision. If you use the web browser for work or school, the feature can also come in handy to research information, brainstorm ideas, create lesson plans, organize trips, etc.
10. Better browsing experience
Although the company has invested a lot of work to make Microsoft Edge the best browser experience for Windows 10 users, it was never as fast or compatible as Google Chrome. However, now that Microsoft has rebuilt Edge from the ground up using the Chromium engine from Google, the browser is faster than ever before.
Also, using an open-source platform that is more widely adopted means better website and extension compatibility and less fragmentation, as developers no longer need to spend time and resources to adjust their services to work on a different platform. If a website or extension works in Google Chrome, then it should also work on Microsoft Edge.
Also, Microsoft Edge is no longer tied to the development cycle of Windows 10, which means that the company can now push new changes and features more quickly, and enables the browser to become cross-platform (Windows 10, macOS, iOS, Android, and Linux) significantly improving the browsing experience for everyone, no matter the device you use.
What's your favorite feature available with the Chromium version of Microsoft Edge? Let us know in the comments.
Get the Windows Central Newsletter
All the latest news, reviews, and guides for Windows and Xbox diehards.
Mauro Huculak is technical writer for WindowsCentral.com. His primary focus is to write comprehensive how-tos to help users get the most out of Windows 10 and its many related technologies. He has an IT background with professional certifications from Microsoft, Cisco, and CompTIA, and he's a recognized member of the Microsoft MVP community.