12 days of tech tips: Your whole family will appreciate a home media server
Make all the family happy with a home media server that provides all their holiday entertainment.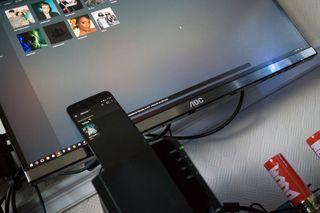 (Image credit: Windows Central)
Pleasing everyone in the household is hard when it comes to music to listen to or TV and movies to watch. Everyone will have their own favorites, and everyone will want control of the remote. If you're hosting family, there's no simple solution. Or is there?
A home media server is not only a great way to enjoy your media, but it's a great way to ensure everyone can enjoy their favorite media.
You can cut the cable cord at the same time or just load up your music and video library. And there's so much you can do. Best of all, it's fairly inexpensive and easy to set up. And your family will love you for it.
What are home media servers all about?
Family time around the TV watching Die Hard (opens in new tab) is great. But there will be more times than you can count, holiday or otherwise, that your family will want to enjoy something else.
By setting up a home media server, you designate a single source of storage for movies, TV shows, music, audiobooks and photos. Everyone in the household can then use a variety of devices, including phones, tablets, PCs and games consoles, to access that media whenever they want.
Basically, it means the kids can go and watch Elf while you cosy up with Star Wars.
What you need
Setting up a home media server requires two main components:
A computer.
Some software.
The computer is the easiest way to get up and running, since you'll need one to set everything up anyway and you already have a hard drive inside. If you're needing more storage you can easily add more drives, internal or external.
If you're going for something a little more high-tech, you can easily implement Network Attached Storage (NAS) into a home media server. A NAS drive will already be accessible from your home network, but a proper media center will make it so much more pleasurable to use.
Best media center software
There are many different ways of creating a great home media center experience, but our recommendations boil down to three: Plex, Emby, and Kodi.
The first two provide both server and client software, while Kodi is just a front-end that you plug your media and services into.
There are many similarities between Plex and Emby, and in their own right both are powerful and easy to use. Which one you go for will come down to preference, so do a little research. Both can be tried for free, so you lose nothing by taking a look at both.
Plex and Emby also have their own big-screen-friendly apps available for Windows and Xbox. The regular apps are pretty good, but who wants to sit around the fire navigating a bunch of menus before flicking on a festive favorite?
The links below will help you get off the ground running.
Kodi is free, open source and oh so powerful. You can just plug in your storage drives and access media that way, but services like Plex and Emby do a great job of organising it. You can use both of them with Kodi, along with a host of web plugins for streaming services, cloud providers like OneDrive, and a whole lot more.
Kodi is designed to be used on the big screen. Navigation is simple; icons and text are large and clear, and there's a ton of ways to customize its look and feel with skins. Check out the link below to get started with Kodi.
Kodi: What it is and how you use it
Cord cutting
Setting up a server for your own media is great, but with the same software and some additional hardware you can get rid of your cable subscription for good.
"Cord cutting," as it's commonly known, is the process of getting rid of subscription TV services from cable companies and moving to a system where you control what you watch and what you pay. It's also associated with moving solely to free-to-air TV channels.
With something like a HDHomeRun (opens in new tab) box you can turn that over-the-air (OTA) TV signal into something broadcasted across your home network. Then, using an app, such as the official HDHomeRun client (opens in new tab) or even Kodi you can watch TV on your phone, tablet, set-top box, Xbox One or a PC.
If you're running Plex or Emby, it's also really simple to set up a DVR that can record from those same TV channels without the need to watch them. It all works in the background and adds your recorded shows to your home media server. So everyone can record their favorite shows and watch them at their leisure without fighting for TV time!
Xbox One
Home media servers are great but you still need something to actually enjoy all that wonderful content on. Your phone is good, so is your PC, but really your best shot is something that hooks up to the TV.
Things like an Amazon Fire TV Stick, Apple TV or NVIDIA Shield TV are all great shouts, and all run Plex or Emby (Apple isn't too keen on Kodi.) But, the almost perfect box is the Xbox One.
Not only does it give you access to Plex, Emby, HDHomeRun and a whole bunch of other media apps, it has a 4K Blu-ray player built in. For the money, you get one incredible home entertainment center.
Why the Xbox One S is (almost) the perfect set top box
Go forth and binge!
Hopefully this little guide has given you a taste of the wonders of having your own home media server, and that it's really not expensive or difficult to get set up.
You'll love it, your family will love it, and holidays hosting the relatives will be that little bit easier!
Windows Central Newsletter
Get the best of Windows Central in your inbox, every day!
Managing Editor - Tech, Reviews
Richard Devine is a Managing Editor at Windows Central with over a decade of experience. A former Project Manager and long-term tech addict, he joined Mobile Nations in 2011 and has been found on Android Central and iMore as well as Windows Central. Currently, you'll find him steering the site's coverage of all manner of PC hardware and reviews. Find him on Mastodon at mstdn.social/@richdevine
Article unreadable because of colours.
Black letters grey background

ctrl+a can work as a quick fix, but yeah, something's messed up.

It renders horribly on the mobile app (Windows) not sure about android or iPhone.

using the windows app right?

CHAMPIONSHIP SNOOKER!? HOLY CRAP WHY DON'T I GET BBC2? Oh... Because I'm not in Great Britain. More and more I feel like that's a huge screw-up, not being in Great Britain.

Kodi is hard as hell to setup for Live TV, i never did get it to work and it's not recommended for Noobs. Saying that i'm very experienced but i just gave up. I get by without a media server I have my main PC which houses all my movies and TV shows, an Xbox One X (new to this) a laptop and an Android based tablet. I use Netflix for most things and TalkTalk TV Store for some of my Movies as i've built up quite a collection. Most of my other content is online and accessable from any device i have. I still use Media Centre on my Windows 10 based main PC as it's be best software for live TV and think MS should release a new version based on UWP with the ability to hook into other media apps such as Netflix etc.

Xbox One S is not the best solution at all, you must go with NVidia Shield TV instead becasue XOS doesn't have pass through audio. And this one issue alone is enough to sink the XOS if you have an external sound porocessor.

I use the free version of Plex and it works great for my needs. I keep all my media on my main PC which is always on and connected to my television in the living room via HDMI. To watch on the screen in my bedroom, I just plug my laptop into that unit via HDMI and stream from the main system. Works like a charm. I don't really care about watching any videos on my phone and have no idea why anyone would really want to. I don't even watch movies on my 27" PC display. What is the point when I have a 55" sitting in the living room? I'm gonna watch on a 5" screen instead? Don't think so.