Oh snap! 3 other ways to arrange multiple windows in Windows 10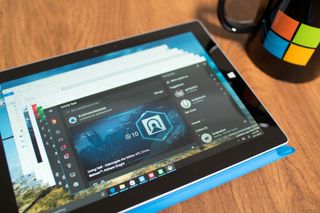 When you have multiple apps open in Windows 10, a great way to re-arrange them on your desktop is by using Snap. Just drag the top of the app window top edge of the screen to maximize a window or use any of the edges to snap them to a side or corner. However, did you know there are three other ways to arrange them in your desktop? We'll show you.
First, let's talk about Snap. What's new in for Windows 10 is that you can now Snap open Windows to four corners. If you have any other open windows after snapping one window, you will see Snap Assist. This new feature on Windows 10 displays the other apps as thumbnails in the available space. Tap or click one of the thumbnails to snap it in that space. You can see it in action in this video below:
So now that you're familiar with Snap, let's talk about the three other ways to arrange windows in your desktop. These options are available when you right-click the taskbar.
1. Cascade windows - puts windows in a single stack that has been fanned out so that the window titles appear.
2. Show windows stacked - puts windows in one or more vertical stacks depending on how many windows you have open.
3. Show windows side by side - place each window side by side on the desktop so you can see all the windows at once.
It's not hard to be productive on Windows 10 when you combine Snap, Task View, Virtual Desktops, and other multitasking tips. What do you think of these three other views? Will you be using them? Let us know in the comments!
For more tips, we have many more posts like this one in our Windows 10 help, tips, and tricks page.
Get the Windows Central Newsletter
All the latest news, reviews, and guides for Windows and Xbox diehards.