5 intriguing apps for Windows 10: October 23, 2015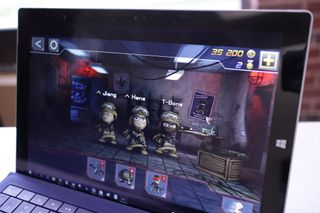 With the ever-growing number of apps and games in the Windows Store, it is becoming increasingly difficult to keep up with what's out there.
For that reason, every Friday we showcase some apps that have piqued our interest. They may have been in the news recently, they may be new to the Windows Store, or they could simply be old apps that we just stumbled upon.
They are the 5 Intriguing Apps of the Week.
NASCAR
At the end of last week, NASCAR released their official app for Windows 10. The new app brings all of the excitement of stock car racing to your PC or tablet.
See all of the latest news about your favorite drivers, check the standings in the chase for the Sprint Cup, and see videos from around the league. There's real-time news, live commentary, and customizable notifications.
NASCAR's premium features, which can be purchased within the app, include live driver audio, camera shots from within the cars, and even banter between drivers and crews. The fact is that any NASCAR fan should really check out this official app.
SO COOKBOOK
There are plenty of cooking apps for Windows, but few offer the sheer number of recipes as SO COOKBOOK. Pulling from various online sources, like BigOven, Larousse, and aufeminin, users have access to over 350,000 recipes.
Search by category, such as appetizer, main course, etc., or by any key word. Recipes can be printed out or added to your personal cookbook.
If you sign up for a free account, your favorited recipes will be backed up to the cloud and synced to other devices.
SO COOKBOOK offers up a beautifully crafted interface, complete with pictures. Within each recipe, you can go step-by-step, checking off each ingredient and part of the process as you go.
As cooking apps go, SO COOKBOOK ranks up near the top.
The Guardian
With a long history and trusted reputation, The Guardian is known for its hard-hitting news and expert analysis. Now they bring that news experience to your Windows 10 computer and phone.
Get real-time news and the latest in sports. The Guardian also gives you access to vivid photos, audio and video, and interactive content.
The app brings you a clear layout for easy navigation and a rich search function that lets you find a keywords, section, individual contributors and more.
If you're on the go and don't have WiFi, the app's automatic caching will have you catching up on news offline, so you're always in the know.
The Guardian is free to download.
Trakter Beta
Trakter is a universal Trackt client for Windows 10 and Windows 10 Mobile. This new beta version has been designed specifically for Windows 10, so it delivers an interface that is streamlined and beautiful.
Trakter Beta is loaded with options to personalize your experience, including a light and dark theme, as well as the option to hide or show only certain lists of shows or movies.
YouTube links can be open in your web browser, or in some of the different popular YouTube apps for Windows.
There is an optional Live tile and customizable notifications, too.
TV junkies and Trakt users would be well-served to give Trakter a try.
Tiny Troopers 2: Special Ops
Everybody's favorite waist-high warriors are back to take down the enemy. Tiny Troopers 2: Special Ops finds our heroes looking sharp in their new uniforms and sporting an arsenal of state-of-the-art weapons.
Choose your team, including different specialists to help you fight your way to victory. Change their uniforms, level them up, and augment their armor and skillsets for a killer custom army.
You can play campaign or just try to survive in horde mode, where you battle a rush of zombies on three different maps.
And because this is an Xbox Live title, you can earn achievements just for blasting the bad guys.
Tiny Troopers 2 is everything you've come to expect from the first one and more. And it's free to play.
Be sure to check out our other selections from previous weeks. Have a great weekend!
Do you have an app you want us to highlight? Drop us an email at tips@windowscentral.com with "5 Intriguing Apps" in the subject line.
Windows Central Newsletter
Get the best of Windows Central in your inbox, every day!
Where are the download links?

I love tiny troopers but even though it's xbox it doesn't sync between phone and desktop. Which sucks majorly.

Guardian app fantastic and great for the platform

Hi Seth, thanks for the recommendations - always have a look through the intriguing apps list and find little gems occaisionally. Keep them comiing :)

I like Trakter. It's a decent app. Especially after the latest update