Acer Spin 3 review: Some excellent features but sits in a competitive budget market
Acer refreshed its 14-inch Spin 3 with a lighter, thinner chassis and 10th Gen Intel "Ice Lake" CPUs.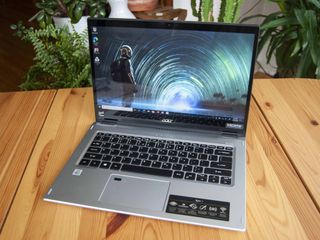 (Image credit: Windows Central)
The Acer Spin 3 (SP314-54N) is a budget convertible laptop that packs in some interesting features, like a built-in active pen, Wi-Fi 6, Thunderbolt 3, and excellent speakers. It's well within the budget range, and that means some less-attractive features help keep the price down. I've been using it for the last week to see what it's all about and whether or not it's worth a buy.
(opens in new tab)
Bottom line: Acer's Spin 3 is a low-cost convertible with a built-in active pen for inking. It has some attractive features, like top-firing audio, Wi-Fi 6, and plenty of ports, though the budget laptop market has become quite competitive. Without a strong case for battery life or performance, you might find the Spin 3 isn't quite as great a deal as it once was.
For
Wi-Fi 6 and Bluetooth 5.0
Very attractive price
Built-in active pen for Windows Ink
Lots of ports including Thunderbolt 3
Excellent audio and clear webcam
Against
Creaky chassis
Faces tough competition
Underwhelming display
Between five and six hours of battery
Specifications and pricing
Acer Spin 3 at a glance
Acer supplied Windows Central with a review unit of the refreshed Acer Spin 3 with model number SP314-54N. It's packed with a 10th Gen Intel Core i5-1035G1 processor (CPU) with four cores, it has 8GB of soldered LPDDR4 RAM, and it has a 256GB M.2 NVMe solid-state drive (SSD) that can be upgraded after purchase. The 14-inch touch display has a standard 1920x1080 (FHD) resolution with a 16:9 aspect ratio.
This exact model can be purchased at Costco for about $650 (opens in new tab), though you'll find a better deal at Walmart. There you can find a model with more powerful Core i7-1065G7 and double the storage at 512GB for about $699 (opens in new tab).
Along with the Core i5-1035G1 CPU, Acer seems to also offer Spin 3 models with the Core i5-1035G4 CPU. The G4 has a slightly higher base and boost clock speed and includes more powerful Intel Iris Plus graphics rather than Intel UHD graphics. A Spin 3 with i5-1035G4 CPU, 8GB of RAM, and 512GB SSD costs about $800 (opens in new tab) at Amazon.
The Core i7-1065G7 model from Walmart also includes Intel Iris Plus Graphics, and it's a far better deal (opens in new tab). Unless you absolutely need to save the extra $49, it's going to land you the most value. There's a huge performance difference between the Core i5-1035G1 and Core i7-1065G7.
In any case, the following are the exact specifications found in the review model sent by Acer.
Swipe to scroll horizontally
Category
Spec
OS
Windows 10 Home
Processor
10th Gen Intel
Core i5-1035G1
Four cores
1.0GHz base clock
Up to 3.60GHz
RAM
8GB LPDDR4
Soldered
Graphics
Intel UHD Graphics
Storage
256GB M.2 NVMe SSD
Upgradeable
Display
14 inches
1920x1080 (FHD)
16:9 aspect ratio
Touch, glossy
IPS
Active pen
Included
Ports
Thunderbolt 3
Two USB-A 3.2
HDMI 2.0
microSD card reader
3.5mm audio
Audio
Top-firing stereo speaker
DTS Audio
Acer TrueHarmony
Wireless
Intel Wi-Fi 6 AX201
802.11ax
Bluetooth 5.0
Camera
Front-facing 720p
Security
Kensington lock slot
Fingerprint reader
Battery
48Wh
Dimensions
12.8 x 9.06 x 0.67 inches
(325mm x 230mm x 16.9mm)
Weight
3.31 pounds (1.5kg)
Excellent audio and plenty of ports
Acer Spin 3 design and features
Image 1 of 2
The convertible Acer Spin 3 has a chassis with the same silver finish as its Swift 3 counterpart, though the main portion seems to be made up of ABS plastic rather than a magnesium alloy. There's quite a bit of flex in the Spin 3's body, and it does creak a bit if you pick it up with one hand. Compared to the previous generation, it's been thinned down and weighs less. It's also advertised as having hinges that elevate the keyboard deck when the display is open; this is true, but it's a minimal amount. The hinges are firm and smoothly allow the laptop to convert into tent, stand, and tablet modes.
Port selection is excellent, especially with the addition of Thunderbolt 3. This gives you more options for connecting powerful Thunderbolt 3 docking stations, and you can charge with a USB-C adapter if you leave the Acer-supplied barrel adapter behind. Other than Thunderbolt 3, the Spin 3 has HDMI 2.0, two USB-A 3.2, a 3.5mm audio jack, and a microSD card reader for adding some removable storage. It's a mix of ports that should be enough for casual productivity use or media consumption.
Above the keyboard along the top edge of the laptop is a pair of stereo speakers with DTS Audio. I was pleasantly surprised at the sound quality these speakers offer. Audio gets quite loud, it doesn't distort, and it has a bit of bass to add more depth. Half the speaker grille is angled down to keep it from being completely muffled if you happen to be using the laptop in stand mode. The laptop also includes dual far-field microphones with Acer's PurifiedVoice tech, helping pick up the right sounds in a conference call.
To create a quality trifecta, you need a webcam that doesn't make you want to cringe. Luckily, the Spin 3's front-facing 720p camera does the job well. The picture is clear, and it can deal well with bright light behind the subject. The only thing missing here is a webcam shutter or killswitch like we're seeing on a lot of modern laptops.
Acer's included keyboard here has good travel and eventually becomes comfortable to use, but its small chiclet keys will no doubt be unappealing to some. It looks dated compared to the keyboards in comparable laptops, with large keycaps and a board that stretches from edge to edge. Keys are black and stand out well against the silver background, though the backlight has one stage and doesn't touch the lettering when enabled.
The Precision touchpad is perfectly usable, with a firm click and smooth pointing. No issues there. A fingerprint reader resides in the upper left corner, giving you the option to sign in to your laptop through Windows Hello. It works promptly and without issue. The only thing to keep in mind is that accidentally touching it while pointing normally will require you to remove your finger from the touchpad and set it down again to resume pointing.
Another addition to this refreshed Spin 3 is Wi-Fi 6 connectivity. With a compatible Wi-Fi 6 router, you should see improved transfer speeds. It's a nice addition to set it up well for the future. Also included is Bluetooth 5.0 for connecting your wireless accessories.
Built-in active pen
Acer Spin 3 display and inking
Image 1 of 2
We've had several budget-focused laptops come through lately for review, and it's clear that a lot of manufacturers still skimp on the display to keep the price down. The Spin 3's glossy IPS touch display hits just 62% sRGB, 47% AdobeRGB, and 46% DCI-P3 color reproduction. Contrast is decent, so the display doesn't look washed out, but it's still not going to hold up for a lot of photo editing work or similar tasks. It also manages about 289 nits brightness, which, combined with the glossy finish, causes issues when working in a well-lit space.
At 14 inches, it's a nice option for anyone who finds 13 inches a bit too small and 15 inches a bit too big, though with pretty chunky bezel along the top and bottom it's not exactly breaking any records like the XPS 15 9500. At least there's plenty of space to grab onto when using the laptop in tablet mode.
To compare, the similarly-priced HP ENVY x360 has a 13.3-inch touch display with 97% sRGB, 72% AdobeRGB, and 76% DCI-P3 color reproduction, as well as brightness up to about 326 nits. If color and brightness are top of your list and you don't mind the smaller 13-inch size, HP's convertible should no doubt be more attractive.
One thing the Spin 3 does have going for is a built-in active pen in the slim pencil form. Based on Wacom AES 1.0 tech, it delivers 4,096 levels of pressure sensitivity and two customizable buttons. Inking is actually quite smooth, and anyone who wants to jot down some notes or make a quick sketch should find it satisfactory. And, of course, it's always charged and in the same place when you need it thanks to the silo.
Nothing exceptional
Acer Spin 3 performance and battery