Acer Swift 3 (AMD) review: Impressive Ryzen 4000 performance diminished by a dim display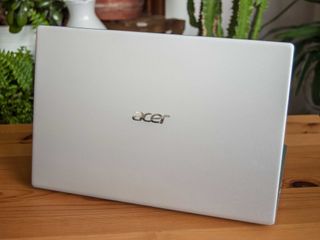 (Image credit: Windows Central)
Moving to AMD Ryzen 4000-series mobile processors (CPU) is the current trend for mid-range and budget tier laptops — like the IdeaPad Flex 5 14 we recently reviewed — and it's a smart choice. Performance and battery life get a considerable boost without raising the price, allowing consumers who favor power over premium aesthetics or features to get exactly what they want. I've been using the refreshed 14-inch Acer Swift 3 with exactly these circumstances for about a week to see how well it performs and whether or not it's worth considering among the best AMD Ryzen laptops out there.
(opens in new tab)
Acer Swift 3 (SF314-42-R9YN)
Bottom line: The Acer Swift 3 has a lacking display, and the keyboard probably won't be for everyone, but otherwise, this is a solid laptop. The AMD Ryzen 7 4700U CPU is powerful, the battery lasts all day, and it's all available at a very attractive price.
For
AMD Ryzen 7 4700U brings strong performance
Great price for what you're getting
Decent port selection
All-day battery life
Fingerprint reader for Windows Hello
Against
The keyboard isn't for everyone
Dim display with poor color
Acer Swift 3 at a glance
Acer supplied Windows Central with a review unit of the Acer Swift 3 (model number SF314-42-R9YN) that was first announced in January at CES 2020. It has inside an AMD Ryzen 7 4700U CPU with eight cores, 8GB of LPDDR4 RAM, and a 512GB Samsung solid-state drive (SSD). The 14-inch display has a 16:9 aspect ratio and a 1920x1080 (FHD) resolution. It is non-touch and has a matte finish. This exact model can be found at Amazon for about $650 (opens in new tab), putting it well within the budget range.
There are some models available with more storage up to 1TB (opens in new tab), and you can upgrade the M.2 SSD after purchase. Finding a model with more than 8GB of RAM is not as easy, and soldered RAM means no upgrades.
Check out the exact specs found in my review unit of the Swift 3.
Swipe to scroll horizontally
Category
Spec
OS
Windows 10 Home
Processor
AMD Ryzen 7 4700U
2.0GHz up to 4.1GHz
Eight cores
RAM
8GB LPDDR4
Soldered
Graphics
Integrated
AMD Radeon Vega 7
Storage
512GB M,2 PCIe SSD
Samsung PM991
Display
14 inches
1920x1080 (FHD)
Non-touch
Matte
IPS
16:9 aspect ratio
231 nits
Ports
USB-C 3.2 (Gen 2)
HDMI
USB-A 2.0
USB-A 3.0
3.5mm audio
Audio
Bottom-firing
Dual stereo speakers
Wireless
Intel Wi-Fi 6 AX200
Bluetooth 5.0
Camera
Front-facing 720p
Security
Fingerprint reader
Kensington lock slot
Battery
50Wh
Dimensions
12.7 x 8.6 x 0.71 inches
(322.6mm x 218.4mm x 18mm)
Weight
2.65 pounds (1.2kg)
Acer Swift 3 design and features
Image 1 of 2
The Swift 3's magnesium chassis feels much more solid than a PC/ABS plastic equivalent, and it's also relatively light for a 14-inch laptop at just 2.65 pounds (1.2kg). It reminds me of the feel of LG's gram lineup when held, which is a good thing in terms of durability. These types of chassis can usually stand up well to daily use and abuse, and there's hardly any flex in the keyboard or display lid. The Pure Silver color finish hides fingerprints and smudges well on the outside and inside of the laptop. The single wide hinge extends back 180 degrees so that the display lies flat.
Port selection is relatively generous, especially compared to more premium Ultrabooks that have abandoned everything for Thunderbolt 3. There's a barrel charging port, USB-C 3.2 (which can also be used for charging), HDMI, USB-A 3.0, USB-A 2.0, and 3.5mm audio. An SD or microSD card reader would help here, but at least you can easily connect a USB-C hub or docking station if you need better connectivity.
A sizable Precision touchpad makes good use of the space below the keyboard. Pointing is smooth, and the click is firm. Unfortunately, the solid touchpad isn't accompanied by as great a keyboard. Travel is ample, and I did get used to it, but it just doesn't stand up to the keyboards we're seeing from HP, Dell, and Lenovo these days, even in the mid-range lineups. The chiclet keys are small, and the white backlight on silver color causes issues. Unless you're working in near-complete darkness, the backlight causes the letters to blend into the keys. This is the same issue I've seen with a premium laptop like the XPS 13 9300 in Arctic White color and is a definite annoyance.
On the right palm rest is a fingerprint reader that works with Windows Hello for a convenient security boost. It's a narrow touch-type reader that sort of messes with the aesthetic of the silver keyboard due to the black color, but it works well. Logins are snappy and work without fail.
Image 1 of 3
A speaker resides on either side of the bottom of the laptop. It would be nice to see top-firing speakers flanking the edges of the keyboard, but at least the audio is clear. It doesn't get exceptionally loud; I didn't find it too much, even at maximum volume. At least it's not very tinny, and there's no distortion. Audio is about average for a laptop this price and size.
The front-facing 720p camera above the display does an acceptable job for video conferencing. It manages to keep track of my face even when sitting in front of a set of bright windows, and the picture is as clear as can be expected at this price. Overall it's better than I was expecting. As for wireless connectivity, the inclusion of a Wi-Fi 6 chip is a bonus and sets the laptop up for fast transfer speeds for years to come.
Acer Swift 3 display
Much like the IdeaPad Flex 5 14 with AMD Ryzen 5 4500U I recently reviewed, the display is a definite weak point here. Testing with a Datacolor SpyderX Pro (opens in new tab), the display managed just 61% sRGB, 45% AdobeRGB, and 45% DCI-P3 color reproduction. Contrast is good, so the display doesn't exactly look washed out, but anyone who aims to use the laptop for something like photo editing will find it lacking.
Brightness maxes out at a low 231 nits. It's not as impactful due to the matte finish on the display, but it's still quite dim. I had the backlight as high as it would go during the day, even without working in direct sunlight. In a well-lit room, viewing the display is a struggle. Also note that the bezel is raised, and anyone with a preference for edge-to-edge glass will want to look elsewhere. It's not a big deal for most people, and the bezel is relatively thin for a modern look.
Overall the display will cut it for casual use, including word processing, web browsing, email, and streaming. Most people will be able to get used to the look, though if you aspire to enjoy the outdoors while you work, you will have problems. Likewise, for any professional work, you'd no doubt want to check out an external display with better color. Unfortunately, there is no display upgrade option for the AMD-powered Swift 3 model.
Acer Swift 3 performance and battery
With AMD's 7nm Ryzen 4000-series mobile CPU inside, the Swift 3 is a real performer. It has eight cores, and a clock speed up to 4.1GHz, but the real win is the price and how efficiently it runs. Even with just a 50Wh battery, I got between eight and nine hours from a charge when going about standard productivity work with Photoshop, Office, Slack, and Edge. I ran the PCMark 10 Modern Office battery rundown and got back just more than 10 hours with "Better Performance" Windows 10 power setting and about 80% brightness.
On top of excellent processing power, Integrated Vega 7 graphics are impressive. On the OpenCL test, the Ryzen 7 scored 12,008. That's on par with something like a discrete NVIDIA GTX 960M and beats out the common NVIDIA MX330 dedicated GPU that's found in modern laptops. If you're in search of a laptop that can handle some gaming in your downtime, the Swift 3 should be able to push respectable framerates for a ton of modern games.
I ran some benchmarks to see how the Swift 3 stacks up against other laptops we've recently reviewed.
Geekbench 5
Geekbench 5.0 (CPU) (Higher is better)
Swipe to scroll horizontally
Device
CPU
Single core
Multi core
Acer Swift 3
Ryzen 7 4700U
1,131
4,860
Lenovo IdeaPad Flex 5 14
Ryzen 5 4500U
1,087
4,570
Surface Laptop 3 15
Ryzen 5 3580U
769
2,720
Lenovo ThinkPad L13 Yoga
i5-10210U
1,069
3,754
Lenovo Yoga C640
i3-10110U
1,015
2,111
Lenovo Yoga C740 14