Amazon's daily sale prices Microsoft keyboards, mice and more for up to 61% off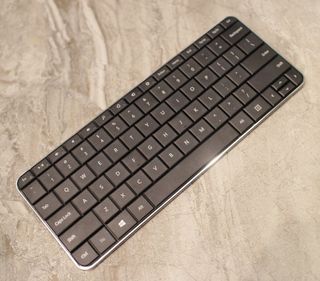 Amazon's latest one-day sale includes a number of Microsoft keyboards, mice and other accessories. Prices have been cut by between 44% and 61% on the selected item.
Among the items on sale is the Microsoft Wedge Mobile Keyboard, which is currently priced at just $35 on Amazon (opens in new tab), compared to its normal $79.99 price tag. Here are some other Microsoft accessories that have a price cut today on Amazon:
Keep in mind that these sales prices will end at midnight tonight Pacific Time (3 am Wednesday Eastern Time).
Source: Amazon (opens in new tab)
Windows Central Newsletter
Get the best of Windows Central in your inbox, every day!
Huh that was a quick comment :p
These are some decent discounts!

I finally bought myself a Surface Arc Touch mouse. Been waiting for a good deal on it for awhile.

I have this and wish I went with the wedge mouse.

Have you tried both? I'm still open to cancelling my order and changing.

Honestly I have only played with the wedge mouse in display at a Microsoft store. My arc mouse is falling apart and I have to constantly reset it so the scrolling function will work. Have only had it about a month now. Going to get it replaced.

One thing I noticed about 5-8 years ago is ms hardware went cheap on their mice(wireless/notebook) their one piece LR button is always the 1st thing to go cheap switches underneath I guess are the problem

Do you want my wedge mouse? I have one unopened that came with my Surface because I tried someone else's and hated it. I don't have large hands but that thing was too small for me. The one I have is this one -> http://www.amazon.com/Microsoft-Wedge-Surface-Edition-3LR-00009/dp/B00CC... Send me a message if you're interested.

Good purchase. I love mine.

For $30 the wedge keyboard is awesome. I will buy this again. The new MS mobile keyboard is terrible.

The new folding one? Damn it looked very portable and convenient. I was gonna grab one.

I'm guessing it had the same problems as the type cover.

Was hesitating on buying the Bluetooth Sculpt comfort mouse for a couple of weeks now since I got my new HP Envy 15t laptop. Just pulled the trigger for $16. Couldn't beat that.
Edit: It seems there are more Microsoft items that are the deal of the day than stated in the article.

It's becoming boring around here lately. A lot of Win10 news and features appearing on others sites, WCentral nothing new/exclusive any more :/ I like a lot here, what is happening?

With all do respect, "new/exclusive" audience is comparatively very small next to regular users who do not refresh webpages for the latest news. While hardcore news fanatics are the loudest, their interests are niche.

I get it, and I understand. But we also used to have a lot of great articles from you (even Sam who left to MS), sometime articles with your opinion about some news/new feature or debating something. I don't know, I don't see this things any more, it was the difference with other websites.

The goal of Newsroom is to get you the latest news faster [= "new"] while doing it better, and while also allowing our talented team of writers to spend more of their day working on the original content [= "exclusive"] that we know you all love.... Newsroom: Because you told us to. Earlier this year you might recall the reader survey that we ran on our sites. When it came to news, we heard the same thing across the network: you wanted to see us be faster. In this day and age, there's little loyalty when it comes to news. We know that you love our editorial and review content, but when it comes to news, there are plenty of accurate sources to which to turn. But, like any reader, we know you'd also prefer to get your news and editorial in one place. It's just easier that way. Over the past few years we took the approach that it was OK to be a little slower when reporting the news — it gave us time to add our insights, opinions, and analysis to those news pieces. But since then things have changed rapidly, and become rapid. All you have to do is watch Twitter and click on whichever news story link pops up first. We'll be honest — we want you to read that story on our sites. And if you've already read it elsewhere because they posted it faster, then we've failed you. (emphasis mine) http://www.windowscentral.com/introducing-mobile-nations-newsroom

Daniel, your response to the person appears to come off as slightly dismissive and in contradiction to the spirit of the above article posted less than a year ago on this site. Is this above-stated goal no longer shared by Windows Central and has the constituency of the readership changed so dramatically from those that completed the survey mentioned in the article (the survey that informed the proposed change)? I realize by pointing this out I'm probably coming off as a jerk. That is not my intent. However, I've shared the same frustrations as the person above (and others), partly because I have held this article in my head and looked forward to the changes. I saw them for a while but have since seen the urgency factor appear to wane. I still enjoy the site but want to express what a number of us are thinking and why some of us are thinking it. Respectfully...

Rumors & speculation =/= news.

Is this keyboard worth it at $35 or should I try to find a good price on ebay? My type cover stopped working and I'd like a bluetooth keyboard for my surface anyway.

I'm looking at that Universal Mobile Keyboard for $50, seems built to be a little more versatile and the keys look to be spaced better.

The only thing with that keyboard (I'm assuming this one -> https://www.windowscentral.com/e?link=https2F%2Fclick.linksynergy.co... that it doesn't have the F-key row which I'd miss doing development.

Ha, no wonder it's so roomy :D I would be okay with it until I reached up for F5 and then flung it across the room. Good eye.

Does anyone think the Wedge or Universal Keyboards would work on WP 8.1.x (some revision this year pre-W10)? Like once they get the proper "bits" into WP itself, versus anything that would have to change on the keyboard itself? Would think of getting one (especially since the new foldy one is $99 and not available until summer) but hmmm... edit: have a new Fire HD7 I would probably toy with, Icon, and will be upgrading some computers soon. Also have a Fitdesk and something like these would be sweet.

Here in Finland one apartment store was selling wedge mouse for 15€ and wedge kbd for 29€. I now have them both and they are great with Lumia 2520 :)

Does the keyboard work with XB1?