Amazon's new Echo Dot with a built-in clock is already on sale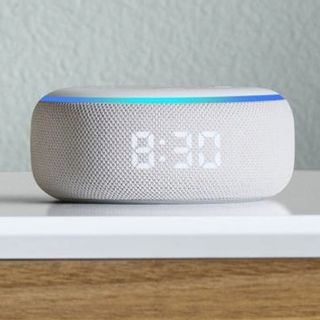 Amazon unveiled... well, a whole lot of new stuff (opens in new tab) today, ranging from a smart oven (opens in new tab) to truly wireless earbuds (opens in new tab) to yet another iteration of its Fire TV Cube (opens in new tab). Not to be missed is the all-new Echo Dot 3rd Generation Smart Speaker with Built-In Clock (opens in new tab), which will be released on October 16th. The addition of a built-in clock is a great one, and Echo Dot speakers are the building blocks of many connected homes. The speaker has a list price of $59.99, but today you can add two to your cart and use code DOT2PACK to drop your total from $119.99 down to $99.98. That $20 discount basically makes the two new speakers cost the same as the versions without the built-in clock.
If you don't care about the LED time-teller, you can use the same code to get $20 off two Echo Dot smart speakers (opens in new tab), which extends to the pretty new Plum colorway. Amazon pre-orders include a pricing guarantee that ensures you'll only pay the lowest price if the cost drops before your order ships.
All-New Echo Dot 3rd-Gen Smart Speaker (opens in new tab)

These new-and-improved speakers will sell for $60 apiece, but using this coupon code during checkout will save you $20. The pre-order price guarantee means you'll only pay the lowest price once these ship in October.
When compared to the 2nd-gen speaker, the Echo Dot has 70% better audio quality and an improved design. You can pair two of them together for stereo sound, or connect the speaker via Bluetooth (or 3.5mm cable) directly to another speaker if you prefer. With the Echo Dot, you can control your smart thermostat (opens in new tab), smart plugs (opens in new tab), and other smart home gear, as well as have measurements converted, find out the local weather, and more. It plays music. It answers your burning questions, like "How far away is the moon?" (238,900 miles) or "Alexa, what's your favorite place?" (in the cloud, of course.) The Echo Dot is a handy helper for any home.
The new addition of an LED clock just makes it that much better. Place it on your nightstand to see the time without asking or checking your phone, or pop it on your kitchen counter to see your cooking timers at a glance. The LED display can also show you the current temperature. You can even ask Alexa to set an alarm and tap the top of the device to snooze it, which is way better than groggily asking her to shut the alarm off in the mornings. The speaker has a built-in sensor to automatically adjust the display brightness as well. Time is ticking on this discount!
Louryn was seven when her shopping obsession began. It started with eBay and quickly escalated to Black Friday. Now she's a shopaholic -- no day is complete without a pile of packages on her front porch. She justifies it by refusing to pay full price. She also loves Skyrim, makeup, and beer. Find her on Twitter @lourynstrampe
Windows Central Newsletter
Get the best of Windows Central in in your inbox, every day!
Thank you for signing up to Windows Central. You will receive a verification email shortly.
There was a problem. Please refresh the page and try again.