Angry Birds Seasons gets updated with new levels and more challenges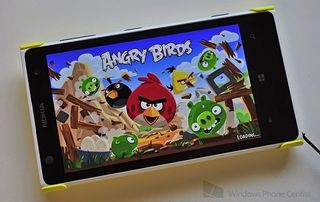 Rovio has updated the Windows Phone version of one of the many games in its Angry Bird series, Angry Birds Seasons, with some new levels along with support for new challenges.
Here is the change log for the new update to the 99 cent game:
SOUTH HAMERICA EPISODE! 24 free levels plus three bonus ones, each packed with relics, artifacts and… pesky piggies!
NEW PIG DAYS! Pig Days levels celebrate various special events, anniversaries and holidays from around the world – there's a fun, new challenge almost every week!
What is your opinion on these new levels and challenges? Thanks to Kyle for the tip
It seems that I'll never finish this game :/

Same here....only because my progress is erased every time there is a major phone update.

Even after job cutoffs still they are updating the game. Whatsapp developers wth is wrong with you all?

They are busy making updates for Android and iOS :(

Fb inc has really worst programmers.

Angry Birds Original Star wars also updated! v1.5.3 Return of the Jedi chapter added.

Yes it was, I sent that in with this tip too.

it would be nice if all AB games were on Windows 8 and not just Star Wars and Space..

─────────▄──────────────▄
────────▌▒█───────────▄▀▒▌
────────▌▒▒▀▄───────▄▀▒▒▒▐
───────▐▄▀▒▒▀▀▀▀▄▄▄▀▒▒▒▒▒▐
─────▄▄▀▒▒▒▒▒▒▒▒▒▒▒█▒▒▄█▒▐
───▄▀▒▒▒▒▒▒▒▒▒▒▒▒▒▒▒▀██▀▒▌
──▐▒▒▒▄▄▄▒▒▒▒▒▒▒▒▒▒▒▒▒▀▄▒▒▌
──▌▒▒▐▄█▀▒▒▒▒▄▀█▄▒▒▒▒▒▒▒█▒▐
─▐▒▒▒▒▒▒▒▒▒▒▒▌██▀▒▒▒▒▒▒▒▒▀▄▌
─▌▒▀▄██▄▒▒▒▒▒▒▒▒▒▒▒░░░░▒▒▒▒▌
─▌▀▐▄█▄█▌▄▒▀▒▒▒▒▒▒░░░░░░▒▒▒▐
▐▒▀▐▀▐▀▒▒▄▄▒▄▒▒▒▒▒░░░░░░▒▒▒▒▌
▐▒▒▒▀▀▄▄▒▒▒▄▒▒▒▒▒▒░░░░░░▒▒▒▐
─▌▒▒▒▒▒▒▀▀▀▒▒▒▒▒▒▒▒░░░░▒▒▒▒▌
─▐▒▒▒▒▒▒▒▒▒▒▒▒▒▒▒▒▒▒▒▒▒▒▒▒▐
──▀▄▒▒▒▒▒▒▒▒▒▒▒▒▒▒▒▒▒▄▒▒▒▒▌
────▀▄▒▒▒▒▒▒▒▒▒▒▄▄▄▀▒▒▒▒▄▀
───▐▀▒▀▄▄▄▄▄▄▀▀▀▒▒▒▒▒▄▄▀
──▐▒▒▒▒▒▒▒▒▒▒▒▒▒▒▒▒▀▀

Thats nice! :) Where do you find these? Is there an app that i can get some of those too?

I just write (something) text art,there are a ton on the internet,
But on the wpcentral app it was an epic fail :D

Xmm sounds simple. As ive heard there are apps on windows phone store that offer many of these but i cant find any. Do you happen to know some of them?

No actually,its from the web,but I know a good meme Pictures app ,it's called meme hub,

Want angry birds Stella for my kid daughter.

Ah it is an Xbox live game....

Xmmm, still 1 euro.. -_- They cant even reduce the price a bit? I dont usually complain of games that arent free, but this angry birds game as well as most of them are free on android! But we have to pay for them? Did they have something that android versions lack? I dont think so! But why am i caring, they companies sometimes seem to be doing things wrongly that they think is ok..

They keep giving us free content updates years after the game's release date. Worth that 1 euro.

It would worth a lower price or free version. I think the same updates go to android as well, arent they?

So why is Angry Birds Star Wars 2 now a free game on ios but WP users have to pay for it??

Thats was rovio business strategy and that was secreet

Make this game free or gtfo -_-

It's a dollar. You're moaning about a dollar?

Still if its free for android then why pay 1 dollar xD they should free it -_-
Windows Central Newsletter
Get the best of Windows Central in in your inbox, every day!
Thank you for signing up to Windows Central. You will receive a verification email shortly.
There was a problem. Please refresh the page and try again.