Antivirus vs Internet Security: What's the difference?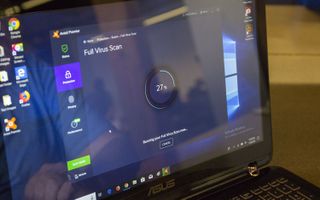 Antivirus vs Internet Security: What's the difference?
Best answer: Both antivirus and internet security programs protect your computer from malware, especially files attempting to download from online, but differ in terms of features. Internet security programs include additional security tools to keep your whole computer safe, including a firewall, password manager, and vulnerability scanners. However, for the ultimate protection package, a premium security suite is the way to go.Premium Security Suite: McAfee Total Protection

(opens in new tab)

($70 at McAfee)Internet Security Software: Avast Internet Security

(opens in new tab)

($60 at Avast)Antivirus Software: Webroot SecureAnywhere AntiVirus

(opens in new tab)

($40 at Webroot)
What are the differences between antivirus and internet security software?
Internet security programs include the same basic protections as antivirus software, but are a step up. If an antivirus program scored well in malware protection, the internet security program from the same developer will score the same.
The biggest difference between the two programs is the amount of additional, or advanced, security tools included. Antivirus tools tend to be basic without a lot of extras. Internet security programs, on the other hand, often include a personal firewall, password managers, a system vulnerability scanner, and banking or other online shopping protections. These additional tools give you added protections from hackers, keyloggers, identity thieves, and internet snoops that basic malware detections don't recognize.
How much does antivirus and internet security software cost?
Another big difference is the number of user licenses included with each program, which also affects the overall cost and value. Most basic antivirus protection software comes with a single license to protect one computer and costs between $30–$40 for a yearly subscription. Internet security programs, however, tend to include a minimum of three user licenses for around $50 or $60.
While the price tag of internet security software is higher than antivirus programs, the overall value is typically better because of the number of user licenses and additional protections included.
You can often find computer protection software cheaper on Amazon and other online vendors. However, it's important to know if the person you're purchasing and downloading the program from is legit because you risk downloading malware. So check the seller's info. Most antivirus developers sell their own programs through Amazon and other retailers rather than allowing a third-party seller to list for them.
What is a premium security suite?
If you want the absolute best protection, you're going to want to go with something entirely different. Premium security suites are an even bigger step up from antivirus software. These solutions are a bundle of several protection programs that include the developer's internet security software, a VPN, parental controls, cryptocurrency account protections, online backup storage, encryption capabilities, and webcam monitoring.
Premium protection software usually works on mobile and Mac computers and monitors other devices connected to your internet, like smart TVs and IoT devices, so your whole household is protected. The best premium security software comes with 10 or more user licenses and costs around $90 per year.
Best Premium Security Suite
Complete protection for all devices

On top of excellent malware protection, McAfee has parental controls to manage when and how long children are online, cryptocurrency account monitors, online backup storage with 128-bit encryption of all saved files, and a personal firewall. It comes with unlimited user licenses to protect all devices, including Mac computers and cell phones, and a 100% virus removal guarantee.
Best Internet Security Software
(opens in new tab)
Dependable protection

This internet security software includes phishing and spam filters, a personal firewall, and a password manager. The safe browsing features warn of dangerous websites and all caught threats are securely removed. Avast is easy to install and use, and earned high scores for malware protection from multiple security labs, including our own.
Best Antivirus Solution
(opens in new tab)
Webroot SecureAnywhere AntiVirus
Fast, reliable, secure

SecureAnywhere AntiVirus stops 99% of malware infections and marks all websites as safe or dangerous. It's efficient at gathering up threats that do make it onto your computer and securely removes them. This software doesn't use a lot of your system's resources so it doesn't cause slowdown while running.
Nicole writes for multiple Future Publishing brands covering topics from antivirus to kitchen appliances to SAS. She has over 15 years of research and writing experience, including eight years of testing and reviewing consumer products. Nicole earned bachelor's degrees in both English and Political Science with a focus on empirical research. In her spare time, Nicole serves as a member of several school councils and volunteers for a local arts board.
Windows Central Newsletter
Thank you for signing up to Windows Central. You will receive a verification email shortly.
There was a problem. Please refresh the page and try again.