Around SPE for 8 March, 2009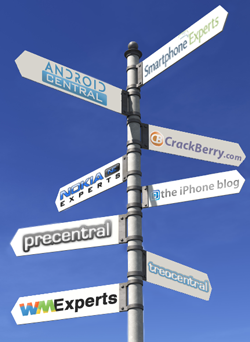 This week CrackBerry.com broke the first real photos of the BlackBerry "Niagara" 9630, WMExperts brought you hands on details of Internet Explorer Mobile 6, Android Central brought you a walkthough of buying apps in the Android App Market, and PreCentral.net wondered whether Palm would survive long enough to release the Pre. Plenty more happened this week in the smartphone world, naturally, so the thing to do is continue reading to find out what you may have missed this week around the Smartphone Experts network.
It was definitely an HTC-centric week over at Android Central. First Vodafone announced the HTC Magic would arrive in April. Then. the super sexy black version of the HTC Magic popped up and got an eyes on. Then it was announced that Orange would bring the HTC Dream to France. And finally we can expect more HTC devices because HTC doubled their workforce to focus on Android!
Also, if you were wondering how to buy paid applications on Android Market, we have a great video showing you how!
CDMA BlackBerry users got cause for excitement this week as the first live photos of the BlackBerry "Niagara" 9630 surfaced at CrackBerry.com. With a form factor that looks very much like the BlackBerry Bold and Curve 8900 had a child, this may just be the ultimate full-keyboard trackball BlackBerry.
And if you don't own a BlackBerry but woud like a free one, Where and CrackBerry.com have partnered to bring you the BlackBerry Haiku Contest. Just head over to CrackBerry.com and leave your Haiku in response to the question "Where is your BlackBerry Right Now?". Best Haiku wins!
Nokia Experts
Following the lame Nokia 5800 U.S. launch, Nokia has determined that the 3G issue was related to the device firmware so an update was issued so everything should be good to go now. The 5800 is a great, rather inexpensive device so this is good news. fring is also now available and optimized for the Nokia 5800. There are very few Twitter clients available for S60, but the most compelling one called Gravity is coming soon. Get a load of this fish story where a Nokia device survived in the belly of a cod. Lastly, the two winners of our Launch Contest were announced. Thanks to everyone for participating.
Still waiting on details for the release of the Palm Pre? Join the club! With luck, we're going to hear something in an invite-only webcast from Sprint and Palm on March 12th. Meanwhile we're realizing that the Pre needs to be massively successful in order for Palm to even stay in business. Expectations are very high, but we're a little worried that Palm investor Roger McNamee is setting those expectations a little too high by claiming that a large number of iPhone early adopters will be making the switch.
Previously on theiPhoneblog.com: Apple dropped a ton of hardware revisions, including the Mac Mini, iMac, and Mac Pro, but all we got were some iPhone friendlier Airport Extremes and Time Capsules. Still, with a rumored March 24 Special Event, could we still see the iPhone OS 3.0 beta or... an iTablet? And if so, would it run Amazon's new Kindle for iPhone app?
Meanwhile, did you leave Verizon for an iPhone? They think you did. And will you leave your iPhone and become a Palm Pre-vert? McNamee thinks you will for the faster web browsing. We think Sprint can't do simultaneous voice and data, so how much faster is zero? Also, Ballmerdrops by to make our CEOh-Snap! of a week complete.
At TreoCentral we learned that Palm's preliminary Q4 results are grim, and that Palm is short on cash and intends on raising more cash soon. Analysts were reporting different stock opinions on Thursday, some giving Neutral ratings, while others upgraded PALM to Buy. Alltel beat Sprint in getting the CDMA Treo Pro out of the gate first, but the Sprint Treo Pro has been confirmed for March 15th. Dieter got his hands on a Sprint version of the smartphone and put up a nice unboxing and hands-on video.
WMExperts
The Palm Treo Pro made it bit of news this week, first with an official launch date of March 15 for the long-awaited Sprint version. But Alltel beat Sprint to the punch when it became the first CDMA carrier to release the Treo Pro mid-week.
We had a little fun last week. There's now iFun in Bill and Melinda Gates' home as we learned the iPhone *surprise!* isn't allowed in their home, though Mrs. Gates occasionally wishes she had one. We also got a look at what Microsoft MVP's are arming themselves with, the mythical Motorola Q9h with WiFi made another appearance, and we reviewed the LG Incite.
On the software side, Malatesta took us in deep with IE6 (for mobile), Microsoft is working with a new Live Search beta, MS CEO Steve Ballmer admits that WinMo 6.5 isn't what he'd hoped to release this year, and a native Facebook application was ported over from a hacked 6.5 ROM.
Get the Windows Central Newsletter
All the latest news, reviews, and guides for Windows and Xbox diehards.