Why is Microsoft limiting its new 'Sets' feature for Windows Insiders? #AskDanWindows 33
Why is Microsoft doing limited testing of Sets? I'll explain.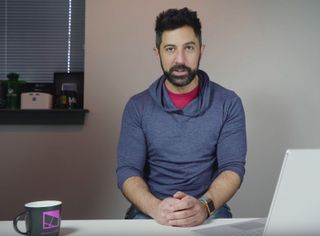 Earlier this week, Microsoft announced "Sets" – a new tabbed app experience coming to Windows 10. Borrowing from this idea that we live in and work in web browsers (and some fundamentals of Chrome OS from Google), I wrote about why I think this feature, while not super exciting, may be one of the most used for everyday users once it's released.
One controversy that sprung up, however, was the initial limited rollout of the feature for those on the Windows Insider Program Fast Ring.
From the original announcement via the head of Windows, Terry Myerson:
Today, I'll go into more detail about what that all means and why Microsoft is shifting how it develops and releases new significant features to Windows 10, so check it out!
Audience questions for Episode 33
Why is Microsoft doing a limited rollout of the new Sets feature for Windows Insiders? – Michael W.
Email me!
Don't use Twitter? After much feedback, we are happy to announce you can forward your questions to AskDan@WindowsCentral.com to submit your requests!
AskDan Forums!
Hate using email? Join me on our #AskDan Forums at Windows Central! I'll occasionally jump in there to try and answer questions or take ideas for new episodes of our web series.
Ask Dan Forums at Windows Central
You can also find previous episodes of #AskDanWindows here on the main landing page.
Daniel Rubino is the Executive Editor of Windows Central, head reviewer, podcast co-host, and analyst. He has been covering Microsoft here since 2007, back when this site was called WMExperts (and later Windows Phone Central). His interests include Windows, Microsoft Surface, laptops, next-gen computing, and arguing with people on the internet.
Definitely not an exciting feature. As far as practicality is concerned, I'm not all that sold either. I believe many people multi-task the majority of time and this feature shines when a users isolates themselves to a single task/project. I see it as something being used pretty sparingly.

Agree, I'm a power user and can't find a use for it, probably better suited for a more business type user like in the video they showed with that feature.

@Akira X Use it in conjunction with virtual desktops, you can have pre-set windows containing a group of apps. For example If i'm working on a biology assignment launch my desktop dedicated for that I I have my all my research in a tabbed window, i have the my assignment open on one side of the screen. In the corner I can have other apps open, at the top is my research window with all the tabbed apps. So many uses.

I think the point of it is to divide things into projects/tasks. :) You can have multiple tasks open with different Sets but this will be a way to easily switch from one task (along with all its required windows and things) to another, so you no longer have to fumble between the taskbar icons. Case in point: Say you have a paper you're writing - you can have (within one window) Word and File Explorer open as well as the relevant Edge tabs. Meanwhile, I can also have a different Edge window with the other things I'm looking at (so I can separate my tasks while still being able to quickly switch between them just like switching windows). Edit: So I am not sure why you think this is any opposed to multitasking. You aren't limited to one set. You can switch between them just like windows. But all your "tabs" remain grouped for convenience into each relevant set.

Idk if I'd be one to use this feature but I agree with what you said

Couldn't you just ungroup the taskbar icons to do the same?

Grouping tasks is a driving force as to why Teams is hugely popular at work. Having two or three windows open at any given time is easier to manage and far more productive than 20.

This feature is being given way too much credit imho. Although it is a great feature that I will personally use the ish out of, I do not see it being this game-changing feature that your everyday non techy user will be like " ohhh, I got's to have me some of that"

Yeah, I think it will be very useful, but it is how ChromeOS works. You are basically running everything in a browser window or tab.

I think sets are something like virtual desktops just way more productive and easy to switch. I really like the idea and looking forward to try sets.

Yes they are more like windowed virtual desktops..

It's more like virtual desktops within virtual desktops. But I don't think it replaces virtual desktops entirely

Exactly, sets is like virtual desktops but you can switch easier i think

I get that Microsoft wants to tailor their development focus to things that people actually want and use. Certainly, they've come a long way from the Vista days and the Windows 8.0 days when they were more on the "You will like what we tell you to like" mindset. But I worry that this may be the foreshadowing of going in the other direction. For instance, the People thing on the desktop... you'd get very little data from showing that I would use that feature because it's so poorly implemented. Almost no one I know uses Slack anymore and I use Outlook 2016 for email... and I rarely need to edit someone's Contact information. Why not integrated with Skype for Business? With Slack? With LinkedIn even? So, let's face it... they are going to listen to Zac's rant and probably kill the People feature instead of staying true to their vision.

I agree about People not providing much, but I am hoping it is just the start and will be developed much more. I think MS have addopted an approach of releasing a limited app early and basing further developments on comments received. Disadvantage of this is that people naturally get disappointed by the initial limited version. Sets looks good to me so I hope I am in the initial trial group.

#askdanwindows
Why insiders complaint about things which are still in beta and released only through insiders program?
Does windows insider program hurts Microsoft in some cases?

You have to start pushing MS very early with these things. No point waiting until release. They can ignore customer feedback for far longer than most companies.

Limited because MS doesn't want to show what they have coming for Surface Scribe

I'm excited for this feature as it would mean I can multiple apps in a window - say dedicated for research, another window bunched of apps for assignments, I can have a virtual desktop with a window containing multiple apps for tools for trouble shooting etc, another virtual desktop for games and so on.

Don't Microsoft reserve all new features for insiders first? Isn't that the whole point of the Insider program?
Windows Central Newsletter
Get the best of Windows Central in in your inbox, every day!
Thank you for signing up to Windows Central. You will receive a verification email shortly.
There was a problem. Please refresh the page and try again.