Is Microsoft committed to Windows 10 on ARM? #AskDanWindows 48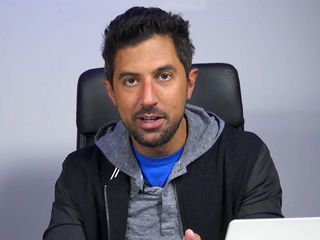 This week's #AskDanWindows is all about Microsoft being committed to Windows 10 on ARM, will we finally see Snapdragon 845 Windows 10 devices at Computex in June, and does Surface Hub 2 really have animated wallpapers?
All that and more, so grab a cup of coffee and tune in!
Audience questions Episode 48
Will we see Snapdragon 845 based Windows devices at Computex? - Chris K
Is Microsoft committed to Windows on ARM for the long haul? - Ezra W.
The Surface Hub 2 showed a live animated lock screen. Does this mean Windows 10 will now support live wallpapers like android? - T Ali
As a Windows desktop user who is very happy with his always on LTE equipped 12.9" iPad Pro, sell me on the HPEnvyX2 - @End_User
Thanks to everyone for the questions!
Email me!
Don't use Twitter? After much feedback, we are happy to announce you can forward your questions to AskDan@WindowsCentral.com to submit your requests!
AskDan forums!
Hate using email? Join me on our #AskDan Forums at Windows Central! I'll occasionally jump in there to try and answer questions or take ideas for new episodes of our web series.
Ask Dan Forums at Windows Central
You can also find previous episodes of #AskDanWindows here on the main landing page.
Windows Central Newsletter
Get the best of Windows Central in your inbox, every day!
Daniel Rubino is the Editor-in-chief of Windows Central, head reviewer, podcast co-host, and analyst. He has been covering Microsoft since 2007 when this site was called WMExperts (and later Windows Phone Central). His interests include Windows, laptops, next-gen computing, and for some reason, watches. Before all this tech stuff, he worked on a Ph.D. in linguistics, watched people sleep (for medical purposes!), and ran the projectors at movie theaters because it was fun.
Small reminder there will be no episode this coming week due to Computex in Taipei, but we should be back to normal the following week with plenty of exciting news to talk about. On a related note, I think things like animated wallpaper, while far from groundbreaking in 2018, is some of that delightful experience stuff I've been asking for for a long time. Fingers crossed it makes into production for all (or most) Windows Core OS devices.

I always thought animated wallpapers are trashy gimmicks that I'll never use till I saw the surface studio 2. That's just beautiful like the whole product.

As technology grows, what used to be more power craving becomes less or virtually easier.

Have a great time in Taipei!

Nice episode. It looks to me as if Andomeda is a go for announcement at Computex. You looked like that was the secret you were trying to keep from spilling. That aside, should we expect Andomeda to have a camera? I have always assumed so and I can't believe it wouldn't, but I don't recall that specifically being mentioned

Andromeda won't be at Computex.

It will have its own event.

That would be a massive mistake.

I totally agree with bub78. Surface Andro should be announced at an international event which is closely observed in US. If it is a local event it would not be watched internationally and that would be a Huge mistake!

Given the hype around it for a long time, it will be watched closely by tech enthusiasts at the time of launch and post launch. Believe! It comes from the family of SURFACE, no more can be said than that.

I think you misunderstood my comment. Microsoft would do best to introduce this product (if it's actually gets released) at an event with several other announcements & not make a spectacle of it.

You're referring to under marketing which has been a common problem for Microsoft new products unfortunately...

If you actually listen to what Rubino & Bowden say about that thing it's a complementary product for journaling & inking (whatever that means). It's a remarkably niche product, like a surface studio or Panasonic toughbook. Also, the odds of them producing a first in class product that's perfectly engineered aren't great. Sucessful real world use on a hinged device like they are apparently trying to make is insanely difficult, thats why there haven't been any devices like that produced yet. They have no cache. Their best bet would be to market to current Surface users that this is an additional product that offers new utility, introduced with refreshed products that integrate together. A mass market play will go absolutely no where. A grand unveiling event with this thing as the only showpiece is a terrible idea.

I agree that there will be no announcement on 845, how about 850, higher performance specific for "non Andromeda" next generation Win on Arm - as u pointed out, end of this year.

You guys should mention that there is a lot of native ARM desktop programs that were ported for WinRT back then. Including popular open source projects like 7-Zip.
Yes there was a community for this.
https://www.windows-arm.com/index.php/desktop-apps-for-windows-rt

"As a Windows desktop user who is very happy with his always on LTE equipped 12.9" iPad Pro, sell me on the HPEnvyX2". I've owned a couple iPads myself. My wife currently has one. She loves it! So thought @End_user posed a really interesting question. Went to the Apple Store, and priced out a similarly spec'd iPad. 12.9-inch iPad Pro Wi-Fi + Cellular 256GB - Gold - $1,079.00 + Smart Keyboard for 12.9‑inch iPad Pro $169 = $1248.00. So basically for $250 more you do get a device that is virtually bug free and has a vibrant ecosystem that has pretty much so every light-computing app under the sun! And quite a few productivity apps too boot. That said yeah Apple has a lot to offer. And maybe this makes no sense, but honestly I still don't want one. Maybe for the same reason my truck is a Chevy and not a Ford? Perhaps! Maybe it's because I'm old and grew up on MS and distrust Apple? Perhaps! Is it because $999 is under a thousand and $1250 is over that invisible crazy-expensive-for-a-tablet barrier? Perhaps! Is it because I secretly... well not so secretly... don't want the entire Consumer world to boil down to a 2-horse race... Apple and Android? Perhaps! Maybe it's because Apple devices are a little too "perfect", too shiny, too happy? Perhaps! Maybe it's because I actually like the Start menu, and active tiles, and Windows spotlight, and Cortana, and Bing, and Office 365, better than Apple counterparts? Yeah, that's true, I do! Is it because Apple is an very closed ecosystem, Android is a very open ecosystem, and Windows kinda hits that sweet spot middle-ground? Well... if only they'd COMMIT to their ecosystem? Perhaps! All I know is that I hope these things succeed. The HP Envy x2 is the best thing I've seen in a while in Windows base light computing! And ACPCs are about the ONLY bright spot I currently see in MS' mobile "strategy".

Good point. For me, the iPad products are just a no-go because of simple missing things like you know, a USB port?? which like 99.99% of all 'cheap PCs' have, or a MicroSD card slot? Like, what the heck, isn't this supposed to be a 'light PC' and not some toy?? It amazes me how limited I feel not just being able to pop in a flash drive at a moment's notice to grab some presentation or script or design I somehow didn't save on the cloud, or just a simple copy I made in a hurry. And yeah, having the infinite collection of win32 apps as an option (though not optimal in emulation, but still a valid option anyways) just gives me a sense of security if I were to own this device as my one and only far away from home or something.
I've just never been able to take devices like the iPad Pro seriously, it just feels like a large iPhone at the end of the day. I'd take even a Surface Pro with Core M any day, it is just more of a true light PC. And there's the issue of the OS, but that's a separate topic..

That is the price if you need all that stuff. If you just want a simple iPad and a keyboard it only costs $350. You have no WoA options under $1000 right now.

How about the ASUS NovaGo? Priced $699 on Amazon https://www.amazon.com/TP370QL-6G128G-13-3-inch-Touchscreen-Snapdragon-f...

That isn't shipping yet and is still double the starting price of an iPad.

"If you just want a simple iPad and a keyboard it only costs $350"

Cheapest iPad 9.7 (just 32GB) is $329. Logitech keyboard is $100, so

$429

. Why are you so dishonest with this stuff?

NovaGo " isn't shipping yet "

It ships in

four

days and has a keyboard, LTE, larger display and 128GB of storage. Let's not pretend those two are even close. Each has its purpose, but neither is competing with each directly. C'mon.

You can't find a bluetooth keyboard for $20? They absolutely are competing with each other. Developers have to make a decision if they are going to support WoA or iPad. When Microsoft doesn't sell many of these devices due to an astronomical price in relation to performance, developers aren't going to bother supporting it and will just go with iPad. Microsoft has to price these properly to drive demand and adoption.

Okay, Bleached, you win yet again 🙄. Four days is quite the eternity to wait, isn't it? Additionally, it has been reported that the entry-level model will start at $599, which also just so happens to be less than $1000, and is under your magical "double iPad" number.

$599 is nearly double the $329 iPad. Sales will reflect that.

For me it's partially that I don't like apple's OS and I like being in the windows/Microsoft ecosystem. Maybe part of that is also because people (including myself) generally don't like change once they're used to something. However, I disagree with the notion that apples OS is "bug free" or even "virtually bug free." No software is. I feel like that's just another myth such as why Apple's OS has less viruses compared to Windows.

Here's one I like 😂, "MacOS can't be attacked or breached." To say, I personally think that Apple's both phone and desktop OS have gimmicks that attract some ppl.

Agreed no software is perfect, but I've owned both. And I have to give credit where credit is due. Apple simply does test their OS better. Have never, not even once, had to touch the iPads in any way shape or form, they just work. Whereas I've had to reinstall multiple times on all 3 of our Windows 10 devices. The last time was after a vacation to Canada. Downloading a new app while in Toronto caused my entire Microsoft Store app to bug out in the worst way when I got back to the states. The Store Reset app didn't work. Running those crazy PowerShell scripts, found all over the internet, to "reinstall" all Win apps didn't work. The only thing that worked was an "in place upgrade". That's why whenever I recommend a tablet to a friend or family member that is technology illiterate, I always recommend an iPad, mostly for self preservation. Bad enough working on my own devices, don't need to be working on everyone else's too. Don't get me wrong. Warts and all I still love Windows. But I'm not so blinded by love for it as to be unable to admit it's a royal pain in the ass sometimes.

I've seen Apple devices fail spectacularly, especially MacOS. They're just as prone to exploding on an update or getting stuck in an unrecoverable boot loop as anything else. And it's not really about Apple testing things better, hell, a lot of recent iOS updates have been very buggy to the point that it's better to delay updating to major point releases, especially on older hardware, so you can wait for them to release bug fix updates. What it really comes down to is that iOS is locked down hard, so there are fewer ways for the user or an app developer to screw stuff up, and it's a simpler OS, so there are usually fewer places for Apple to really mess things up, though, they've been struggling there of late.

You have hit the nail on the head and pointed to ms' fatal flaw under Nadella. People like to stay with what they are used to. The entry to computing is the mobile phone and that's where we become used to computing. All the other stuff is nice but without familiarity it is doomed to failure. Nadella will prove to be the father of ms' demise.

In 2018, more than ever before we have multiple ways to address App gap issues in Microsoft future mobility device based on ARM: ACPC. 1) Arm64 SDK, we need a website to coordinate user feedback and developers a list of apps to be ported to 64Bbits WoA
2) PWA - every few weeks, Microsoft is populating more PWA apps to store in preparation for RS5 (with telephony API) and Snap850 ACPC and Andromeda
3) 700 millions existing W10 users plus a few more millions new adopters of ACPC from iPad, Chrome tabblets - means more reasons for typical iOS and Android developers to write once to all platforms, including UWP (ACPC)
4) Chatbot are replacing Apps, less missing out as more widespread adoption of ACPC grows.

I would say this is their last chance of putting lipstick on a pig. with out a consumer echo system owned by Microsoft and mobile, I see them gasping for air in the future to survive. they gave up so many features that were truly excellent! they keep moving deck chairs around on the titanic. and not getting more functional for the users.

Gasping for air to survive? Have you seen their financial reports? Despite high costs in R&D they have great quarters financial reports.

All of their consumer products have failed or have negligible market share (Surface pro is prosumer/busines device, surface laptop didn't exactly set the world on fire...) But they still continue to make billions in profits from software & support sales, patents & IP. They'll be fine, but if you're expecting great consumer products you've picked the wrong company to follow.

"(Surface pro is prosumer/busines device, surface laptop didn't exactly set the world on fire...) "

You clearly have no idea what Surface is meant to do. If it "set the world on fire", which I suppose by which you mean sold millions, they would be putting their partners out of business like Dell, HP, and Lenovo. Surface is meant to inspire and aspire, which is exactly what happened. The entire PC business especially around, wait for it, 2-in-1's stabilized and is now growing (for gaming and 2-in-1s). THAT IS THE POINT. If Microsoft wanted to sell more Surfaces it's super simple: drop the prices to be competitive. They don't, and they're not, for an obvious reason.

So the thin & light market needed inspiration? Where the Surface Studio, Book & Hub clones at? They don't want to drop the price on their $4000 Studio because that would hurt their partners in what space...? The $4000 AIO market? If you want to credit them with the entire 2 in 1 market, sure, great. That's a predominately business oriented market.
As for their consumer products, I mean, do we really need to run through the list yet again? Zune, WP7, WP8, W10M, Windows 10 S, Band 1, Band 2, Cortana, Kinect, Groove, etc, etc, etc. You wrote about going to the session at Build where they went through their failures & what they learned. I would hope they learned they're really bad at the consumer space. Which is fine, they make billions upon billions every year with software, cloud, patents, IP, etc. I just don't understand why anyone would expect great consumer oriented products from a company with so little success in that area...

exactly, and now MS wont even try to jump into consumer space again with a big bang, the only ppl who believe andromeda as a phone replacement and a mass consumer product are the ones who believed some fantasy pieces on this very site.

"Where the Surface Studio, Book & Hub clones at? "

It would be ironic if this week we hear about new partner collaboration devices for the enterprise including displays, wouldn't it? Look I"m not going to waste my time here. You're out of league on this stuff and are just wrong about Surface. As far as Book clones pretty sure HP and Dell have new 15-inch 2-in-1s widely available right now.

Considering my entire comment was about Surface products being geared toward business uses, MS consumer products have failed, etc., no I wouldn't be surprised about new enterprise products at all... Maybe you read every other word & missed the point?
TL;DR: MS consumer products=fail. Business/prosumer/enterprise=they do midling ok to good.

Is MS committed to W10 on ARM? Nah, under Nadella MS is committed to nothing.

Disagree, It seems like Qualcomm is super committed to the project, in fact they're going all in with Windows 10 ARM. We will likely see other silicon companies follow suit.

I really hope you're right Danny but qualcomm <> MS. Qualcomm might be all in but is nadella?

They are keeping their options open...I mean they are going with Intel for their new low-cost Surface device instead of ARM, but it's not that ARM is bad..it just needs to do some evolving..it's a Squirtle..but will soon become a Blastoise.

Give customers all possible options if possible. For customers who have not tried and scaptic of ACPC(835),let them try ACPC(intel). With ACPC(850,1000, approaching i5 performance) & more apps ported to Arm64, there will less interest on ACPC(Intel).

Microsoft ACPC(ARM) defines a new category that opens the flood gate for ARM manufacturers like Qualcomm to compete into desktop. Win Win also for Microsoft, accelerate the growth of W10 users towards 1 billion as was targeted back in 2017.

Looks like MS took out an ad on Amazon promoting Always On PC https://www.amazon.com/adlp/alwaysconnectedpc_en?pf_rd_p=7f947ca5-87b0-4...

@Dan: You sometimes give the impression, that UWP store apps running fine on WoA and desktop apps are problematic. This however is totally the wrong question. Apps running fine when they are native (independent of the question of UWP or desktop app) and can be problematic when emulated (again independent of the question of UWP or desktop app - and not all emulated apps are problematic). Thing is not all Store/UWP apps are native, there a quite a few store apps, which also needs to be emulated (I think Microsoft mentioned at one point 20% of store apps are Intel only). You can always check system requirements in the Store, to see if the apps is native or not.

WinCentral shall consider to lobby Microsoft to create a Website to identify and RANK which store and desktop Win32 apps need to be ported to Arm64 based on users feedback.

Will the RSS ever be updated with the new episodes? I miss being able to download them on podcast form. YouTube uses too much data when I'm on the go.