Asphalt 7 multiplayer impressions and low-memory Windows Phone 8 device news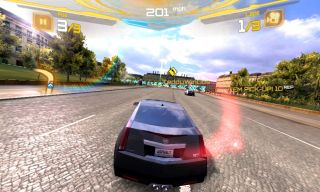 One look at the comments section of our article announcing the release of Asphalt 7: Heat on Windows Phone 8 will tell you that the game is pretty popular. Hey Microsoft, we told you people wanted decent mobile Xbox games!
Ahem. With that gloating out of the way, we have more tasty Asphalt 7 tidbits to share with you now. Head past the break for a hands-on video, multiplayer walkthrough, and update news!
Coming to an affordable Windows Phone near you
Rich Edmonds gives his first impressions.
The Xbox version of Asphalt 7 currently requires 1 GB of RAM in order to run. That's because it uses about 380 MB of RAM, and one game isn't allowed of hog all of a device's memory. Regrettably, several Windows Phone 8 handsets only come equipped with 512 MB – these devices can only run games that use up to 180 MB of RAM.
Gameloft knows that owners of the HTC 8S, Lumia 620, and other budget handsets want some heart-pounding racing action as well. To that end, the developer is working on an update that will allow the game to run on low-memory Windows Phone 8 devices. They can't specify whether the graphics will take a hit on those handsets (likely) or when the update will be ready, but it's still great news all around.
Creating a multiplayer account
Seeing as how many Windows Phone users are stuck with handsets that can't run the game, and the Store is still experiencing frustrating downloading issues, many potential racers haven't had the chance to check out Asphalt 7's multiplayer just yet. Don't worry, dudes and dudettes; your lovable Games Editor has finally managed to go online and lived to tell the tale. Here's how it works.
First, you'll need to set up a Gameloft Live account. Tap the blue Live! icon at the bottom of the main menu to get started. Fill in your details and you'll end up at the in-game Gameloft Live portal where you can manage your friends list, edit your profile, and more.
One advantage of this setup is people with an existing Gameloft account from other platforms can carry that over to Windows Phone and vice-versa. Also, we know that Microsoft's Windows Phone Xbox Live servers are completely terrible, so working outside of the Xbox Live system is (awkwardly enough) the best west to ensure a smooth online experience. The only real downside is that you can't just invite Xbox Live friends right off the bat. You'll need to manually add their Gameloft profiles through your Gameloft Live dashboard.
Starting a multiplayer game
Now that you have a multiplayer account, head to the Multiplayer mode from the main menu. Here you'll select from online or local Wi-Fi multiplayer. Gameloft really covered all the bases, making Asphalt 7 the first Xbox Windows Phone game to support both online and local Wi-Fi. And considering how impressive and affordably priced the game is, there's a good chance other Windows Phone 8 owners you run into will own it and be available for local games.
Next you'll need to enter your Gameloft Live login information for the first time. Don't worry, as long as you let it save the info you'll only have to do this once. If you skipped the account creation step at the beginning, you could also do that from here.
The screen that follows allows players to instantly jump into a lobby, browse open lobbies, or create their own games. Lobbies can hold up to 6 players simultaneously. After joining a lobby, you'll have the opportunity to change cars or invite your fellow Gameloft Live friends. There doesn't seem to be a way to communicate with other players – an issue we discussed in the latest 'How Microsoft can save Xbox Windows Phone games' editorial. Oh well. I guess we're here to race, not talk!
Ready up, wait for the race to start, and the race will begin. Your fellow racers' usernames float above their heads, so you'll always know whose dust you're eating and vice versa. Racers can actually interact with each other, colliding and receiving speed boosts by overtaking opponents (with the proper sponsorship perk equipped).
In my short time playing Asphalt 7 online, I experienced a few hiccups during each race. The game doesn't deal with lag as well as an Xbox 360 title would, but that's not surprising from a phone game. The experience of racing against other players is just as exciting as you'd hope for, and that's what matters. Compared to the single-player racing games that came before it on Windows Phone, Asphalt 7 offers far more replay value thanks to its multiplayer modes.
Share and share alike
One more social aspect of the game comes from its sharing system. After accomplishing various milestones, players can opt to share the news via Facebook, Twitter, or LinkedIn. Frankly, I don't care to see that you just leveled up in a game on Twitter or LinkedIn. That's a waste of everyone's time.
But Facebook – that's where game spamming got its start, so why not share the deets there? Each time you do so, you'll earn 5,000 in-game currency. You can always delete those Facebook posts after you've fattened your wallet, or set them to share only with yourself instead of your friends. Update: Readers are reporting that you can actually just press Back, skipping the sharing alltogether, and still get the in-game reward!
Asphalt 7 costs 99 cents. Windows Phone 8 users can get it here from the Store. Remember, the Store is messing up at the moment so you might need to try again in a few hours of you can't find the game.
Windows Central Newsletter
Get the best of Windows Central in in your inbox, every day!
Paul Acevedo is the Games Editor at Windows Central. A lifelong gamer, he has written about videogames for over 15 years and reviewed over 350 games for our site. Follow him on Twitter @PaulRAcevedo. Don't hate. Appreciate!
I get an error when I try to download the app via the WPCentral app.

A very important reason why I will get a 820 over a 720.. I like the design, but RAM is always a problem when it comes to new apps and games.

It has enough RAM alright, but internal memory is a pain. Game couldnt install when I had 1.6gb free space, and after the failed installation I ended up having 1gb..
And almost everything else eaten up by the other.

try app "Shrink storage". I had 10gb in other now its down to 4gb, didnt work for the first time but after 5-6 times I've got all that space back, didnt even have to restart my phone like it says in the app, just kept loading stuff in and cleaned it after couple of min. And no im not trying to promote this app lol but thank God it worked

Ye Im trying it, but it can't seem to clean enough. I've like 770mb in apps, 1.3gb of empty storage, rest eaten up by os and other..

Little storage for apps on the 820 won't let you install this game.

Ya, I can see why we don't need quad core and more memory on these phones now.

Quad core would solve nothing, mobile games are very rarely quad core optimised and neither is this OS.

Well, it is possible to install Asphalt 7 on Lumia 820 but you need to get circa 4.2 GB of free internal memory .... which is waaaay too much for 900 MB game.
Microsoft really need to fix this internal memory handling asap.

Damn, i had a 920 and wanted to give WP8 some time so i sold it, i am considering to buy the 720 because i love the looks but clearly the available ram will be a limitation for games and maybe future major updates. I wish they just put 1 gig of ram in the damn device.

Me too. It would have been awesome, but oh well what can we do.. I am also considering the 822 because it has 16GB plus SD card.. I'll have to unlock it though..

Error here also and can't find by searching the store

Can't find it on my Lumia 920

I have it already installed on my 920, but if I go now to look for it, it does not show up in search. Since it is now a featured app, when I click on it, it tells me that it is not available for my phone.

Still can't download it, purchased on the website and all. :(

I did get the error too but now ok. I think its taking a while to propagate through all the servers so be patient

I was hoping the "low-memory" portion would cover the alleged reports that phones with plenty of storage space were getting told to free more up.

I'll probably buy this in due time, but I'm SO overloaded with games to finish (Gun Bros. and Skulls of the Shogun on Windows Phone, BioShock 2, MLB 2K10-12, NBA 2K11-12, Halo 4, Forza 4, and more on Xbox 360) that there's little point in having this thing hog up almost a gigabyte on my phone right now.

Same here. I'm more concerned about the mass storage memory disfunction on my 810.

Ditto!! My 3 month old 920 gives an "out of memory" error too. Seems the lack of temp files and cache management is causing problems already. Reckon MS & Nokia need to sort this asap as wouldn't be good to have to reset a 'flagship' so soon its life, especially when lack of system space was perennial problem on Nokia's past devices and contributed to their fall from the top...

Make another new account? No thanks. Pass.

60 seconds of effort that will carry across all Gameloft games is too much trouble, eh?

Mine doesn't even work. Tells me my username doesn't exist.

lol create new one or use "Recover Password"

I dont think thats his point. Xbox LIVE games should use Xbox LIVE. If this is the first real-time MP game on Windows Phone it would make sense to take advantage of the framework that is baked into the OS. Its just silly that you can't invite XBL friends, whats the point of XBL at all on Windows Phone if you cant use its services?

I kind of explain that in the article though. The Xbox Live real-time multiplayer framework isn't there for WP. Microsoft doesn't even want devs to make real-time multiplayer games (I hear this from devs); they want async. If the choice is between using Xbox Live and not having real-time multiplayer or real-time without Xbox Live, then real-time should win every time. Also, Sauce's point is hyperbolic because it just misses what the point hould be for all gamers: enjoying the game in multiplayer. Sure, having to create another account is a negative, but it's so minor that avoiding the game or the mode would just be childish. No regular, non-hardcore user would ever refuse to play a game's multiplayer for that reason, and neither should someone who thinks of himself as hardcore.

My question is, because it's Gameloft's servers, could there be cross platform play?

It doesn't look that way, but I haven't tested it.

I purchased but can't download..error!

800mb seems like alot for a mobile game though

Gameloft games are notoriously large in file size on other platforms too. Look great though!

Just tried to check it out, says it is not available for my device (Nokia Lumia 920, USA, AT&T)

Keep trying I have the game on my phone, l920 dallas

It was available earlier. Not right now. (920, CT)

Same here. (Nokia Lumia 920, AUS, Telstra)

In gameloft's Green logo in the game appears real football 2013 but if load goes to asphalt 5, does there comes real 2013?




I noticed that too. And i hope so, need a good footy game on the platform. If we don't have Fifa or PES, ill take real football. I am hoping for Football Manager or Top11 too.

Error here as well. Good to know I'm not alone. I guess. :)

Downloaded and already played it (Lumia 920 in Portugal). At 0.99€ it is a complete steal!! Get it ASAP.
About getting the rewards for sharing: if you click "Share" and then back to the game without actually sharing, you still get the reward... ;)

You can also share with only yourself, and you can do it 3 times per prompt.

Downloaded no problem, amazing for .99 but haven't tried multiplayer

I just tried to download the game onto my Lumia 820. Got told I didn't have enough free storage space... with 4GB available???

Same, 4GB and can't install.....

It gave me a similar error yesterday. Try buying it from the website and use the manual install email you get. I did this and now the game is downloading. My phone says that it has 3GB free as of now, which is definitely less than what you guys are reporting.

Tip: You can get the share bonus without actually posting, just press back in the compose screen.

I purchased the app for my 920, went to download and it failed halfway through. Now it says the app isn't available for my device..sigh

If you want to limit the facebook spam, you could always set the visibility of the messages the app creates to "Me only". That way you can still post them without annoying anybody else ;)


Do you have to but connected to the internet to play it ? like the Android version ? for carrer race , not multiplayer !
I have it in my XOOM , but the fact I have to be connected to the internet everytime I play it made me hate it ! I finished Aspalt 6 & I got 7 when it came out , thinking I'll play it when I'm outside , or waiting for someone ... you know , usually when you don't have internet connection

Its a nice little game but when i try multiplayer i get an error saying user doesn't exist. I made my new gameloft account and can access it through the green G button. It then takes me to a dashboard but still doesn't register for multiplayer. I can wait, im sure its just a time thing.
Could this be the beginning of cheap xbox live titles... Could be good indicator to MS with the hammering their system has had from the WP8 communitie trying to get their hands on it all night.

Still getting error for me half way through downloading (920 with 9 gig free). Update: Patience and persistence pays off. After about 5 aborted downloads it completed and all is well!


Looks like I'll have to wait a bit longer to download. I can access the page in the Store and I can click buy. But then I get a message saying the item is no longer available. Then I get kicked back to the app page.

Paul, if gameloft fixes the game by lowering the graphics, it is still a win for the platform, everyone can play, I hope they keep the high and low graphics versions though, but not sure how that would work, perhaps then it would run on wp7 also

Glad I'm on the WP8 bandwagon. I still feel some pity for those lone WP7 users out there though.....

Keep trying took awhile but finally installed. Had best luck sending install from windowsphone.com site. Make sure find my phone feature is turned on. Nokia 810 here

Can't download on 822 because "your phone software needs to be updated" come on Verizon...

It doesn't need the update. It works fine on mine. I installed it by going to the WP website and downloading it from there.

I cant get it on my 822 either. Even downloaded it to SD card and it won't even let me Install off SD card as it is not available on my phone.

Huh my 8x displays 3.43 Gb of available storage, yet when I try to download the app it tells me that I don't have enough room... Its only an 800 Mb file haha, any thoughts on why my phone is doing this?

Mine is doing the same thing with over 3GB available. I've been going around with @windowsphonesupport all day and they have no clue. Not sure what to do at this point.

I had the same problem kept clearing out space finally when I reached 4.4gb free space it worked.

I eventually cleared out up to 2.7GB and repeatedly tried it from the phone and from the web and it wouldn't work. All of a sudden I tried it again and it started downloading. This has been crazy frustrating.

Same issue on my device, when i reached 4,44 GB of free space the game has installed with no problem

Can't find it for the 8x anymore. Had it earlier bit had to wait to get home for WiFi. And its gone now. This is just toooo weird for wp8.

the game is fantastic but it does eat battery like crazy on my Lumia 920.
when i try to share my results it brings me to the email+accounts settings menu with no way to actually share anything. anyone else seeing that?

Ativ S, cannot download. Even says different region or phone needs to be updated. At&t

Still cannot download on my 920. In VA on ATT.... Good grief...

Live gaming is not working for me. Keeps on saying my username doesn't exist. But it lets me go online into my Gameloft account without any problem.

When you share just change the tab from "Share with: Friends" to "Only Me". Nobody on Facebook sees how much you spam notifications from the game but you still get the cool bonuses!

Why do you need another account for an Xbox game? They should just use the Xbox account.

Works now. :) Lumia 920 Canada.

This release epitomizes the many issues with apps and games on this platform. Half the users can't download it because they are getting an error that they don't have enough space, the app isn't available for their device/region or just a marketplace error message with no explanation. How do we finally get a decent game after weeks of waiting and then have to deal with a completely frustrating user experience like this? Is it like this on iOS and Android?

Does it make your battery hot like 50% of the other apps out there.

Launch device. I saw one crash that rebooted my phone and the battery gets HOT. I have a Nokia official case and can feel the heat through the case.

It's normal to feel some heat outside something when the heat source is inside it! DOH!

This game is is available for the iPhone 3gs, why must we have 1gb of ram?

Okay, this is ridiculous. I try to log in for multiplayer with an existing Gameloft account. I can sign in to Gameloft Live fine. When I try to log-in within the game, it tells me that my username is not found. Why? Because it's filtering the HO in my user name jhoff80 for being apparently obscene or something. So because i'm trying to use my first initial and the first four letters of my last name, I can't play online? Seriously?

Hey that happens..I can't use my name Kshitij as my gamerid because Xbox Live tells me ,'That kind of lanugauge is not allowed here"!!

Yeah, but I can sort of understand it there. Filtering "ho" is just a touch overzealous. Plus, it doesn't actually TELL me what the reason I can't sign in is. It took me about an hour to figure out why it wasn't allowed (especially since I have a Gameloft Live account that works fine with the same username if I go to the Gameloft Live section of the app).

It took me all day to download after infinite retries. But its an awesome game :)

If you are getting errors about the game not being available for your device try rebooting your phone. It worked for me twice. The first time I was able to download the trial after I rebooted my phone. When I went to buy the game a couple hours later it showed as unavailable for my HTC 8x on Verizon again. I rebooted again and was immediately able to purchase the game.

Not available for my 920 on att. Wonderful.

Took me a while to acquire it but well worth it. Very good game. Lumia 822.

I get an error :( can't download it

I find the fps slightly off despite the obvious quality of the game.

Microsoft forgive existing 7.8 users.

Htc 8x, 3.28gb available and it says i don't have enough space available.

Error again for my Lumia 920 in Chile ¬¬

I almost regret buying an 8x over an 810 now. The lack of expandable memory is really hurting right now. Especially with that ambiguous "other" storage.

You can SOMEWHAT fix the "other" storage issue by overloading the storage on the phone. I went into the Windows Phone app, attempted to sync WAY more music than it coudl handle, and it cleared about 1-1.5 GB of space from that folder.

oo i'll try that, thanks!

Its an amazing game. Glad big titles are coming over, although it should have been a f2p game. The whole game is based off of in app purchasing, which is annoying. Unfortunately all games will turn that way sooner or later.

Just because the game allows in-app purchases, that doesn't just it can't be enjoyed without doing so.

Do not get this app. It downloaded on my 8x after I temporarily freed up the 5 GIGABYTES required to install an 800 meg app, and then once it was completed downloading, it gave me an error code. The app is not in my games hub, AND now my other category has increased .89gb in size, effectively reducing my phones storage by almost a gigabyte, and leaving me no way other than resetting the device to regain the lost storage. Do not download this app.

If you an get error, keep trying. Took me a few times but finally got it to DL.

Worked the first time I tried, Norway.

Freed up 4.77gb and its finally downloading...

I have an L810, and I can't download it. I have more than 3GB of phone space available, but it tells me to free up more space. I free up some more space, and it tells me it's not available for my device. Has to be a marketplace error.

Hopefully all games and apps are consistent with the 512 mb of ram .. Becaus Asphalt 7: Heat for iphone now Available for iphone 3gs With 256 mb of ram and ipod touch (3rd generation), iPod touch (4th generation) With 256 ,of ram and iphone4 With 512 mb of ram
https://itunes.apple.com/au/app/asphalt-7-heat/id462694916?mt=8

Great to see the Gameloft titles look to finally be arriving. This past week has been great for WP8 with alot of love being shown for the platform. Here's hoping 79p apps become more common. Charging more than the competition does nothing to help the platform.

Lumia 800 got 512 mb ram and not avaible. iphone 4 got 512mb and its avaible on iShit.

Because Windows Phone 7.X does not support native code and DirectX

Finally downloaded and installed. In SC, USA.. Great graphics and fun for the 10 mins I got to play it so far. $1 piece is awesome. Cost less than my morning biscuit and this game STAYS on my phone, the biscuit is ejected by the body later in the day. No WP8 owner has a reason to complain.

LOL love your analogy! :) I think anything under $5 is a good price since l have a clue about how software development works and the state of supply and demand on a small but growing platform. (Especially when most of the time their are trials available and reviews on the internet)

I have question concerning Xbox games. What is the difference in the labeling? There is a green "Xbox", you also have a green "Xbox Windows phone" and finally you have white "Xbox live". This always confused me, does anyone know?

From what I know Xbox live has a very vigorous certification process and is also more prestigious, but more money and time to get it.

Microsoft changed the label style over time. It doesn't mean anything other than sort of showing the game's age or when it was last updated.

Works for me but low FPS. Annoying that FPS is always a issue on WP. :-(

Its not in the market place at the moment for some odd reason :'(

Got it, bought it, great game. Question for those "low fps" guys, how exactly are you measuring this? Just curious since there's actually no way to do that on WP.

I really hate having to create a different account for each game provider.

I wish everything worked off of Xbox Live accounts being by Microsoft finally paying attention to the servers or whtever needs to be done.

I bought the game, and the graphics are really good. I've always found the steering very difficult to control on these kinda games.

I was having a hard time with the default accelerometer controls but once I switched to tap-to-steer method I had MUCH better control.
This game looks great and I'm having a surprisingly good time with it. I had pretty much given up on mobile driving games since the day of the iPhone 3G but it looks like I'm back in!

Thanks for that tip. I didn't know there were so many options.

I had trouble with the tilt steering also, but boosting the sensitivity HIGHER actually made it much easier for me to control. Give that a try.

Thank God I chose the Lumia 920! Can't wait to download this game

Great way to support the Windows 8 phone, publish an app that many people have issues even try downloading.

In about 3 hours I should finally have my Lumia 920 back from Nokia - presuming they fixed it properly this time, what a wonderful way to celebrate geting it back! I had totally forgotten how much better it is than WP7.5 on a HTC 7 Pro, and how much I loved Nokia Music!

Im downloading it now, had errors yesterday but now it's ok. Probably due to heavy traffic and amount of people downloading the same app.

By the way, for those complaining space issue when the game is only 890MB. The installer is 890MB, but, the size of the game after installation should be over 4Gb if im not mistaken. It's like a PC game's size increasing a lot after installation after all the compressed files within a .bin file have been extracted. I have 16Gb of space left on my 920 so it's not a big deal - i dont put full 1080p movies or install stuff randomly in my phone. Other than another 3 xbox games, 6 non-xbox games and a few crucial apps, i only have 600+ songs in my phone and three 480p videos.

Surprised by the size of the game? Dont. Some anime games on iOS i played before like Steins;Gate HD, the installer alone is 2Gb, and that game costs $35. Fantastic game. Personally i wish some anime games make it to windows game but it is unlikely because iOS userbase is big in Japan.

Lumia 920 on at&t... Still getting "not available in your region"

Me too, I still have the same problem. I fix my bricked Lumia 920 a month ago using the wpcentral steps. Did it happen the same to you? (english is not my primary language)

The same thing is happening to me and I also have a 920 on att its saying I either have to update my software or the games not avalible in my region :'(

Soooo..I started the download before going to bed. Wake up to a 8000ffff error. Checked these comments and it turns out it also disappeared from my store and the direct link here says not available.
Australia L920.

I still can't download it on my 8X due to not enough storage space. 2.4 GB should be enough... "Other" taking up another 2.4 as well. I've used the Shrink Storage app a couple of times with no gain bit according to an earlier post the guy tried it several times before it helped. Running it again...

Have you tried downloading from the web marketplace on your pc?

That is awesome of Gameloft to adjust the settings so lower memory phones can still play the game.

I had successfully download the game and pay 1 USD
But till now can't play

Does anyone have successfully installed this game on their lumia 820?

To the people talking about how windows phones need 'quad core processors' you're tools. There's hardly ANY mobile games optimised for quadcore devices, and most of them are Tegrazone exclusive titles which clearly wp doesn't have.

Itz not working on my nokia Lumia 820 nd showzz low memory any suggestions plzzz nd on every new gameloft game it showzz dizz only low memory
Windows Central Newsletter
Thank you for signing up to Windows Central. You will receive a verification email shortly.
There was a problem. Please refresh the page and try again.