Asphalt 7 multiplayer impressions and low-memory Windows Phone 8 device news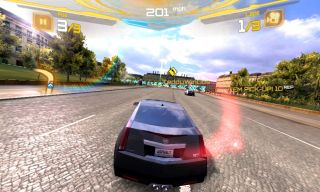 One look at the comments section of our article announcing the release of Asphalt 7: Heat on Windows Phone 8 will tell you that the game is pretty popular. Hey Microsoft, we told you people wanted decent mobile Xbox games!
Ahem. With that gloating out of the way, we have more tasty Asphalt 7 tidbits to share with you now. Head past the break for a hands-on video, multiplayer walkthrough, and update news!
Coming to an affordable Windows Phone near you
Rich Edmonds gives his first impressions.
The Xbox version of Asphalt 7 currently requires 1 GB of RAM in order to run. That's because it uses about 380 MB of RAM, and one game isn't allowed of hog all of a device's memory. Regrettably, several Windows Phone 8 handsets only come equipped with 512 MB – these devices can only run games that use up to 180 MB of RAM.
Gameloft knows that owners of the HTC 8S, Lumia 620, and other budget handsets want some heart-pounding racing action as well. To that end, the developer is working on an update that will allow the game to run on low-memory Windows Phone 8 devices. They can't specify whether the graphics will take a hit on those handsets (likely) or when the update will be ready, but it's still great news all around.
Creating a multiplayer account
Seeing as how many Windows Phone users are stuck with handsets that can't run the game, and the Store is still experiencing frustrating downloading issues, many potential racers haven't had the chance to check out Asphalt 7's multiplayer just yet. Don't worry, dudes and dudettes; your lovable Games Editor has finally managed to go online and lived to tell the tale. Here's how it works.
First, you'll need to set up a Gameloft Live account. Tap the blue Live! icon at the bottom of the main menu to get started. Fill in your details and you'll end up at the in-game Gameloft Live portal where you can manage your friends list, edit your profile, and more.
One advantage of this setup is people with an existing Gameloft account from other platforms can carry that over to Windows Phone and vice-versa. Also, we know that Microsoft's Windows Phone Xbox Live servers are completely terrible, so working outside of the Xbox Live system is (awkwardly enough) the best west to ensure a smooth online experience. The only real downside is that you can't just invite Xbox Live friends right off the bat. You'll need to manually add their Gameloft profiles through your Gameloft Live dashboard.
Starting a multiplayer game
Now that you have a multiplayer account, head to the Multiplayer mode from the main menu. Here you'll select from online or local Wi-Fi multiplayer. Gameloft really covered all the bases, making Asphalt 7 the first Xbox Windows Phone game to support both online and local Wi-Fi. And considering how impressive and affordably priced the game is, there's a good chance other Windows Phone 8 owners you run into will own it and be available for local games.
Next you'll need to enter your Gameloft Live login information for the first time. Don't worry, as long as you let it save the info you'll only have to do this once. If you skipped the account creation step at the beginning, you could also do that from here.
The screen that follows allows players to instantly jump into a lobby, browse open lobbies, or create their own games. Lobbies can hold up to 6 players simultaneously. After joining a lobby, you'll have the opportunity to change cars or invite your fellow Gameloft Live friends. There doesn't seem to be a way to communicate with other players – an issue we discussed in the latest 'How Microsoft can save Xbox Windows Phone games' editorial. Oh well. I guess we're here to race, not talk!
Ready up, wait for the race to start, and the race will begin. Your fellow racers' usernames float above their heads, so you'll always know whose dust you're eating and vice versa. Racers can actually interact with each other, colliding and receiving speed boosts by overtaking opponents (with the proper sponsorship perk equipped).
In my short time playing Asphalt 7 online, I experienced a few hiccups during each race. The game doesn't deal with lag as well as an Xbox 360 title would, but that's not surprising from a phone game. The experience of racing against other players is just as exciting as you'd hope for, and that's what matters. Compared to the single-player racing games that came before it on Windows Phone, Asphalt 7 offers far more replay value thanks to its multiplayer modes.
Share and share alike
One more social aspect of the game comes from its sharing system. After accomplishing various milestones, players can opt to share the news via Facebook, Twitter, or LinkedIn. Frankly, I don't care to see that you just leveled up in a game on Twitter or LinkedIn. That's a waste of everyone's time.
But Facebook – that's where game spamming got its start, so why not share the deets there? Each time you do so, you'll earn 5,000 in-game currency. You can always delete those Facebook posts after you've fattened your wallet, or set them to share only with yourself instead of your friends. Update: Readers are reporting that you can actually just press Back, skipping the sharing alltogether, and still get the in-game reward!
Asphalt 7 costs 99 cents. Windows Phone 8 users can get it here from the Store. Remember, the Store is messing up at the moment so you might need to try again in a few hours of you can't find the game.
Get the Windows Central Newsletter
All the latest news, reviews, and guides for Windows and Xbox diehards.
Paul Acevedo is the Games Editor at Windows Central. A lifelong gamer, he has written about videogames for over 15 years and reviewed over 350 games for our site. Follow him on Twitter @PaulRAcevedo. Don't hate. Appreciate!