Asphalt 8: Airborne updated with new cars, tracks and events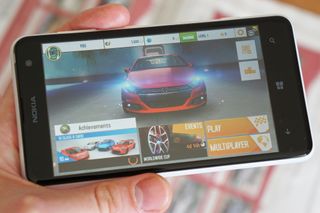 Gameloft's Asphalt 8: Airborne picked up an update today that sees the addition of new cars such as the Lamborghini Aventador and Audi R8 LMS Ultra (with more coming soon), new tracks and an enhanced multilayer mode that now lets you compete against 12 players. Also included are new rewards, exclusive decals and more.
Here's what's new in the update, according to the changelog on the Windows Phone Store:
NEW LOCATION: Master the island of Tenerife, from its tropical beaches to its breathtaking mountains and untamed wilderness, on 4 intense new tracks!
8 NEW CARS: The Lamborghini Aventador, Audi R8 LMS Ultra and 6 more heart-thumping vehicles are coming over the next few weeks. Stay tuned and compete in special Time-Limited Events to unlock them before anyone else!
EXCLUSIVE DECALS: Show off your unique style with these new custom options.
REVAMPED MULTIPLAYER EVENTS: Now you can compete against up to 12 players, instead of 8, in more challenging events for more pumped-up rewards.
For those new to the game, Asphalt 8: Airborne features over 180 events across several categories. There's even a drift mode for those interested in driving sideways. The base game itself is free, although there are in-app purchases available for custom kits and other additions.
Asphalt 8: Airborne on the Windows phone Store
Cheers Sean and Abhishek!
Yay! I love this game. Is a battery killer though.

Finally Aventador..!!
EDIT: The download size is reduced too.

Yeah, but gotta watch out for in-game download

Waiting for a day when we won't have to download the whole thing again to get the update... But that'll probably never happen as the changes often affects the whole code itself... *sigh*

Yes. It kind of sucks. But after all its a game I've been playing for years so ....chalta hai ;)

Is there a way to change the graphics setting on this game? It lags a lot on my 830

Get some free space on your SD card or phone memory . This can be the reason because you have 1gb ram and it runs good in 1gb ram.

747 MB..lot of data to update :0

What's the total download size?

858mb is the installer size.
284mb in game data size.

On 512mb - 748mb download
1gb phones - 858mb download

All i want is a new phone build. -_-

Harish windows 8.1 version also got updated :)

playing it since the 1st day of launch, finally Aventador arrives ... So happy :)

Don't get me wrong, but big mobile games don't appeal to me. After playing BF, AC, Sims, FIFA on PC, playing huge games on mobiles seems pointless imo. Small games like crossy road and subway are enjoyable tho. Edit. LoL too. How in the world I forgot to mention LoL.

Yeah and these games often force you to buy stuff in game which I think is a waste. This game is EXTREMELY difficult if one decides not to buy new cars or upgrades.

Yes. Like, in LoL and AC, you can play at any level you want without spending a dime. Plus, spending money for those games makes much more sense than splashing in on stupid games like asphalt. A phone is for work, damn it. If people wanted handheld, a psp is always there. Let the phone work like a phone.

It's less fun to play now as you can't get majority cars without IAP

I had purchased two car packs (Class A and Class S) last year. I easily beat the game now and can buy most of the cars with game credits :)

Yea! Buy something in FIFA. Makes sense. Buy something in assassin's creed. Makes sense. Buy something in LoL. Makes a hell lot of sense. But buy a mobile game? Damn, IAPs? No, thank you.

If you have money, you can.

It used to be fun playing untill craploft made it free with all those extra iap.decals are damn costly.cant complete few races as cars are to be purchased with real money.

The multi player mode is it over Bluetooth or ??

Over wifi only, and even u can play with your friends at home connected on same wifi.

Is Cross platform available?

This updated in Android month ago, when would we become as quickly updated as Android?

Probably when Windows Phone gains as much popularity as Android and iOS. Anyway, I love gameloft for their support to Windows Phone. Better late than never.

Last update on Android was the last week ,last Wednesday.
Please check your facts.

Nope, it was released on May 21. Please check your facts.

Nope, last update on Google Play was on June 3 and I know it because I also follow Gameloft on Twitter and this update was announced on iOS and Android the last Wednesday , and even if it was on May 21 that doesn't make it a month, either way you're wrong.

Reinstalling the game... Gameloft should have fixed download option..

In game download size pls??

I know the Tenerife shortcuts :P

Come on Gameloft, it's time to release asphalt 9

Still can't believe it took this long to add the Aventador... Of all cars

Oh god....to download again?

Shit man.. I just installed the game yesterday and got to update the game again. Fucking too much data :-/

O god updating this game means reinstalling this game ( around 1Gb ).

The graphics got lowered, less shadows, reflections.
I'm using a 1gb device

How about the lag, bro is it gone?

It's not bad, but I still want my visual effects back.

Yeah, they like lowered the visual for the 12 player multiplayer mode sacrifice.

They lowered the visual because of addition of new tracks. Think over it, how many racing tracks have been added ever since the game was launched? (Hint: A Lot). And how bigger the game has grown in size? (Hint: Not much). That's right, they'd to cut on something to make some room.

I think they should offer controls for visuals like vector unit in their games.

Agreed. Android and iOS versions have the graphic controls but not on WP. Speaking of Vector Unit, I love Riptide GP 2! :)

I jst love this game, but the only problem is that we can't save progress across different platforms.

It supposed to work, playing across devices, but Gameloft haven't updated the server and game to support real time sync. I've been on countless email conversation with their rep and they insists it will work.

It doesn't save progress across platforms. I have it on my iPod also

Great! Another car which I'll never be able to buy (still with the 1st Koenigsegg :/) New tracks is always nice tho.

They better add indian racing tracks.. Lol :P

Which one? Delhi-Agra highway

Or NH-04 perhaps? (Mumbai-Chennai highway) XD

Gautam se yaad aaya , budha circuit bhi to h :D

Hahahah yeah, just 40 km drive from my home :)

Haan Buddha circuit badhiya hai :D

The gameplay is much smoother. It appears on my version that the traffic and obstacles (lampposts and barriers for city havoc rewards) have been removed. Anyone else getting this issue?

Where is this Tenerife tracks? I don't see any?

It's the Dragon Tree in multiplayer

Only on multiplayer? Any offline events with car of any class or costlier ones.

Only phone version or the pc version too?

There's no PC version whatsoever. If you mean Windows Store version, yeah it got updated too.

This update smooth up the game A LOT on my Lumia 535

1 like for enhanced multilayer mode =))

Guys, months back I install this game by downloading on my pc... After installation it cudnt open, so I uninstalled it... And when i went to the store to dowload it again, still it says 'installed'.. I was helpless so I waited for an update... After this update, still it says installed.. I even change the memory card on which I installed it previously.. Now it the store tell me to put back the sd card on which the game was installed.... Plz help

Of all the platforms and variations of this game nothing can beat the experience of the Windows 8.1 version. Playing on a big monitor with keyboard control is the way to go vs. titling a phone or tablet,especially when playing in multiplayer mode against skilled racers driving fast B,A and S cars

Stopped playing awhile ago. Too hard to get cash after a certain point.

I opted manual install option from windowsphone.com , got it downloaded. Size comes to 858 mb but it is listed as unsupported app when i chose the option to install local apps from the store. Btw my phone is 520 :/

anyone got the new cars??? I don't see any new cars :/
Windows Central Newsletter
Get the best of Windows Central in in your inbox, every day!
Thank you for signing up to Windows Central. You will receive a verification email shortly.
There was a problem. Please refresh the page and try again.