Asphalt Overdrive hits the garage for Xbox Live support, new cars, and more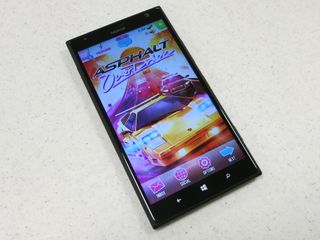 Asphalt Overdrive is a new take on the Asphalt series by Gameloft, with simplified controls and endless races. The freemium title has been updated with some new features, including Xbox Live support. There are also numerous bug fixes for those who have been experiencing issues with parts of the game itself.
Here's what is new in version 1.1.0.12:
2 New Cars: Shatter all limits with the Renault Alpine A110 and Lykan Hypersport.
Joyride Race: How long can you last against the clock? Keep hitting Checkpoint gates to survive!
New Storyline and Tutorial: Learn to master Boosts and the Combo system to score 3 Stars on every mission.
Open Gangs: You can now allow any player to join your Gang instantly!
Bug Fixes & Optimizations: We have corrected bugs with Energy Refills, fast swipes in the Garage, and other small issues.
Improved responsiveness, and the cars can now be moved in the air!
Be sure to join the Windows Central gang once you're in.
Thanks, Philip D., for the tip!
Get the Windows Central Newsletter
All the latest news, reviews, and guides for Windows and Xbox diehards.
Rich Edmonds was formerly a Senior Editor of PC hardware at Windows Central, covering everything related to PC components and NAS. He's been involved in technology for more than a decade and knows a thing or two about the magic inside a PC chassis. You can follow him on Twitter at @RichEdmonds.
Gameloft... They value WP users :)

XBOX support for Asphalt 8 too..!!

That would slow the update process too much.

You don't work at Gameloft?
Please tell me more about which games would slow down the update process too much and which wouldn't.

asphalt 8 is getting xbox support same with total conquest, minion rush, brothers in arms and ravio seems to be adding it to angry birds epic as they just did stella there so those are the few we know about but someone said they were putting it on spiderman and a few other titles

If you go into the xbox section in the app stores they were moved in there plus the achievements have been posted (not for ashpalt 8) but the others are up and we know the support is coming in the achievement community the update is going through cert now like the rest so unless the update fails the xbox should be added on by end of this week or early janurary

You're right. I'm wondering how did gameloft managed to move their titles there? Under Microsoft's approval, right? Or... Are they both up for something? >:}

LOL... People never will be happy... Sad...

So what..?? We demand better services from Microsoft..!! You have any problems to that..??

Xbox support for Asphalt 8 will be epic! Make it happen gameloft!!

Then why not an update for Six guns? Still we call it supporting !

We just need the achievements of that game to increase our gold in XBOX..!!

I wish MS would ask the people who made Forza to make a WP game.

^THIS would be ULTIMATE reason to buy WP

Same with EA an Activision..!!

Agreed... Pretty unforgivable that even your 1st party games don't have Windows Phone counterparts and/or companion apps.

I can only imagine the microtransaction hell that game would be. I mean, consider that Turn 10 re-released Forza 5 with a GotY release that literally added 5 cars and no Season Pass content (the only GotY release I've seen do something like that), and t hen they renamed the Horizon 2 Season Pass "Car Pass" so they could release additional paid DLC for that game before the Car Pass content was finished. I really wnated to buy Horizon 2 last week, but I couldn't convince myself to because of how gross Turn 10's DLC activities are. They just might be the worst of anyone.

The size is now ~500MB. Earlier it was ~100MB. Maybe downloading stuff after every now and then be improved in this version

And the game data is around 4 GB..!!

That's crazy. Even Asphalt 8 takes only about 1.25GB...

Holy crap..!!! 4gb of where .!!! :|

I'm telling you, there's an issue with your storage... 4GB is just impractical!

It should've been that big since the first release.

96mb to 268mb download size. Guess they would have removed the in game downloads.

The in-game downloads are still ever present

Was just playing. Works smoother than before. Pretty good graphics tho but wish it didn't need internet connection to play.

The update even adds annoying notifications that go off at 5 AM! AWESOME!

Why not enough word out on the malicious Windows Phone virus theChive?
- Affects the power button
- Cannot answer a call as the phone won't come out of standby.
- Data connection switch unmovable.

Yes i am also not understanding the reason the behind just one article about the issue which quite a few people are facing, and for now only hard reset seems to be a solution.its almost being 3 days since the problem. Just a small workaround which i found istry removing sim card and memory card and again insert them and restart the phone that makes everything work fine some time.[After a while again all the problems return].

I think everyone should report concern to microsoft about thechive app. Microsoft should take down such shitty app. I am lucky i didn't download such crap. Saved my phone from dying.

I don't know but my L520 have no bug when theChive is installed.

As for me I did a soft reset and while restoring I prevented the glance and extras+ info apps from updating just to be sure. Now my phone is working perfectly fine. Try this and let me know if it worked for you please..

thanks buddy , can you just let me know how to soft reset the phone

Go to settings-->about-->reset your phone. Make sure that you have enough charging and also a WiFi connection while restoring

Nooooo the steps above my comment is for a hard reset that will erase all the data on your phone
Soft reset will just restart the phone but with a fix if something was not working properly to do a soft reset press and hold (power key + volume down key) for 10 seconds and the phone will restart but usually takes more than the usual 30 seconds

I have this game and has arrived to 1,4 GB,I told and I installed perfect shift

Perfect Shift is awesome..!!

Better play Subway Surfers rather playing this chunky one! #DataEater

Good! I'm glad Gameloft is putting Xbox back on their games. It's giving me a reason to keep my 930 around as a gaming device :D

GT Racing 2 needs support.

This really gives me a reason to play this game

Fuck theChive. Best app ever?! Thats shit!

The pc version was updated, too. The pc version absolutely sucks. The controls need serious work. Game is only touch or mouse based. No gamepad or keyboard support. The mouse support is absolutely horrendous and it makes the game unplayable.Until Gameloft fixes it, I won't be playing it.Definitely needs Xbox 360 & One controller support. Without it or keyboard support the game is unplayable, due to the mouse controls sucking so badly. All you do is crash after a few seconds. Nice Gameloft, real nice.

That's not PC version. That's windows 8 version that optimized for touch. If you want PC version go to steam

The game already support keyboard. I don't know if it is added later but now it is. And using a controller feels like advantage to others. You can use one with a simple joy2key settings. And i'm having fun with it.

Forza needs to be on Windows and Windows Phone, period.

They promised it would be back during Forza 2 launch. They talked about "LIVE Anywhere" technology. To this day it's never happened and is inexcusable.

I have downloaded Asphalt Overdrive but it doesn't show up on my phone anywhere. I searched even in my Storage app and on Bing Search. It was installed but isn't visible. Any help?

Now update the Asphalt 8: Airborne with Xbox support

Does it still need to get connected with a Wi-Fi to run, I mean does it still need data??

Hey its not 500 mbs in size, that's a typing mistake.... Is arnd 250 mbs at least for WP with 512 Mb ram

Lol gameloft, i wish they didn't join Xbox, games are still bad. It make sense to fix issues before adding new content.

Now, bring on N.O.V.A. 3 for 512MB users.

Holiday season just keeps getting better.

I hope in future xbox support won't block getting update

Windows version has disappeared from the store. Hopeuflly it'll be relisted soon.

This is awesome. I hope they go back and update Asphalt 7 too to fix those broken achievements and PC sync!

Another game getting Xbox Live. Microsoft must have written Gameloft a pretty big check.

Update LOOKS good, but o got kicked out of my gang and can't go back in... yay -_-