Battlefield V gets gameplay trailer and release date, dumps paid expansions
Battlefield V looks absolutely stunning.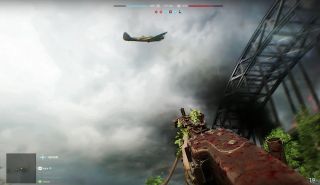 Today, comedian Trevor Noah revealed Battlefield V alongside numerous developers from DICE. Contrary to its modern name, it takes place in World War II, and features single-player campaign scenarios similar to Battlefield 1. For example, one of the main stories focuses on a female solider, her history, and her family. The developers said that Battlefield V tells the "untold stories of World War II" but it's unclear if they're works of fiction or historical recreations.
Some of the new features coming to the game are listed below. According to Microsoft, EA Access gives you early access to Battlefield V on October 11, 2018. The game launches on October 19 and the first multiplayer campaign will focus on the fall of Europe towards the beginning of World War II. The multiplayer campaigns will change as the title evolves in the months after launch.
Co-op gameplay is back.
A new massive mode called "Grand Operations" is being introduced with the game. It's the same as Battlefield 1's Operations but it's much larger in scale.
Massive improvements to destruction have been coded which should make more objects, like indoor items, react to your actions. Beforehand the indoor environments were fixed as only the walls were destroyed.
The Battlefield 1 gas mask has been replaced with a toolbox in Battlefield V. You can build reinforcements so the map isn't completely destroyed and you have cover towards the end of the match.
Your "Company" is a collection of soldiers and vehicles. You can decide how you want them to play and how they look. Think of it as a personal squad of sorts.
The developers stressed that it's not a pay-to-win experience. Even the Premium Pass and paid expansions have been removed so that the player base isn't fragmented.
The launch is just the beginning of the journey, and it seems like the multiplayer modes will evolve as time goes on. DICE wants to take you through the entire war and that will happen over months. We'll get to experience the beginning of World War II and the very end eventually.
Lastly, vehicle customization is finally being introduced with Battlefield V. This was a much-requested feature and it's great to see that it's part of the new game after all these years.
Hopefully the game will be a polished experience on Xbox One when it launches towards the end of the year. Noah also stated that the game "plays best on Xbox One" meaning that it features Xbox One X support. Battlefield V is undoubtedly one of the biggest games of 2018, and it's great to see that Microsoft is associating itself with this experience.
Battlefield V on Xbox One X supports "4K Ultra HD", "HDR10" and "Variable Refresh Rate". The game probably achieves native 4K resolution at 60 FPS just like Star Wars Battlefront II. We'll keep you posted as soon as we know more about the game.
Keep an eye on WindowsCentral.com/Gaming for all the latest in Xbox and Windows 10 gaming, accessories, news, and reviews!
Asher Madan handles gaming news for Windows Central. Before joining Windows Central in 2017, Asher worked for a number of different gaming outlets. He has a background in medical science and is passionate about all forms of entertainment, cooking, and antiquing.
I still don't get it. Is this supposed to be an alternative fictional WW2 setting? If it's done right it could be awesome.

No, from my understanding it's based on real events and battles. I think the characters in the single-player stories are fictional though.

But... They didn't have female soldiers then. Not to my knowledge. So, just because of all this playing into "empowering women" or something we have to make sure we change history and facts to not hurt people feelings?? What Disney has done with Star Wars is the same thing. Strong female roles for new trilogy, Rogue One, and Sw:BF2 campaign... Here and there isn't so bad, but throwing it in our faces is overkill. We get it. Girls play video games. And I'm pretty sure they don't care about characters as much as media and companies think. SMH.

Sorry for the rant. I will NOT buy this game solely for to their agenda.

There were females in various resistance forces all over Europe.

https://en.wikipedia.org/wiki/Night_Witches https://www.nytimes.com/2011/08/14/world/europe/14wake.html
https://www.pri.org/stories/2018-03-09/life-and-myths-lyudmila-pavlichen...
https://en.wikipedia.org/wiki/Wanda_Gertz

Yet more illustrations of how messed up our teaching of history is in this country. There were female soldiers, snipers, pilots and intelligence agents during WW2. A lot of them in fact. Just like there were African-American and black soldiers, snipers and intelligence agents during WW1, which was the previous 'controversy' about Battlefield that demonstrated the limited knowledge of history many people seem to have. Bad history in schools plus decades of movies depicting white males in all combat roles have resulted in people confusing history with political correctness.

Meh. Same old, same old. Guns, shooting, WW2. It doesn't even look THAT good, as it's described. I can't believe people are amazed at this and can't wait to buy it. DICE is a great studio, they should focus more on some actually better games, they can do wonders. Leave the uninnovative plain old stuff to some other less skilled team. Like all you have to do to make a new Battlefield/CoD is to make the graphics better (and judging by this trailer, not even that), and slap a 60€ price tag on it.

I'm not a COD or battlefield guy because I suck at competitive multiplayer but I thought it looked gorgeous! What do you think looks better atm? I'm genuinely curious, not being an ass.

Battlefield 1. To me it's not the Graphics but the tone. The way the female Brit talks seems too tongue in cheek and alot of sass for a soldier in WW2. They did the exact opposite way of what they did with BF1. That was taken seriously, with a darker color pallet and more grimy environment. This is a green field and a jog through a park.

Wow you have pretty high expectations for graphics then. Good luck in finding a game that'll match what you think looks good. What I CAN understand is the criticism of this being "just another shooter," though.

Not just graphic. Dynamic keyframe animation, better full body IK, active ragdoll, more rigid body, softbody, etc. Things that are not in the "visual world" are techs too you know.

You can never kill enough nazis.

I'm sure a lot of people in the United States will be up in arms about this game. Just like Wolfenstein II: The New Colossus. Who would've thought in 2018 being a Nazi would make you a "targeted" group. What a world we live in.

Looks like fortnite crossed with GI Joe, robot arms, katanas, face painting, what a mess.

How does this look like or play like fortnite in any sense?

Only if u are under 15 everything "looks like Fortnite". Kids go into defend mode hard :D

Saw a German V1 missile in there!

Dice character animations look nice as usual. My problem is how frequent they churn these games out by the time they finish the expansions. The next game is right around the corner. I haven't purchased one since BF3 bad enough that you have to buy the game again in a premium DLC pack then you're looking up at BF4 to rinse and repeat.

It's as if characters from Mad Max Fury Road time traveled to 1940... I'm okay with that premise, btw, but I don't think that's what they were going for.
Windows Central Newsletter
Get the best of Windows Central in in your inbox, every day!
Thank you for signing up to Windows Central. You will receive a verification email shortly.
There was a problem. Please refresh the page and try again.