Best Fighting Games for Xbox One, Series X and Series S 2020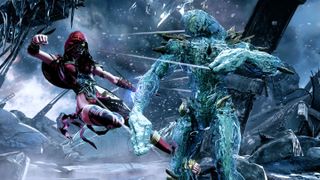 (Image credit: Microsoft)
Fighting games can be a very challenging genre when compared to others. Multiple combatants duking it out until one is left standing while executing complicated combos where one incorrect button input could spell your defeat. It's daunting, but when you come out on top, the levels of satisfaction gained is unlike anything else. We have compiled some of the most exemplary fighting games on the market for our roundups of best Xbox One games and best Xbox Series X, Series S games. Take note that all the Xbox One games on this list will function on the Xbox Series X and Series S through backward compatibility.
★Featured favorite
Killer Instinct: Definitive Edition
Killer Instinct: Definitive Edition is the flagship Xbox One fighting game set within a dystopian Earth run by the mega-corporation Ultra-Tech. Choose from a balanced and varied roster of humans, monsters, and robots to take on the world through online matches, learn the characters' backstories in the Arcade and Rival modes, and save the world from the evil, intergalactic conqueror Gargos in Shadow Lords mode.
Kings of the ring
Why you can trust Windows Central Our expert reviewers spend hours testing and comparing products and services so you can choose the best for you. Find out more about how we test.
Thanks in part to backward compatibility, there hasn't been this many fighting games available and playable since the golden age of fighting games back in the 1990s. Here are some of our favorite slobber knockers.
The levels of excitement and fun generated by Killer Instinct: Definitive Edition's combat system is sublime. There's a unique tension while trying to read your opponent, figuring out when to break your opponent's combos with Combo Breakers, or parry them with Shadow Counters or Counter Breakers. Using the Instinct meter to transform your character into a demi-god, while ending the match with spectacular finshers followed by the announcer screams of 'ULTRA COMBO!' simply feels epic — all the while rocking out to the outstanding soundtrack by Mick Gordon.
Netherrealm Studios once again delivers another high-quality, content-rich fighting game with Mortal Kombat 11 Ultimate. MK11 Ultimate features fully-fleshed out story modes culminating years of story-arcs into one epic finale. Alongside a ton of single-player arcade modes of various levels of difficulty, loads of characters to customize the appearance and move-sets of. And most importantly of all — MK11 comes with lots of new Fatalities to brutally or humorously finish off your opponents.
The long-awaited return of Namco's sword-fighting, arena fighting series with Soul Calibur VI was a welcomed breath of fresh air. Soul Calibur VI Featuring a detailed story mode that soft reboots the series' timeline to welcome newcomers to the series. It makes it easy for newcomers with a simple-to-learn but difficult-to-master combat system, complete with arguably the most robust and in-depth character creator ever seen in fighting games.
Get the Windows Central Newsletter
All the latest news, reviews, and guides for Windows and Xbox diehards.
Alexander Cope is a gaming veteran of 30-plus years, primarily covering PC and Xbox games here on Windows Central. Gaming since the 8-bit era, Alexander's expertise revolves around gaming guides and news, with a particular focus on Japanese titles from the likes of Elden Ring to Final Fantasy. Alexander is always on deck to help our readers conquer the industry's most difficult games — when he can pry himself away from Monster Hunter that is!