Best Gifts for Xbox Owners in 2022
By Jez Corden published
The holiday season is fast approaching, and if you're shopping for an Xbox fan, here are a few gifts you should consider!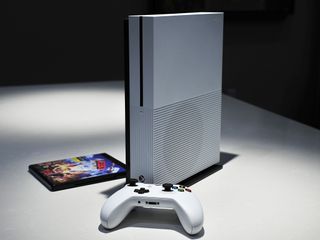 Video gaming is a huge cultural phenomenon, and Xbox is one of the most recognizable brands of the lot. There are tons of ways you can help friends and family enhance their Xbox experience this holiday season, and here are just a few of the best!
Great games
Undoubtedly, the best gift for any Xbox One owner this holiday season is great games, and thankfully, the Xbox is crammed with them. Always try to find out if the owner has the game already before purchasing! Here are just five games you should consider for this holiday season, but we have a much more expansive list you can check out using the link below.
The best Xbox One games so far
Gears of War 4
Gears of War 4 is the latest entry in the Xbox-defining shooter series. Take on JD Fenix and his crew to kickstart a brand new saga, against a horrific new threat. Gears of War 4 is an excellent gift because it packs piles of value into a single title. A strong campaign, frenetic multiplayer and persistently updated co-operative Horde Mode will keep Gears of War 4 fresh for months to come. If you're buying for a Gears of War fan already, check out our Gears Gift Guide over here!
See at Microsoft (opens in new tab)
Battlefield 1
Battlefield 1 is arguably the greatest shooter available for Xbox One now, and it makes for a truly epic gift this holiday season. Battlefield 1's 32 vs. 32 multiplayer is unmatched for explosive, tactical combat, which persistently as rewarding as it is enthralling.
See at Microsoft (opens in new tab)
ReCore
One for the younger friends and relatives, ReCore is a vibrant action-platformer from Microsoft Studios. Join Joule and an eclectic cast of cutesy robots on a quest to discover what went wrong on the planet of Far Eden.
See at Microsoft (opens in new tab)
Xbox Gift Cards
No way to find out what games your friends and family have? Let them decide which game to buy for themselves with an Xbox Gift Card!
Xbox Gift Cards can be redeemed either on the Xbox Store, the web, or the Windows 10 Store, and they add credit to your Microsoft Account to be spent on any Microsoft site or service.
Using the link below, you can purchase gift cards for various monetary amounts. The cards are also available in many markets through your local Microsoft Store website.
See at Microsoft (opens in new tab)
Groove Music Gift Card
Until we (hopefully) get Spotify on Xbox One, Groove Music is an awesome alternative that beats Spotify in a number of ways. Groove Music subscriptions also come with 100GB of OneDrive storage, which also allows you to store MP3s you own in the cloud for streaming to any device. A Groove Music Gift Card would make an excellent gift for Xbox One owners who are also big music fans.
See at Microsoft (opens in new tab)
Xbox One Elite Controller
Probably the best gift for any Xbox One owner is the Elite controller. Trigger locks allow you to shoot faster. Interchangeable joysticks allow you to play at higher sensitivities without losing precision, and the configurable paddles add an all-new dimension to play.
Complete with a premium carry case, tons of additional parts and next-level build quality, the Xbox One Elite Controller isn't cheap at around $150, but it is guaranteed to make any Xbox owner a happy gamer this holiday season.
See at Microsoft (opens in new tab)
Turtle Beach Elite Pro Tournament Headset
This is another expensive item, but if you're in the market to improve a loved one's audio experience, this setup is simply unmatched. Still, there are tons of other great headsets on the market, and if you're looking for something different, we've rounded up some of the best headsets right over here.
Turtle Beach's Elite Pro Tournament headset combined with the Tactical Audio Controller provides unprecedented control over your sound experience on Xbox One. Manually adjust party chat levels, noise cancellation, surround sound modes that allow you to emphasize enemy footsteps, and much more. The Elite Pro Tournament is also one of the most comfortable headsets money can buy, with a floating headband with adjustable tension, gratuitously cushioned ear cups with airy, high-quality fabrics.
The Turtle Beach Elite Pro Tournament with Tactical Audio Controller comes in at around $400, or separately for around $200 each.
See at Amazon (opens in new tab)
Nyko Charge Block
If you're buying for a fan of wireless controllers, then consider the Nyko Charge Block!
Not only does the Block allow you to keep your controllers neat and tidy, but it also passively charges special batteries that come with the product. You can either purchase a dock for two controllers, or just a dock for a single controller.
See at Amazon (opens in new tab)
Seagate Xbox HDD
Seagate makes some excellent Xbox-branded USB-powered hard disk drives that are crucial for expanding storage on the lower-end consoles. As video games get more complex with updates, and libraries grow, the base storage available with Xbox consoles simply isn't adequate for most.
Thankfully, Seagate makes some great storage options. With 2 TB and 4 TB configurations, the Seagate Xbox HDDs will future-proof a loved one's console against getting full prematurely for around $100 and $150.
See at Amazon (opens in new tab)
Kinect 2.0
Since Kinect is no longer bundled with the Xbox One or Xbox One S, it makes a worthy gift for any Xbox owner. Kinect combines a HD camera with motion tracking capabilities and powerful microphones, granting access to a wide array of games and powerful voice commands for your TV.
Using Kinect and the Xbox One's HDMI pass-through, you can control your TV using natural language, issuing commands like "volume up," and "watch BBC1" to change channel. It also comes with the option of using Cortana, giving you access to even more commands. Note: If you're purchasing Kinect for an Xbox One S owner, they will also need an adapter (opens in new tab).
See at Amazon (opens in new tab)
Happy Holidays!
What gifts will you be picking up for Xbox loving friends and family this holiday season? Are there any items on this list that you think should be added? Let us know in the comments!
Jez Corden is a Senior Editor for Windows Central, focusing primarily on all things Xbox and gaming. Jez is known for breaking exclusive news and analysis as relates to the Microsoft ecosystem while being powered by caffeine. Follow on Twitter @JezCorden and listen to his Xbox Two podcast, all about, you guessed it, Xbox!
Dam that Elite controller is dam fine. But really, I want an S controller so I can make better use of the Xbox streaming to WinMobile.

How does the S controller differ?

Can't remember if Elite has Bluetooth. If it does, then that's what im asking Santa for ☺

Dammit, as sexy as it that is a real bummer indeed. Oh well, maybe pick it up when its cheaper but as for new experience of streaming X1 games on my phone, the S controller is the winner here.

I can't remember if it is still available, but Newegg had a deal going where you got the Elite for $115.

That sounds like a great price but im in the UK so don't think I'm applicable. I holding hope that this controller is revised when Scorpio launches to inc BT and is part of launch package.

I wouldn't hold out for BT on the Elite controller. The type of wireless used in the Xbox controller is far superior to BT. Adding BT would drive up the price, and since it's aimed at the "pro gamer"... Pro's would never use BT over the wireless, and they'll always go wired if the option is there. Just get the Xbox controller wireless adapter if your going for the Elite. It may be a bit of an eye-sore connected to a laptop. On a desktop however, you can either plug it in internally if you have an internal USB, or hide it out of the way via an extension or a USB hub.

How long have we been able to stream the Xbox to the phone? I've been waiting for that feature and must have over looked it.

Managed to download the Dev mode preview app about 2months ago after article from MSPU highlighted it and using the then Store bug downloaded it. Was able to stream Doom demo to phone and played with X1 control while in range. Accordingly to MSPU a true app is currently in beta testing and from experience of the dev mode app, its shaping up very well.

Ahh ok that makes more sense. Well in that case, I's say the S controller wins, since the elite isn't bluetooth. I wish they would re-release it (or add an adaptor) with bluetooth. I'd buy it then.

I disagree that ReCore is for younger people. It's not unsuitable, but it's still a good game in its own right.

Well it's for all ages, I guess I wrote that in because my youngest cousin really adores it.

I'm having a blast with it. My review would say combat is a bit too simplistic, but in a way fun. The puzzles are balanced. Some really make you think things through but are not impossible. So far it has a good story. It doesn't have eye popping graphics, but for $20-$40 you can't expect it. I do like the unique movement choices.

Wouldn't mind upgrading to a One S, but the thing is so ugly in white, and the BF1 model is kinda gross. I wish that blue one were widely available (or the grey), and in a 1 TB model. Unsure there is enough reason to go to the One S if it means $150+ or halving my HDD size.

I am a big fan of Titanfall 2 and would Highly reccomend it

Same here. I was very disappointed with the first two betas, but I grabbed it on sale a couple of weeks ago. Glad the sale came because I may have missed out on it. So much fun. Great game.

Hey Jez, here are two awesome gifts that for some strange reason did not make it on your list. But are gifts that I am sure every owner of an Xbox One S would love to see under the Xmas tree this holiday season. GIFT #1: https://www.amazon.com/gp/product/B01C5TFNSM?tag=rtings-tv-bs01a-20&ie=UTF8 GIFT #2: http://www.blu-ray.com/deals/?sortby=time&category=4kbluray

True that, I'll include them in a future update.

The Seagate Xbox HDD is a waste of money. It looks good but it's a waste of money. If you're offering an HDD to someone, give them one with a larger storage capacity. WD has more compelling offers in that area I think. And offering a Kinect is as silly as offering a Windows Phone. You're giving people dead things. Apart from that, I agree with the list. If the person is an AC fan, you also have the Ezio Collection which is another nice gift.

You couldn't be more right. Seagate hard drives are the worst. No idea why someone would recommend them

Odd that. Because I've had the official Xbox One Seagate HDD 2TB model for 12 months. Has been awesome quick and not a single issue. Only paid £50 brand new as well. Could you tell me what os wrong with my Seagate????

You missed another obvious one - XBL Gold subscriptions.

Got my son a Turtle Beach headset, and Xbox chatpad. The chatpad was £26.99 at Tesco. Only a touch more expensive than the stereo adapter, and plenty functional.

I disagree with the sentiment that games like Recore are for you get gamers. If anything games like BF1 which is the 1000 th shooter to come out is for a childish younger audience who thinks shooting people is grown up. Ori & The Blind Forest was one of the most artistic and emotional games I've played of recent years. And most younger gamers would not understand it. When I was growing up, games like Donkey Kong Country were considered way better and more harder for adults than Street Fighter 2 or Double Dragon. Gaming at the moment is stuck in this action orientated crap. Whereby even a game like FF15 feels the need to add in Westernized action combat. If we are not careful all we will have left is shooting games and action. Hardly the pinnacle of Videogame history at the moment.
Windows Central Newsletter
Get the best of Windows Central in in your inbox, every day!
Thank you for signing up to Windows Central. You will receive a verification email shortly.
There was a problem. Please refresh the page and try again.