Windows Central Best of 2018 Awards: PCs, Laptops and Tablets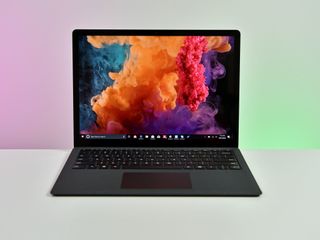 (Image credit: Windows Central)
Laptops, tablets, All-In-Ones, Desktop PCs and more; every year we review hundreds of new products in the Microsoft ecosystem (and some outside), all to answer one question: which products are ultimately the best? Which phone, laptop, tablet or PC should you buy? 2018 has seen lots of new announcements, so for the past few weeks, our team has been debating which products truly stood out.
Which phone is the best for Windows users? What's the best overall laptop of 2018? Which devices stood out from the rest? Find out in this roundup of the best devices of 2018:
Best Overall Laptop of 2018
(opens in new tab)
A notebook for everyone.

With a slim, light chassis available in four colors, the Surface Laptop 2 has the portability and performance needed to get through a day's work. It has a high-resolution touchscreen with 3:2 aspect ratio, battery life that lasts through a workday, and it comes standard with Windows 10 in S mode.
Why we picked the Surface Laptop 2 as the Best Overall Laptop of 2018
Why you can trust Windows Central Our expert reviewers spend hours testing and comparing products and services so you can choose the best for you. Find out more about how we test.
The Surface Laptop 2 isn't a huge upgrade over its predecessor, but it never needed to be. The Surface Laptop 2 is more powerful with better battery life, but everything else is pretty much the same. And that's a good thing. It's quite simply the best laptop you can buy. Hit our full review for all the specifics.
Best Ultrabook
(opens in new tab)
Beautiful build, great performance, competitive price.

If you need a standard notebook, the XPS 13 9370 should be near the top of your list. It's built well, it has a beautiful display with almost no bezel, and performance will get you through a day's work.Runners up:HP Spectre 13 (opens in new tab)
Why we picked the Dell XPS 13 as the Best Ultrabook of 2018
Dell's XPS 13 is an engineering marvel. The gorgeous 13.3-inch chassis houses some powerful internals, should you configure the notebook that way, and iit can last a considerable amount of time between charges, making it an absolute dream for anyone seeking a portable PC. For more details, read our in-depth review.
Best Convertible Laptop
Sleek covertible with soundbar hinge.

Lenovo's premium 13-inch convertible Yoga C930 had its watchband hinge replaced with a soundbar hinge that pumps out quality audio, plus it's stocked with updated hardware and all-day battery life.Runners up:Spectre Folio (opens in new tab)
Why we picked the Lenovo Yoga C930 as the Best Convertible Laptop of 2018
Lenovo's Yoga C930 replaced the brilliant watchband Yoga hinge with a legitimate soundbar, turning this convertible laptop into a media lover's dream. It has modern hardware that can handle a day's work with ease, a battery that can last more than nine hours, and the 4K or FHD touch display is compatible with the built-in active pen for Windows Ink. All this in a sleek unibody aluminum design? Yes please. Check out our review for more reasons to love this PC.
Most innovative new device
(opens in new tab)
A custom controller experience that's uniquely yours.

Make gameplay more accessible with the Xbox Adaptive Controller, which features large programmable buttons and connects to external switches, buttons, mounts and joysticks. A true innovation to help make gaming accessible to more people.Runners up:Kensington SD7000 for Surface Pro (opens in new tab)HP Spectre Folio (opens in new tab)
Why we picked the Xbox Adaptive Controller as the Most Innovative new device of 2018
Combined with a huge range of 3.5mm switches, Microsoft and its partners have taken the lead to bring gaming to millions of users who find standard peripherals don't meet their needs. The company has admirably made it a mission to cater to those with disabilities, and the Xbox Adaptive Controller is a perfect example of a success story there.
Best Gaming Laptop
(opens in new tab)
The new 15.6-inch Razer Blade continues the tradition of slim gaming.

With a body that's just 0.68 inches thick, it's hard to believe Razer was able to cram this much hardware inside. Discrete GPU, six-core CPU, and plenty of other configuration options make this an outstanding gaming laptop.Runners up:ASUS ROG Zephyrus S (opens in new tab)Alienware m15 (opens in new tab)
Why we picked the Razer Blade 15 as the Best Gaming Laptop of 2018
The Razer Blade 15 is the closest thing to a perfect gaming laptop. Stunning design, amazing build quality, and an incredible amount of power join a now larger display that's still in a highly-portable package. The Blade 15 is simply incredible. Read our detailed review for lots more reasons why.
Best Desktop All-in-One
(opens in new tab)
The most desirable PC money can buy.

While the 7th gen Intel processor is disappointing, the powerful NVIDIA GTX 1070, faster storage solution and overall improved user experience make the Surface Studio 2 still one of the most amazing PCs ever to be created.
Why we picked the Surface Studio 2 as the Best Desktop All-in-One of 2018
The Surface Studio 2 is pricey, but at least this year it's more justified with its NVIDIA GTX 1070 (or 1060) graphics card and zippy internal storage. Not only does it have the most impressive PC display on the market, it's actually even brighter this year with better contrast. It's the ultimate Windows 10 experience, plain and simple. Read our full review for everything you could possibly want to know about the device.
Best Always Connected PC
A stylish, capable 2-in-1 with ARM and 4G LTE

Samsung delivered a Surface Pro-like PC that runs on a Snapdragon 850 with LTE. And it's glorious.Runners up:Lenovo Yoga C630 (opens in new tab)
Why we picked the Samsung Galaxy Book2 as the Best Always Connected PC of 2018
Samsung created a 2-in-1 PC to compete with the Surface Pro line, and instead of a carbon copy, it made something special. The Galaxy Book2 runs on a Snapdragon 850 CPU for unreal battery life, the sAMOLED touch display is a knockout, and, yes, you can browse anywhere thanks to a Snapdragon X20 LTE modem. If you need an Always-Connected Windows 10 PC, definitely look here first. You will not find a better option. Our detailed review explains exactly why.
Best phone for Windows Users
(opens in new tab)
The best smartphone at the best price for most Windows users.

As flagship phones keep getting more expensive, OnePlus sticks to what it does well. The OnePlus 6T's hardware quality, specs, software and performance all matches phones that cost hundreds of dollars more. And the places where it comes up short are merely marginal differences or non-critical features. This phone offers incredible value: a flagship-like experience for a fraction of the cost.Runners up:Galaxy Note 9 (opens in new tab)Pixel 3 (opens in new tab)
Why we picked the OnePlus 6T as the Best Smartphone for Windows users
The OnePlus 6T is a great choice for Windows phone converts as it offers the best OS customization, and powerful hardware for a price that doesn't break the bank. It has all the latest smartphone trends, including an edge-to-edge display, and an in-display fingerprint reader too. We love it.
Those are our best products of 2018, and there's something for everyone. Whether you're looking for that laptop that can do it all, or the always connected PC to accompany your home setup, these are the best products announced this year. To find out the other products that won, including accessories, games and more, check out our Best of 2018 Awards winners!
Windows Central Newsletter
Get the best of Windows Central in your inbox, every day!
Lenovo Yoga C930 & HP Folio over the Surface Book 2? Interesting...

You've forgotten the Surface Pro 6 as the best tablet/2 in 1 (as Surface Go still has too many compromises)

Sorry. The OnePlus 6T has NO IP rating and for that kind of money, I expect at least SOME water resistance. Considering current prices, I would opt for a Galaxy S9 (you can turn off Bixby) and use a different launcher.

I don't think you are correct on Surface Laptop 2 coming with Windows S....mine didn't

Where the hell is the Huawei matebook X Pro? I own a surface laptop 2, surface book 2 and a mate x pro. For me the Huawei is way better than the laptop 2. Better screen (fantastic one), better sounds, better selection of ports, dedicate graphic card for light work or games. Also Impossible to get HDR video output with a surface Laptop unfortunately :/ even an a surface book 2 which I love. No thunderbolt 3 :(

Surface Laptop 2, nice one!

HP's Elitebook 840 G5 is on my laptop shortlist after using one at work. Nice keyboard and screen, good set of ports, Windows Hello support with infrared camera and fingerprint scanner. Battery could be a little better, but it works. Awesome bonus feature: screen privacy activated at the touch of a hotkey, for when you don't want the person next you glance-reading what's on your screen. Great business-/developer-class machine.