Best racing wheel for PC 2022
Serious simulation or arcade adventures? We've got you covered.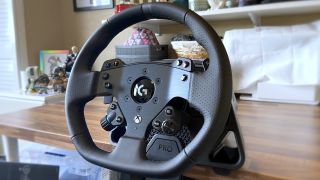 (Image credit: Ben Wilson | Windows Central)
Dedicated sim racing fans often want the best racing wheels to pair with a gaming PC and ultra-realistic games. Plenty of peripherals in the past were overpriced and often appeared too complex for curious newcomers, steering clear of what seemed to be a niche hobby.
Thankfully, the past few years have shown a considerable expansion to the range, from basic options for beginners to high-end wheels seemingly ripped straight out of authentic racing cars. Whether you're looking for relaxed arcade fun or hyper-realistic simulation, we've found the best racing wheel for PC and some alternatives to fit your budget.
Logitech G PRO
Best overall
Reasons to buy
+
Easy to set up and use.
+
11Nm of powerful torque.
+
Realistic Trueforce feedback.
+
Compatible with hundreds of games.
Reasons to avoid
-
Too heavy and powerful for some office desks.
-
No alternative wheels at launch.
-
Strictly USB connectivity.
Direct-drive racing wheels are often reserved for the most hardcore sim racing enthusiasts since they have intense force feedback lurking under the hood and usually need separate, expensive wheels. Logitech tackles the high-end category with the gorgeous G PRO, packaged with a slick wheel and quick-release mechanism for simple storage.
Naturally, you might expect a quick-release function to imply alternative wheels would be available, but Logitech has stuck to the standard PRO model at launch. Replacements haven't been confirmed as part of a future product roadmap, but they seem likely enough. For now, the packaged wheel is an absolute dream to use, with stitched leather around its steel construction.
It couldn't be easier to set up, but you'll want to stick with a cockpit since the table clamp is only suitable for the most robust desks. Even then, the 11Nm of torque combined with Logitech's intense Trueforce feedback will shake your monitors into oblivion; it's no joke. Our Logitech G PRO wheel review describes the perfect combination of simplicity and quality, especially when paired with the companion G PRO pedals.
Thrustmaster T248X
Best value
Reasons to buy
+
Super simple to set up.
+
Versatile settings can be adjusted quickly via the HUD.
+
Intense force feedback provides immersive racing.
Reasons to avoid
-
Windows PC is mandatory for updating firmware.
-
Desk clamp slips on some surfaces.
-
Loud gear-shift paddles.
Thrustmaster is no stranger to racing wheel manufacturing, offering a wide range of models for over a decade. Our T248X review shows it hits a perfect balance of features and affordability for everyone, featuring a built-in LED screen to provide live telemetry and help make quick adjustments. It performs best on PC, with 25 buttons available to bind to whatever functions you need.
Powered by a hybrid system inside the servo and with adjustable force feedback, the T248X provides an immersive and customizable racing experience. Thrustmaster's magnetic T3PM pedal set is part of the package with adjustable footplates and smooth action. It's fantastic value for anyone looking to upgrade from a basic wheel or approach the scene for the first time with everything you need.
No matter your level of sim racing experience, this wheel impresses in every category and remains my daily driver. The Thrustmaster software allows for combined adjustments to the wheels and pedals, working fine with every game I've tested. Lightweight and simple to set up with the included table clamp or fixed to a cockpit, the T248X is a versatile and immensely affordable choice.
Thrustmaster TX leather edition
Best mid-range
Reasons to buy
+
Incredibly smooth dual-belt system.
+
Comfortable hand-stitched leather.
+
Swappable Thrustmaster wheel.
Reasons to avoid
-
Weak pedal springs.
-
Heavy TX servo base.
-
Unsightly screw attachment.
Between entry-level wheels using a motor-driven system and the enthusiast's choice of a direct-drive motor, Thrustmaster offers its TX racing wheel with a dual-belt setup as the perfect middle ground. A brushless motor sits inside the servo, and the wheels are easily interchangeable if you prefer a different shape to the standard circular design.
Our Thrustmaster TX leather edition review explains how the hand-stitched leather feels super smooth and comfortable for extended gameplay sessions. It's a nice upgrade from the D-shaped wheels found on other models and makes for an incredible drifting experience in games that support it. The gear-shifting paddles are excellent, with great tactile feedback without making too much noise.
The servo is chunkier than others, but it can sit comfortably on a desk without slipping around during moments of intense force feedback. It will shake more than an entry-level wheel, so a cockpit is naturally better suited to the TX, but a table clamp is an acceptable option if that's all you can use. If you're looking for a super-smooth racing experience without breaking the bank on a direct-drive wheel, the TX is perfect.
Logitech G920
Best budget
Reasons to buy
+
Leather and metal construction.
+
High-quality parts for less.
+
Triple-pedal set included.
If you want to get into the sim racing scene without breaking the bank, the Logitech G920 fits the bill without sacrificing wheel quality. Compatible with Xbox but better suited to PC, the balance of dual-motor force feedback and up to 900° of gear-driven rotation pairs perfectly with enough face buttons to cover in-game functions.
The included pedals are good enough to get you started with a simple setup and can be customized with adjustable footplates, but they don't quite match the high quality of the wheel. You could easily replace the pedals, but the wheel is a fantastic entry-level option covering you for hours of comfortable racing, as Richard Devine confirmed in their Logitech G920 review.
There are cheaper wheels available, but Logitech hits the perfect balance of quality and affordability. Anyone on a tight budget should try and spring for the G920 to properly experience the sim racing scene. Racing wheels hold their re-sell value well enough if you treat them with care, so future upgrades won't sting as much as you might think. Newcomers won't be disappointed with this budget option.
Thrustmaster TS-XW
Best high-end
Reasons to buy
+
Realistic 1:1 replica design.
+
Excellent build quality.
+
Modular wheel swaps.
Reasons to avoid
-
Button placement isn't ideal.
-
Rough edges on the metal paddles.
If you're looking for a racing wheel designed after the genuine article, the TS-XW from Thrustmaster ticks all the right boxes. A partnership with auto parts manufacturer Sparco delivers a slick replica of its P310 steering wheel, packaged with the TS-XW racer servo styled in a black and red aesthetic. The power supply even looks like a turbocharger, confirming this wheel is aimed directly at racing fanatics and simulation gearheads.
In our Thrustmaster TS-XW review, Richard Devine confesses their love for this excellent racing wheel and encourages sim racing enthusiasts to fit it into their budget. It comes packaged with Thrustmaster's T3PA pedal set, which includes an optional conical rubber stop for the brake if you prefer more resistance during racing.
The table clamp offers a simple setup for most desks, but the dual-belt system and force feedback might be a little intense for some. If you stick to a dedicated cockpit, this competition grade can provide a realistic racing experience with up to 1080° of rotation and an ultra-comfortable Alcantara trim.
Fanatec Podium Formula
Ultra-premium
Reasons to buy
+
Up to 20Nm torque.
+
Built-in OLED display on servo.
+
5-year warranty.
+
Huge range of wheels.
Reasons to avoid
-
Very expensive.
-
No pedals.
If you're looking for the ultimate simulation racing experience and money is no object, you'll want to check out the most powerful direct-drive wheels from Fanatec. The Podium Formula is a three-part bundle containing the popular DD1 wheelbase, an advanced paddle module, and a ClubSport Formula V2.5 X steering wheel. This combination can provide the most realistic experience with up to 20Nm of torque, far higher than many real-world cars featuring power steering.
You'll want a sim cockpit for this beefy package, but thankfully, the setup isn't that complex. Every part is plug-and-play, with a host of ports in the rear of the DD1 servo. You will do most of your customization via the desktop control panel software, but a built-in OLED screen offers shortcuts to make little tweaks and find the perfect settings for each virtual car.
The strength behind the DD1 servo is no joke and shouldn't be taken lightly by newcomers lacking confidence; it's as close as you can get to driving a real race car in your own home. Most Fanatec peripherals are sold separately, but this Podium Formula bundle has enough to get you started minus a set of pedals, so consider a dedicated set like the Thrustmaster T-LCM. It's the most expensive option for a racing wheel, but serious enthusiasts often settle for nothing less than the best, which is undoubtedly Fanatec's specialty.
Choosing the best racing wheel for PC
Why you can trust Windows Central Our expert reviewers spend hours testing and comparing products and services so you can choose the best for you. Find out more about how we test.
There are plenty of ultra-realistic racing games to choose from on PC, and it's becoming more of an affordable project to build an at-home simulation rig. The superb Logitech G PRO currently stands as the best overall choice for budding newcomers and seasoned veterans. Pair it with one of the best PCs for sim racing, and you're off to the races with a completely stress-free setup.
The Thrustmaster T248X still stands proudly as the best-value racing wheel for something more affordable, hitting the perfect balance between features and price. Its built-in HUD makes on-the-spot adjustments to the powerful force feedback super easy and provides live telemetry info on the PC during races. Even nervous beginners can join the fun with the affordable Logitech G920, proving there are high-quality wheels for everyone in the sim racing scene.
Get the Windows Central Newsletter
All the latest news, reviews, and guides for Windows and Xbox diehards.
Ben is the channel editor for all things tech-related at Windows Central. That includes PCs, the components inside, and any accessory you can connect to a Windows desktop or Xbox console. Not restricted to one platform, he also has a keen interest in Valve's Steam Deck handheld and the Linux-based operating system inside. Fueling this career with coffee since 2021, you can usually find him behind one screen or another. Find him on Mastodon @trzomb@mastodon.online to ask questions or share opinions.