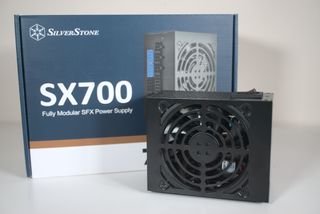 (Image credit: Rich Edmonds / Windows Central)
Anyone looking to build a compact computer with a small form factor will need to consider the size of their power supply. Compared to your average ATX PSU, SFX power supplies are slimmer and smaller, perfect for saving space. If that sounds like something you need, check out our roundup of the best SFX PSUs available below.
Choosing the best SFX PSU
Just because they're smaller, it doesn't mean SFX power supplies are any weaker than their full-sized ATX variants. Generally designed for more compact cases, it is possible to mount an SFX PSU with an adapter into an ATX case. Besides their physical size, they do the same job: provide your components power at whatever total wattage they need. It's worth double-checking your case requirements because SFX power supplies are usually only ever selected for the tiniest builds.
Once you've decided on which PSU standard is best for your PC, you'll be able to choose which is best for you. Our collection of the SFX styles is well suited for a small form factor PC, and there are plenty of other size choices when looking for the best power supply in general.
Ben Wilson is a freelance writer working for Windows Central with technical expertise and a background in electronics retail. Fueling a technology and video game obsession with coffee, you can usually find him behind one screen or another.
Windows Central Newsletter
Get the best of Windows Central in in your inbox, every day!
Thank you for signing up to Windows Central. You will receive a verification email shortly.
There was a problem. Please refresh the page and try again.