Best Smart TVs for Streaming
The X930D by Sony takes our top spot for the best smart TV for streaming content. If you want to keep things simple without extra devices, this TV is an ideal solution.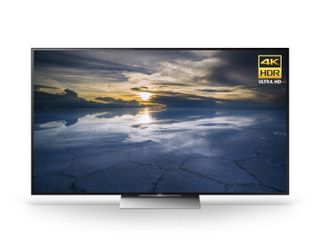 Best overall
(opens in new tab)
It's 4K, supports HDR content, can be used to stream media without plugging in external devices, and 3D to boot. The benefit of Sony televisions is the company makes full use of Android to power its platform. Sure, it's not Microsoft, but it makes for a compelling experience, regardless of which ecosystem you're a part of.Bottom line: Need content on your TV without additional hardware? This Sony panel is perfect.One more thing: 4 HDMI to connect all the things.
Why the Sony X930D is the best TV for streaming
Why you can trust Windows Central Our expert reviewers spend hours testing and comparing products and services so you can choose the best for you. Find out more about how we test.
We rank Sony's setup and platform as the ideal option for streamers who wish to rely on their TV alone.
If Microsoft made a smart TV platform, it'd probably be the best in the world. But they don't, thus we have to stick with whatever television manufacturers go with — and it's nigh impossible to buy a new TV these days without it coming with some manner of built-in smarts. In the case of Sony, the company deploys Android TV, which is actually a solid experience. Should you require advanced functionality from your set, as well as the ability to stream all the content, you'll definitely need to consider one of these beauties.
First up, the X930D is gorgeous out the box. It's a stunning slab of black magic that sits wonderfully on a table, cabinet or even attached to the wall. This particular model we've highlighted here guide is the 55-inch variant, which is the sweet spot when it comes to screen sizes for the living room. You could go larger or smaller if you so wish, though. Options are available.
The entire package measures in at just 10mm at its thinnest point and 15mm where all the internals are contained for processing content. Speaking of which, this set in particular supports not only 3D, but also HDR and 4K content too. Investing in this TV will ensure your home is set for the future of ultra-sharp, ultra-colorful content. Colors are sharp and Sony's Slim Backlight Drive make for a pleasant viewing experience.
With Android TV installed you'll be able to enjoy not only movies, TV and other media, but also some gaming too. The Google Play Store is at hand for downloading apps and other portals. All-in-all the Sony X930D is a superb Android-powered TV experience. And if that's not your thing, you can still plug in an Xbox One S or a Stick PC and — voila! — you've got Windows.
webOS
(opens in new tab)
4K, check. 3D support, check. OLED technology is joined by three HDMI inputs to connect all the things. That's if you require something more than what LG's intuitive webOS software has to offer. The wide-angle viewing ensures everyone in the room will be able to enjoy streamed entertainment.Bottom line: Take advantage of LG's incredible display technology with embeded webOS for expanded functionality.One more thing: It's a curved TV that can also be wall-mounted.
Smart Hub
(opens in new tab)
Samsung's 4K JU6000 TV is a superb option for those who are fans of the company's display collection. You've got built-in Wi-Fi, support for the Smart Hub, Samsung's platform based on Tizen OS, as well as thin bezels. The quad-core processor should allow viewers to enjoy streamed content without hassle.Bottom line: A great all-rounder when it comes to an ultra high-definition viewing experience.One more thing: It's also a solid panel to use with your PC, though make sure your components can support HDMI 2.0 to enjoy 4K at 60FPS or you'll be stuck on 30FPS with HDMI 1.4.
Firefox OS
(opens in new tab)
Panasonic makes full use of Firefox OS, a smart TV solution by the folks behind the web browser of the same name. The TX series of televisions is available in a variety of sizes, as well as configurations depending on exactly what you need and how much of a budget you're willing to spend.Bottom line: Firefox OS is seriously good looking, though some may find it lacking in the content department.One more thing: When not viewing your favorite show, dust off your controller and game in 60Hz.
Conclusion
Should you be wanting to stream content in the big room there are a number of options available to do so without dongles or other accessories. While we believe Sony offers a brilliant experience with te X930D series of televisions, other manufacturers in our round-up offer capable units that are able to handle connected content.
Best overall
(opens in new tab)
It's 4K, supports HDR content, can be used to stream media without plugging in external devices, and 3D to boot. The benefit of Sony televisions is the company makes full use of Android to power its platform. Sure, it's not Microsoft, but it makes for a compelling experience, regardless of which ecosystem you're a part of.Bottom line: Need content on your TV without additional hardware? This Sony panel is perfect.One more thing: 4 HDMI to connect all the things.
Windows Central Newsletter
Get the best of Windows Central in your inbox, every day!
Rich Edmonds was formerly a Senior Editor of PC hardware at Windows Central, covering everything related to PC components and NAS. He's been involved in technology for more than a decade and knows a thing or two about the magic inside a PC chassis. You can follow him on Twitter at @RichEdmonds.
Only the opinion of the author...

All of these are last year's models. Not that there's anything wrong with picking them up, but I know Sony is refreshing their Android TV line with OLED. Edit: it also would have been worth mentioning that Android TV's have Chromecast built in, so streaming content is made that much easier.

If Microsoft made...probably the best? Really? I don't think so. Skype preview is messing up the new Outlook.com. GroupMe is choosing the wrong calendar and I can't pick the right calendar. Continuum on my 950 says: You need new firmware. Need more? Probably the best in the World?.....meh. It would probably ONLY work in the US.

I just bought the Hitachi 55R7 55" 4K with Wi-Fi and Roku. It was just less than $500. I can even use it for wireless Continuum without an adapter. One thing that I have noticed is that some TVs are being sold without a tuner.

I just got the Samsung 75" 4K, wanted to get the 85" but they don't make a flat version, and I want to hang it, is really good, had all the apps I want to use like Netflix, Amazon Video (Hoping for a UWP app soon), BBC I player, ITV player, Plex etc, and of course can stream film my laptop, try to stream film my phone, but no sound comes out from MyTube! Everything else though Amazing, especially playing games from my PC in 4K at 60 FPS, hopefully Project Scorpio doesn't disappoint and gets that Dolby Atmos sound update!

This article does not mention p series smartcast. It also does not cater to our audience. How are the apps vs Xbox one s. Or Xbox one. Last review also did not consider Dolby vision, peak vs full white field nits, nor speak to the effects of room lighting on OLED vs LCD displays. It also did not speak to wcg example is OLED 91% dci p3, vizio r65 reference series 120% dci p3. I applaud the effort but these feel like fluff peices that some people absolutely will make buying decisions from. Sorry, you ruffled my feathers. Lol

I got the Samsung KU6300 50". It works great and with game mode on it seems to be pretty responsive. I've already hooked my 950XL up wirelessly in Continuum mode and the connection is smooth with better range than my first gen Microsoft Wireless Display Adapter. A note for anyone setting this up with a PC: Even with a HDMI 2.0 video card (AMD R9 280) you may still be stuck at 30Hz on 4k. The reason for this is standard HDMI 2.0 is limited to a pixel clock of 300MHz, whereas a 60Hz 4k stream can require nearly a 600MHz pixel clock. The solution is to buy a 60Hz DisplayPort to HDMI adapter to plug into your video card. You can then run an HDMI cable from that to your TV. They're around $20 on Amazon and well worth it. Besides the obvious 2x increase in refresh rate, my TV seemed to have a sharper picture (I.e. less ghosting) with the DisplayPort adapter vs. straight HDMI.

I have missed some brands like Philips by example , also panasonic work with tiny. Firefox OS which have no apps and I'm almost all the cases can stream from YouTube easily

I work for HhGregg in electronics, the Sony 930D is awesome. Anyone looking for a deal, look at your local Hhgregg for a Sony Xbr55x850c it's last years model, but I got one at my store last month of closeout for $219 down from $1400

Wait, what...you bought a 4K HDR TV for $219? That's insane.

I have the Sony 940D. Not a huge fan of the Android TV OS. It is good when it comes to features: the apps you want are there, Google Cast / mirroring is built in, the apps actually render video content quite well, built in voice search, and other small conveniences. However, it can also be kind of choppy/laggy to navigate sometimes, I have encountered an occasional freeze and reboot, and the remote that comes with the Sony is terrible for typing. From what I hear, LG's WebOS is the most favored among Smart TVs, and it does look a hell of a lot better to navigate. Vizio's P series is also running Android TV, but through a tablet, so not much difference there. Casting content from the tablet to the TV for everything makes me feel like quality may be diminished with that, though that's probably technically wrong. Otherwise, the Sony TV is fantastic in terms of image quality. Very good 4k, very good upscaling for everything 720p and up. However, it is the colors and natural reproduction of the image that stun. While Samsung TVs just look oversharpened and oversaturated to my eyes, Sony has all of the detail and colorful wonder without making the picture look "fake".

Gotta say....I LOVE, love, love WebOS 3.0 as a TV interface. Smartly laid out, with constantly updated and optimized apps....plus the image quality of the LG TVs they're on is pretty dang good. It's got good Google Play, Amazon, Netflix and Hulu apps. Lots of other content from LG too. The only app it's missing that most people care about is HBO GO. Technically, you can "buy" HBO streaming/on-demand as a subchannel from within the Amazon app, but it's not HBO GO. That's just a minor annoyance, tho. I got a 43-inch LG one to replace our bedroom TV as an HH Gregg Open Box for a pretty rock bottom price. Now, I want them all over the house. I don't want to have to "cast" from an app on my phone or tablet.

On the grounds that I have an XBox One, what's the best completely dumb TV? I don't want something that'll be obsolete and unsupported in two years. I want the XBox to handle all that stuff. I just want a nice big display with a good picture.

I'm in the same situation. Unfortunately, the SUHD standard requires a Smart, connected TV. Also unless you Have the XBox One S you wouldn't be able to stream the little 4k content (Netflix, Amazon, Hulu). At this point the Samsung 8000 series is probably the best option unless you are willing to get sucked into the Android ecosystem.

For a dumb tv most seem to point to the Vizio E series. Do your research though on specific size models as not all equal. I'm looking to pick up the 2015 40" which is oddly superior to the 2016 version.

Also look at the 2016 p series. Yes it comes with an android remote but trust me...set it up. Chick the remote and live pon the one s

Also have remember there is no tuner built in, essentially its just a real big PC monitor.