8 Best Space Games for Windows PCs
There are many space games available on PC, so finding the best ones can be a challenge. We rounded up some of our favorites to get you started.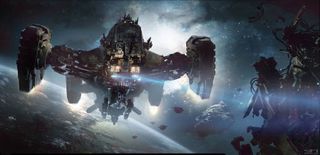 Space games have been around for decades on PC. The genre is more popular than ever before and with titles like Star Citizen on the horizon, it's easy to get lost among gorgeous nebula, massive planets, and endless space. Not all space games are worth your time, however. This is a list of titles we believe you should have in your collection.
X3: Albion Prelude
Why you can trust Windows Central Our expert reviewers spend hours testing and comparing products and services so you can choose the best for you. Find out more about how we test.
This is the godfather of space games. While not perfect, X3 ($19.99) offers incredible value for the money allowing the player to embark on various journeys and create their own story. Be a trader, stock broker, pirate, fleet general, company executive, explorer, miner, and much more. The sheer scale of the game is impressive, but it's showing its age.
Hopefully, X4 will pick up where Egosoft left off with Albion Prelude and take advantage of the latest hardware.
See at GOG (opens in new tab)
EVE Online
EVE Online is an online space role-playing game (RPG) that has hundreds of thousands of active players, many of whom take EVE gameplay and role-playing extremely seriously. You may have read about massive wars occurring in-game, lasting more than 24 hours and resulting in the scrapping of thousands of ships. But fear not, as it's an expansive universe, allowing players to do essentially whatever they desire. Wish to spend hours mining rock? Go for it.
Everything within the EVE-verse is player-driven, including the economy. Think of it as a space simulator that simulates a living, breathing community of star explorers. Best of all, you can get started for free.
Stellaris
If you wish to take control of an entire species and dominate (or integrate into) a galaxy, you'll want to pick up Stellaris ($39.99). This 4X title by Paradox Interactive is as in-depth as it is gorgeous. There's something about sending hundreds of ships into battle and watching all the lasers, missiles and mass particles fly across the screen. That is, if you're on the winning side.
As well as offering a strategic fix for players, Paradox worked hard implementing dynamic events and more variables to help make each playthrough feel slightly different.
See at GMG (opens in new tab)
Elite: Dangerous
Elite: Dangerous ($29.99) is impressive in the scale of the Milky Way galaxy Frontier, the developer, managed to accurately reproduce. Much like X3, you're able to take part in trading, be a pirate, take on other players and even particpate in a war. The game is also being continuously updated by the developer, adding in a bunch of features for free, and there's VR support if you own a headset (and powerful enough PC).
While the game itself can prove difficult to get the hang of from the get-go — seriously, who would have thought docking your ship would be such a pain? — Elite is incredibly rewarding once you master the controls and combat system.
Faster Than Light
Faster Than Light, commonly known as FTL, ($9.99) is a roguelike space adventure game that is terribly hard to master. You're in charge of manning a ship and leading a crew as you flee a rebel fleet through many sectors. Everything is randomized to offer unique playthroughs, and it's of paramount importance that you select upgrades, manage crew, buy weapons, switch load outs, and oversee resources to succeed.
Combat is fast-paced and fluid, as is movement across each sector. Just don't get too comfortable in your well-armed ship as FTL has every desire to pull you off your high horse in a few seconds. And seriously, buy the soundtrack to FTL — it's excellent and worth every penny.
See at GOG (opens in new tab)
Sins of a Solar Empire
Ironclad Games and Stardock brought PC gamers the excellent Sins of a Solar Empire back in 2012, and today it remains a top pick for anyone seeking a space-based real-time strategy experience. Picking from three races and two factions within (for a total of six) allows you to take on the mantle of responsiblity to start with a single planet and expand your empire. Various victory conditions are available, including diplomatic and warfare.
The multiplayer is also really good, especially when you have a full game of friends in multiple alliances. Let the fierce battles take place. Sins is helped a fair deal by being such a great looking game. It;s well worth picking up. The $51.19 price tag includes various extras and additional content.
See at GOG (opens in new tab)
Homeworld Remastered Collection
Developed by Relic Entertainment and published by Sierra Entertainment in September 1999, Homeworld is a stunning space game that captivated the lives of many. Gearbox recently released the Remastered Collection ($34.49), which adds more up-to-date graphics and sound, but retains the magic that made the original so brilliant. But don't get too cozy in Homeworld, as it's a difficult game to progress through and you'll find yourself drawing the short straw more often than not.
As you progress through the single-player campaign, your task is to gather resources and build up a massive fleet, which you keep when moving between levels. If only it were that simple. My only gripe with the Remastered Collection is the lack of Cataclysm, a superb expansion pack that's sorely missed in playthroughs.
See at GOG (opens in new tab)
Rebel Galaxy
Rebel Galaxy ($19) is somewhat of a strange entry on our list because while it's an excellent and rather unique experience, it can become a little grind-like and repetitive. Still, it's a fun arcade shooter that requires you to ensure you're rocking the best equpiment your funds can afford.
Think of Rebel Galaxy as a wonderful mashup of Freelancer and Firefly. What makes it feel so unique is instead of relying on front-mounted weaponry, you're engaging with the enemy as if you were an assassin on a pirate ship. Everything is settled once your broadsides take aim and fire.
See at GOG (opens in new tab)
Notable mentions
Your favorites
What are the top space titles that keep you returning for more? Sound off in the comments and tell us why we should have included your choice.
Windows Central Newsletter
Get the best of Windows Central in in your inbox, every day!
Rich Edmonds was formerly a Senior Editor of PC hardware at Windows Central, covering everything related to PC components and NAS. He's been involved in technology for more than a decade and knows a thing or two about the magic inside a PC chassis. You can follow him on Twitter at @RichEdmonds.
"Your nemesis has arrived . . . and they are wondering what happened to their scouting party." FreeSpace 2 and TIE Fighter for me. TIE Fighter taught me English. :) FreeSpace 2 is a piece of art, one of my all-time favorite games besides Deus Ex, Dawn of War 2 and the Witcher 3. The weird story and villain/not-really-a-villain and everything, I love it.The Reapers of Mass Effect for me never managed to surpass the Shivans that came before in FreeSpace. "And they hurled themselves into the void of space... with no fear." FreeSpace 2... with video sequences where one of your enemies tries to be philosophical, where you fight against an unbeatably technologically advanced alien race -- and there is no Deus Ex Machina at the end, you actually lose because you never stood a chance, even if you win... or like in the 1st FreeSpace, you win one battle, but at such a horrible loss... the game-box of FS 2 read And it cites Shakespeare in the end sequence. And if you keep re-playing the entire game, amassing every possible medal and promotion, I think it is for the final rank of Admiral or something like that you got some nice WELL DONE text that suddendly ended in NOW GO AND READ A GOOD BOOK. I'm still laughing at that. ... I was utterly disappointed by Freelancer and haven't picked up a new space-flight-sim since. :-(

As far as I'm concerned, if the game isn't YOU in the cockpit, then the game is automatically disqualified. Which is why I think Elite Dangerous: Horizons is easily the best space game out there. And it is NOT difficult to get started, as I discovered having jumped into it completely cold back in January. It CAN be difficult to really master the nuances of customizing your ship (of which there's a large variety of sizes and capabilities) for the type of commander you plan to be, and if you choose to get involved in the Power Play between empires, that can be pretty daunting. The beauty is that, as open as the universe is, you can simply play the game 100% by the seat of your pants, which is what I've been doing. All the ships have a LOT of customization you can do, including paint jobs, adding your own ship name and ship ID to them. You can create a Wing with your friends, come up with creative ways to assist other players in distress (like running out of fuel or taking on hull damage), network with other players to become part of grand exploration journeys. You can get a multi-crew ship and actually have other players be your gunner or fly one of your fighters (if your ship supports adding fighter bays). To be fair, depending on how you choose to play, it CAN be quite a grind---particularly as an explorer. Jump range of your ship can mean a LOT of jumps to get to where you are going...or less, if you upgrade your drive. And, of course, you can customize YOURSELF, too. If games like Freespace were your thing (it was for me), then ED:H really is the best choice.

If games like Freespace were your thing (it was for me), then ED:H really is the best choice.

Thanks for the recommendation. Will try it out once back from vacation. See if my joystick still works...

Man, you'll have an absolute blast in ED:H if you value the likes of Freespace. Really is a stellar experience.

The first time I landed on a planet in Elite Dangerous legit made me sit back and just take it all in for a solid 10 minutes.

Homeworld forever! If only for the ending song by Yes. It's no longer in the remastered version though. A lot of why I love this game so much, the flavor of game, is in that song. Rough and Tumble, campy, and so metal. After working hard to get to the end ( this game is so incredibly difficult ), you will never forget this song. https://youtu.be/iJkoBNOPvjU .... OMG I always wanted to print out the homeworld mothership, and now I can! Thanks Rich for letting me remember with this article!

you should show that games are available in Steam as well and not only GoG also why Stellaris link to GMG which is give you a Steam key is this advertisment post or bias against Steam

Why does it need to be a bias against" maybe is is just the fact that you actually own the game if bought via GOG? You can download the whole installer and all extras, so even if the game is removed at some point from the library, you can still install it. Also in case you loose internet, it still works.
And why not promote another platform to get games? I do not know GMG, sound like a key-reseller, but i guess everything has a right to exist as long as the service is used?

i dont say the shouldnt promote but they should have include Steam aswell the others because Steam is more trust it than a key-reseller

Green Man Gaming is a quality source for codes (you'd never find me linking to G2A, for example), and we earn affiliate revenue from both GMG and GOG, which we're upfront about and disclose at the end of the article. We fall back on Steam links if these two are not available.

Hey Rich, FYI: There is no such discloser at the end or at the beginning of the article. Maybe it is not displayed in the App?

how can you not mention Independence War (or I-War)? Shame on you. 🥓

Elite: Dangerous! That feeling you get when you're the first to discover an Earth-like world. Oh yeah.

I definately think Everspace should be on the list!
Windows Central Newsletter
Thank you for signing up to Windows Central. You will receive a verification email shortly.
There was a problem. Please refresh the page and try again.