Best Surface Book keyboard skins
Keep that Surface Book keyboard clean with a slick new keyboard skin!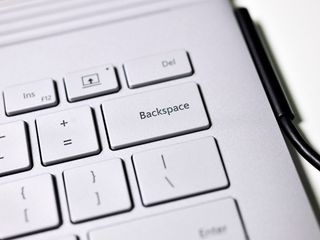 Keyboards have a nasty habit of getting dirty. From oils to hair to crumbs, all the detritus of our lives can wreak havoc on our computer keyboards. Heck, if you factor in the dust in the air and drinks we spill on them (we have all done it) our computer keyboards look and feel pretty disgusting. Luckily for all of us, keyboard skins can help keep all that gunk out of our computers.
The Surface Book is a powerful machine that combines the portability of a tablet with the power of a laptop. Although you can use the Surface Book in tablet mode only, chances are you are going to have it connected to the keyboard some of the time. If you want to keep that keyboard looking and feeling clean, we have rounded up a couple keyboard skins you can get to make sure the surface of your Surface Book stays shiny and new!
Cosmos clear
This keyboard skin fits nice and snug over just the keyboard portion of the Surface Book. It's made from thermoplastic polyurethane (TPU) so it's extremely flexible and tear-resistant.
The keyboard cover doesn't stick at all, making it easy to remove whenever you need. You can also clean and disinfect it anytime you want — just make sure it is completely dry before you put it back on your Surface Book.
See at Amazon (opens in new tab)
XSKN
If you are worried about a keyboard cover compromising the look and feel of your Surface Book, the XSKN will put your fears to rest.
Super thin and completely transparent, this TPU cover will hug your keyboard so snug it will ask for a restraining order. The tight fit is perfect for protecting your keyboard from spills and crumbs.
See at Amazon (opens in new tab)
Want more Surface Book tips?
If you're still undecided about what version of the Surface Book to pick up, or want to see what real people are saying about it, check out the Windows Central forums!
Are there any you recommend did regular laptop keyboards?
Windows Central Newsletter
Get the best of Windows Central in in your inbox, every day!
Thank you for signing up to Windows Central. You will receive a verification email shortly.
There was a problem. Please refresh the page and try again.