Best Toshiba External Hard Drives in 2022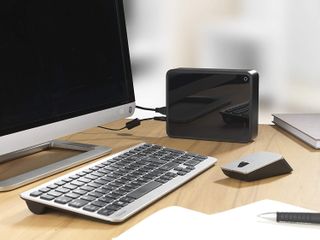 In the modern world where the size of files is always increasing, having an adequate amount of storage space for your computer or gaming console is important. While the 500GB or 1TB drives that most machines come with are sometimes enough, you'll often find — especially if you play a lot of video games — that you need more. Thankfully, Toshiba is here to help you with their quality Canvio series of external hard drives. Out of all of the different Canvio drives on the market, our favorite is the Canvio Advance (opens in new tab) thanks to its perfect balance of storage space, size, price, and security.
Best Overall: Canvio Advance
Why you can trust Windows Central Our expert reviewers spend hours testing and comparing products and services so you can choose the best for you. Find out more about how we test.
Canvio Advance
Absolute perfection
Reasons to buy
+
Large storage space
+
Excellent customization options
+
Useful software included
+
Fast data transfer
Reasons to avoid
-
Not as big as other options
For most people, the Canvio Advance will be the perfect hard drive. It's available in a ton of different configurations, with storage space options ranging from 500GB to 4TB, three different case styles, and five color options all to choose between. Its physical size is 4.3-by-3.1-by-0.55 inches, which makes it comparable to a smartphone and, of course, easy to take with you while traveling. The hard drive is compatible with both USB 3.0 and older 2.0 connections, and the transfer rate for data is wonderful, with USB 3.0 transfers going as fast as 5GB/s and USB 2.0 ones reaching 480MB/s. In addition to all of this, the Canvio Advance comes with some bonus software downloads that will allow you to set up and maintain data backups, as well as protect the contents of your hard drive with a password.
Overall, the Canvio Advance is a fantastic external hard drive, and when you consider that it's only slightly more expensive than the cheapest drive that Toshiba sells, it's easy to see why we think it's the best hard drive.
Best Size: Canvio For Desktop
Canvio For Desktop
Go big or go home
Reasons to buy
+
Massive storage
+
Built-in security lock
Reasons to avoid
-
Large size
-
Most expensive option
The Canvio For Desktop is the largest external hard drive that Toshiba sells — in terms of both physical and storage size. This brick-sized behemoth comes in at 6.57-by-5.1-by-1.63 inches, which is very big for a hard drive. Thankfully, it makes good use of that size, as you can configure it to be able to store up to 6 TB, which is a massive amount.
It also comes with a built-in security lock that protects your files from unauthorized access like the Canvio Advance's software does. Naturally, these things increase the price significantly, but if you play a lot of games or save a lot of videos and films on your computer, a hard drive this large will be worth it.
Best Budget: Canvio Basics
Canvio Basics
Amazing quality without the assurance
Reasons to buy
+
Large storage space
+
Least expensive choice
Reasons to avoid
-
No included software
-
Only comes in black
Essentially, the Canvio Basics drive is a Canvio Advance one without the included software. Everything else about it is exactly the same, right down to the physical dimensions of the drive. It's worth noting that it only comes in black, though.
Ultimately, the Canvio Basics is the drive you should opt for if you don't care about security software and would prefer to shave a little bit of money off your bill. The drop in price is very minor, but sometimes every dollar counts.
Best Style: Canvio Ready
Canvio Ready
Looks great, costs more
Reasons to buy
+
Large storage space
+
Stylish, textured casing
Reasons to avoid
-
More expensive
-
Slightly bigger than other models
-
Not enough storage for some
On paper, the Canvio Ready seems like a middle-of-the-road drive. It can be configured with up to 3TB of storage and is a little bit bigger than the Basics or Advance models in terms of physical size, coming in at 4.69-by-3.15-by-0.59 inches, although this isn't too big of an increase. The advertised reason to buy it is that it's a "plug-and-use" device that requires no setup, but in truth, that's how all of the Toshiba external hard drives work.
In reality, the reason you might want to consider the Canvio Ready is because it comes with a stylish outer case that looks fancier then the other Canvio drives. Instead of a flat surface, the Canvio Ready features textured sides with miniature holes. The surface feels nice to hold and grip on top of looking nice, but the increased price of the Canvio Ready compared to the Basics or Advance model means that you should only choose the Ready if you'd like your external hard drive to have some pizazz.
Best Compact: Canvio Slim
Canvio Slim
Perfect portability
Reasons to buy
+
Smallest physical size
+
Cool case finish
Reasons to avoid
-
More expensive
-
Less storage
The Canvio Slim is designed specifically with portability in mind. In terms of physical size, this drive is just 4.21-by-2.95-by-0.35 inches, which is considerably smaller than the other "normal" sized hard drives on this list. The caveat, though, is that the drive can only be configured up to 1TB.
In addition, since the engineers at Toshiba had to perform some tech wizardry with this drive, it costs a fair amount more than the Basics or Advance models. Even so, this drive is perfect if you're looking for something that can be taken with you during travel incredibly easily. Also, the finish on the case looks a little like wood, which adds a touch of style to the hard drive.
Bottom line
Each of Toshiba's Canvio external hard drives offer something different, and one of them is bound to be right for you depending on what your wants or needs are. However, overall, we think that the Canvio Advance (opens in new tab) is the best of Toshiba's external hard drives because of its incredible balance between storage space, physical size, price, and software features. Other drives offer one feature that the Advance might not have, but with this, you'll be getting the best overall package.
Windows Central Newsletter
Get the best of Windows Central in your inbox, every day!
Brendan Lowry is a Windows Central writer and Oakland University graduate with a burning passion for video games, of which he's been an avid fan since childhood. You'll find him doing reviews, editorials, and general coverage on everything Xbox and PC. Follow him on Twitter.