Best Xbox joysticks and flight sticks for Microsoft Flight Simulator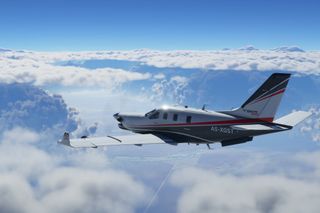 (Image credit: Microsoft)
Microsoft Flight Simulator has expanded to Xbox Series X and Xbox Series S, translating the complete globetrotting experience to the living room, following its acclaimed PC debut. While the console version supports any Xbox controller or USB mouse and keyboard, the best experience comes via dedicated flight hardware designed for piloting virtual aircraft. We know several manufacturers have new products in the pipeline, but the current options are limited to just a couple of Xbox flight peripherals on the market. These are all the joysticks and HOTAS setups with confirmed Microsoft Flight Simulator Xbox compatibility.
Best overall: Thrustmaster T.Flight Hotas One
Why you can trust Windows Central Our expert reviewers spend hours testing and comparing products and services so you can choose the best for you. Find out more about how we test.
Thrustmaster T.Flight Hotas One
The king of flight on Xbox
Reasons to buy
+
Affordable all-in-one solution
+
Smooth, generally precise controls
+
Great value
+
Comfortable
Reasons to avoid
-
Better build quality available
-
No headphone jack
-
Small number of games with support
Let's cut to the chase. If shopping for Microsoft Flight Simulator hardware, get the Thrustmaster T.Flight Hotas One. This hands-on throttle and stick (HOTAS) system presents an incredible upgrade over standard Xbox controllers, as both an affordable and comprehensive solution. It's the only worthwhile Flight Simulator-compatible Xbox gear, given the limited number of options out there.
The T.Flight Hotas One delivers exceptional quality for entry-level gear, suited to newcomers wanting the complete Microsoft Flight Simulator experience this summer. This set covers all the fundamentals, sporting a full-sized joystick and throttle, covering your fundamental control surfaces for commercial or general aviation. The joystick offers precise control over pitch and roll, with a twist also handling yaw, which turns the plane left or right. There's adjustable resistance here to fine-tune your setup, as preferred.
The device is lined with 14 supplementary buttons, plus a rear-mounted trigger and reverse thrust, adding a ton of extra controls beyond airplane attitude. You can also look around the cockpit easily with an eight-way hat switch, crucial for Microsoft Flight Simulator and its stunning vistas.
This HOTAS setup won't deliver a "luxury" experience, but it demonstrates incredible value for the entry level. The ergonomic silhouette feels great in hand, robust albeit a little cheap due to the chosen plastic, aided by its weighted base that stops unwanted shuffling. You can also split the system into two pieces, separating the throttle and joystick for stable positioning.
The Thrustmaster T.Flight Hotas One is one of the few Microsoft-approved Xbox flight accessories, which brings various Xbox-specific buttons that mimic traditional gamepads. It supports Microsoft Flight Simulator out of the box, plus other games like Elite Dangerous, Star Wars: Squadrons, and Ace Combat 7: Skies Unknown. You can also take this to PC to experience even more games with native joystick support.
With the Xbox launch of Microsoft Flight Simulator mirroring its PC success, we're seeing high demand, and as a result, tight availability for many accessories. If you find the T.Flight Hotas One around its usual $90 pricing, it's worth the buy.
Microsoft has confirmed the Thrustmaster T.Flight Hotas One is among the few Microsoft Flight Simulator-compatible accessories for Xbox Series X and Xbox Series S. This stick and throttle combo presents everything you need to get started, accessible but still feature-rich. Your options are limited but this is easily the best accessory for virtual pilots on Xbox.
Best alternative: HORI HOTAS Flight Stick for Xbox
HORI HOTAS Flight Stick for Xbox
A sleek but flawed alternative
Reasons to buy
+
Great functionality
+
Integrated headphone jack
Reasons to avoid
-
Generally poor precision
-
Mediocre build quality
-
Expensive
Microsoft Flight Simulator also supports HORI's HOTAS system, offering the only existing alternative to the T.Flight Hotas One for Xbox Series X and Xbox Series S. This peripheral provides a vast improvement over standard Xbox gamepads, including a dedicated joystick and throttle, and various assignable buttons. But the solution from HORI has some well-documented shortcomings, positioning Thrustmaster as the one to buy for the time being.
The HORI checks most of the boxes with this HOTAS setup, split across separate joystick and throttle modules. The stick allows for pitch and roll adjustment, with rudder controls on the throttle and three-step control over joystick sensitivity. It also has various buttons assigned to common flight and Xbox inputs, plus a handy 3.5mm headphone jack for in-game audio. It shares a ton with the T.Flight Hotas One, and besides the absence of reverse thrust, it nails those basics.
The HORI flight stick works with Microsoft Flight Simulator on Xbox, but it fails to justify double the asking price of the T.Flight Hotas One. Its plastic construction feels cheap, and while it looks slick in photos, there are several "fake" decorative buttons that solely act as visual detailing. That's without touching on generally poor internals, considerable dead zones, and failure to match the precision granted by Thrustmaster.
The HORI HOTAS flight stick is among the few approved Microsoft Flight Simulator accessories, but with limited availability and a $250 asking price, there's little reason to consider this accessory. Microsoft has confirmed plans for Xbox console and PC support, but with the T.Flight Hotas One available for half the price, it's the clear winner for Microsoft Flight Simulator.
We've got more Flight Simulator accessories to come
Microsoft Flight Simulator and its stunning virtual skies helped reinvigorate the PC simulation scene, with an Xbox Series X and Xbox Series S version only more accessible. But as the first full-fledged flight simulator on Xbox consoles, the choice of accessories is extremely limited right now. These Thrustmaster and HORI products are the only solutions currently, although the T.Flight Hotas One claims our top spot. The Thrustmaster T.Flight Rudder also works with Microsoft Flight Simulator on Xbox, accompanying the T.Flight Hotas One. But there's more ahead for budding Xbox pilots, with Microsoft recently confirming "new, Xbox-compatible peripherals" on the horizon for Microsoft Flight Simulator.
Turtle Beach's first Flight Simulator hardware, the VelocityOne flight control system, is slated to release at the end of 2021. The newly announced kit boasts a 180-degree yoke, integrated throttle quadrant, and rudder control, with durable hall effect sensors for precise input. It meets all the Xbox requirements, with eight-way joysticks, rocker switches, and a handful of assignable buttons. The $350 RRP looks to provide incredible value as an all-inclusive set, among the most promising peripherals for Microsoft Flight Simulator on Xbox.
We also expect Honeycomb Aeronautical to expand its Flight Simulator accessories to Xbox, set to relaunch the Honeycomb Alpha Yoke for Xbox consoles. The PC version was already named our best yoke for Microsoft Flight Simulator in 2021. Its Xbox version introduces various refinements, coupled with support for the existing Bravo throttle quadrant and Charlie rudder pedals. Honeycomb will also debut the Xbox-friendly Foxtrot Tango Flight Stick and Throttle, its first HOTAS system, in early 2022. We have high hopes for these accessories.
However, only a few products have hit store shelves in time for the Microsoft Flight Simulator Xbox launch. We hope to hear more about these products, plus future releases from other hardware manufacturers, in the months to come.
Bottom line
Microsoft Flight Simulator sees second-rate peripherals during the early days, with manufacturers still readying Xbox-compatible products. But the current market has two options with confirmed compatibility — and just one that you should consider for your console.
The affordable T.Flight Hotas One might not trump pricier PC counterparts, but it's the best out there for Xbox. It's a great all-in-one solution for newcomers or returning pilots dabbling in its console release, with precision and features to support best-in-class Xbox flight.
Get the Windows Central Newsletter
All the latest news, reviews, and guides for Windows and Xbox diehards.
Matt Brown was formerly a Windows Central's Senior Editor, Xbox & PC, at Future. Following over seven years of professional consumer technology and gaming coverage, he's focused on the world of Microsoft's gaming efforts. You can follow him on Twitter @mattjbrown.